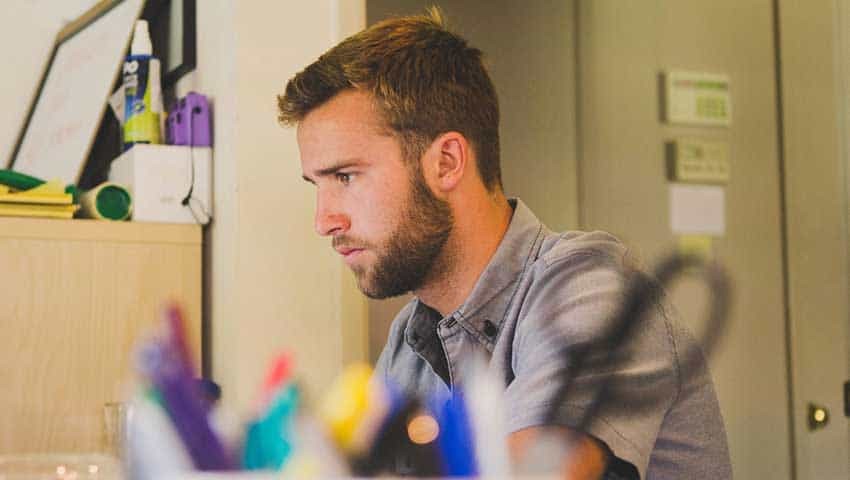 There are few roles quite as divisive as The Copywriter. It's unanimously agreed that quality web content goes a long way to increasing the reputation of a brand, but there remains a distinct lack of agreement within the corporate world on whether there ought to be a role specifically for this purpose.
Some CEOs consider hiring an in-house copywriter as essential as this allows the business to draw on writing talent immediately whenever quick content production is required. A writer working within the company will also be intimately familiar with tone of voice and have in-depth knowledge of the company's products and/or services.
Other business owners simply cannot justify the costs that accompany a full- or even part-time copywriting role, especially if the company typically experiences peaks and troughs in terms of workload. The size, budget and type of company obviously plays a big part in this but for most SMEs hiring a copywriter is not an option.
We have a decade of copywriting experience under our belts here at Big Star (along with a lengthy list of happy clients to boot), but given our status as a copywriting agency, it would be foolish to expect you to take our word on hiring a copywriter for granted.
Instead, we sought an objective viewpoint.
Our team chatted to two recruitment professionals who have dealt with copywriting roles throughout their careers: Shaun Rudden, from Aptus IT Digital, and Steve Ward, from Steve Ward Social Recruiting and Velocity Partners.
They told us all about their experience with recruiting copywriters, covering the aspects of convenience, cost, consistency and capability before providing a conclusion.
Read on to see what these two recruitment experts had to say about the pros and cons of recruiting a copywriter.
Convenience
Having your very own copywriter in-house suggests shorter turnaround times for work, as well as a 'native' approach to tone of voice which may lead to better results. This all sounds great in theory, but does hiring a copywriter on a permanent basis actually result in all of the above?
"In the long term, I suppose (hiring a permanent copywriter) gives the company the opportunity to essentially 'brand' the copywriter," Shaun tells us.
"They will be consistently writing in the same tone and style and so should give the company a more distinct voice for their output. That said, a good freelancer or agency should also be able to provide this.
"Having a copywriter on hand could also be beneficial for any urgent releases too, and if your business produces heavy amounts of content, then generally having that control can also hold some appeal."
Steve concurs – emphasising how valuable it can be to employ a writer who is intimately familiar with the business' brand tone.
"I guess the clearest advantage (of having a permanent copywriter on staff) is the ability to 'speak directly to the pen', as it were," he tells us.
"When translating ideas into content, the shorter the journey in ensuring you present the correct voice is paramount. One of the challenges most agencies endure is in delivering the correct voice of the brand, or originating company."
Cost
Having immediate access to a capable copywriter who understands the brand may prove extremely advantageous for businesses, but what sort of costs can a company expect to face when hiring a copywriter on a permanent basis?
From the answers we received from our two recruitment consultants, it appears that employers are uncertain of exactly what to offer when it comes to hiring a copywriter. We asked both our experts the sorts of salaries they ought to be advertising for a permanent copywriter position, and got very different replies.
"In the South West, I'd say you'd be looking around £17-22k for a copywriter," Shaun tells us. "Possibly slightly more if there are SEO and perhaps design skills."
Steve thinks higher. Especially in the capital.
"In London and the South East, a good copywriter demands a £40k salary for a permanent role," he explains.
"Typically you would say the cost of employment is 30% on top of that, with all the components mentioned. Any reduction in training and induction costs would be taken up by a need to increase the salary. So consider the cost of employment pretty much the same."
As Steve observes, there are additional costs (as well as salary) involved when bringing a copywriter on board – including tax, training and desk space occupancy. Are these costs big enough to place a strain on company finances? Or will it prove cost-efficient in the long-run to hire a permanent writer?
"It all depends on the copywriter and the manager," Shaun explains.
"Does the copywriter struggle to work autonomously and is the team lead intent on micromanaging? You would hope that a morning meeting to discuss projects and workload is the maximum it requires, save for the odd question here and there, of course.
"There are lots of conflicting stats out there, but general on-boarding costs can equate to well over £5,000 and it apparently takes the average staff member over six months before they're reaching optimum productivity.
"There definitely shouldn't be any short-termism when looking at permanent recruitment."
Consistency
No matter what industry they dabble in, writers, by and large, are a restless bunch, as they constantly yearn for creative inspiration and betterment. Whilst obtaining the services of an in-house writer can offer a business its own consistent, steady flow of content production, will there always be the risk of the hired writer getting bored and growing stale?
"Possibly, yes," admits Shaun.
"If you want to keep staff for the long term, then they must remain motivated and challenged, so providing a training budget of some sort is imperative, in my view.
"Most people aren't content with a static role and there needs to be progression opportunities – if there aren't, then they may start looking elsewhere within a couple of years."
The impending threat of departure (and constant need to re-recruit as a result) suggests that one potential solution is to hire a copywriter on a short-term or project-by-project basis, as opposed to a permanent contract.
Steve informs us that this is indeed an approach that many businesses choose to take.
"Copywriting can often be sporadic, or project based work," he explains.
"Not all organisations consider that they have enough writing work to employ a full-time writer. For this, freelance and short-term employment make sense.
"However, we are probably in an era now, where the quality of copy across so many functions (marketing, PR, Sales/Pitch work, HR, Recruitment/job specs and adverts) is now so pertinent, the employed writer could be very busy across a whole week.
"The biggest challenge to this is that most copywriters enjoy the freelance/remote work lifestyle."
Shaun, too, has witnessed the ups and downs of short-term employment.
"The advantage of temporary workers is that they're not in a binding contract as such, so they can simply be employed to assist with peaks in the workload," he clarifies.
"However, along with zero hour contracts, these arrangements have come under a lot scrutiny and so it's always best to ensure that the casual arrangement works for both parties from the outset.
"Also, following the introduction of the Agency Workers Regulations around five years ago, temporary workers now have more rights; most of which – including comparable salaries to permanent employees – kick in around the 13-week mark."
Capability
Another factor to consider when recruiting a copywriter is the capability of candidates available. Whilst, ideally, businesses would prefer to hire a copywriter with experience, it's true that many veteran writers who have been operating in the industry for decades will be prepared to charge considerably more for their skills. With this in mind, is it possible to hire an intern to do a lot of the copywriting work and still get a good result?
"Of course. Writing isn't a skill that is representative of age," Steve informs us.
"However, select carefully (provide writing challenges in the selection process) and then, importantly – pay the intern. Show genuine worth in their work, and test them to challenge themselves."
Shaun echoes Steve's sentiments – suggesting that hiring an intern for copywriting can prove to be a fruitful method, but must be implemented with caution.
"It depends on the complexity of the content, the company's intentions and the intern's abilities," he says.
"I imagine there would be some concerns to address, but it's not to say it would be a disaster."
Another common approach by businesses is to recruit the services of a copywriter from overseas. Are there issues that come with using a copywriter whose mother tongue hails from a different land?
Steve has had both positive and negative experiences after working with foreign copywriters.
"Most organisations would err to towards having people write in their first language," he explains.
"However, I have worked with Indians, Spaniards and Romanians who could all write content in English with equal or better prowess than many English writers."
Shaun reveals that whilst hiring overseas copywriters has never affected him directly, he has encountered problems with these types of writers when it comes to personalisation.
"The only second-hand comments from friends in the industry are that it's harder to create a personal voice or tone (with an overseas writer), as pieces are written formally rather than colloquially," he informs us.
Conclusion
When it comes down to the actual recruitment process, both Shaun and Steve agree that hiring a copywriter ought to be handled a little differently.
In order to pluck out an appropriate candidate from the pool of copywriting applicants, a business will need to bypass ordinary recruitment procedures, and instead, distribute a suitable task that simultaneously encourages creativity and also reflects whether the writer is a good fit for the brand.
"For those employing, the value of a great writer is subjective," Steve admits.
"Always set tasks to examine the kind of writer the applicant is. Do they match your voice? It's important to ensure you hire for correct tone and a writer who has the voice."
Shaun also emphasises the need for a creative screening process when recruiting a copywriter, which he says can be "fun" for businesses, providing they have the time and resources to do it.
"From the candidate perspective, I'd always recommend the creative and personal approach when applying, instead of just sending a plain CV," he adds.
Here's all the proof you ever needed that the process of hiring a copywriter is fuzzy territory at best. Expected salaries vary wildly depending on region and ability, and given how the role naturally attracts the creative type, hired copywriters may grow twitchy without a persistently stimulating environment that whets their appetite for work.
Hiring a copywriter on a freelance or short-terms basis can prove to be a fine resolution for businesses with erratic project loads, but this comes with its own issues. Frequently re-briefing a rotating series of writers on company brand voice and expectations is a time-consuming process, and utilising the services of freelance writers often involves a considerable amount of trial and error.
The confusion and contradictions that surround the hiring process mean that copywriters themselves have it tough too, and as Steve says, they need to have a "damn fine portfolio that shows diversity" and/or a "specialism" so they can "be the go-to writer for that subject" in order to be able to provide brand-worthy work.
Consider Big Star for your business, and you won't be forced to weigh up the pros and cons of recruiting permanent or temporary copywriters for your company. We have a team of talented writers on hand with expertise in a variety of different subjects across the board, meaning you'll have a pro at your beck and call right from the off.
When you use Big Star for your copywriting, you'll be assigned an experienced writer who can get to grips with your brand voice quickly and efficiently, demonstrating passion for what they do best: producing high-quality content for brands in their industry of expertise.
Have a chat with our team today about using our services for your copywriting needs.
We'd also like to extend our deepest thanks to Shaun and Steve for providing us with such insightful answers. A final word from them both:
"As a recruitment consultant that specialises in this field, I'm more than happy to offer free advice to those looking for opportunities and also those looking for talented staff. Please feel free to drop me an email or visit our website."

Shaun Rudden
"I am an Award-Winning Social Recruiting & Talent Attraction Strategist and leading practising advisor on integrating Social Media into Recruitment. I can be contacted through my website."

Steve Ward