Only quality content gets results
We're a copywriting agency for brands and digital agencies who care about their online profile and want solid, sustainable results.
Every authority on online marketing agrees: if you want better results, write quality content. And quality is exactly what we're about.
We can produce all the high-quality content you need, quickly and cost-effectively. Everything is written by experienced UK writers and checked by our editors. And if anything doesn't meet the brief, we fix it – no questions asked.
"I have used Big Star for a number of years now and their services have become an integral part of our company workflow. There is no doubt our business has grown due to the copywriting and guidance given by Big Star. We are saving money every day on advertising through their expert knowledge of best practice for SEO and PPC. Highly recommended"
Tony White – Owner – Bonners Music
"Big Star Copywriting have been helping us with our content strategy and online marketing since 2011. During that time our search results and traffic have improved significantly."
Marc Loud – Director – Park Insurance
"We spoke to Big Star early in our social networking journey and was probably the most useful piece of advice we had received. They were interested, positive and realistic, helping us look at the long game and to use our early experiences as a learning journey. Highly recommend!"
John Woodhouse – Managing Director – Safeguarding Network
"Big Star supported the re-launch of one of our travel brands with site content. A large volume of content was delivered on time and adhered to our brand guidelines. Strong project management skills were demonstrated. I would recommend Big Star as a supplier for similar projects."
James Barnett, Thomas Cook
"Derryck and team were great to partner with for a large scale SEO copywriting project. He was always responsive to feedback, met deadlines and produced high volumes of great content that met the requirements of my company's brand and tone."
Tiffany Tsui – Product Manager – handy.com
"We engaged Big Star services nearly 3 years ago and they have become an integral part of our company providing guidance and
copywriting for our website and marketing campaigns. This has seen significant improvements in the traffic to our web site and direct contacts with business lead generation. Their knowledge of best practice for SEO and PPC is significant and they continue to play a valuable role in our business development."
Julian Mead – Client Services Director – Inform Communications
"Great service, we have been working with Big Star copywriting for a few months now. They manage to deliver quality, meet tight deadlines and listen to the customer. We would recommend trying."
Victor Tejeda -SEO Manager – Compado GmbH
"Over the past two years, Big Star have helped us deliver a large number of projects for the likes of Qatar Airways and Hertz. Based on the timely and professional manner Derryck and his team have operated in those past two years, I would gladly recommend them to any current or future client of ours."
Andrew Tonks, RBBi
"They're professional and provide great service. Managed to turn around a large amount of content and met tight deadlines. Would recommend working with them."
Basma Abou Assaf, RBBi Dubai
"For startups like us, it's important to be able to rely on your copywriters to get it right the first time. The biggest benefit of working with Big Star was the flexibility that comes with being able to rely on their work, ensuring we were always able to stick to our planned timelines."
George Rapley, minicabit.
"Managed to turn around a large amount of content in a very short time frame. Throughout the communication was great. Wouldn't hesitate to use Big Star again in the future."
Rebecca Polding – Project Manager – Present Finder
"Used Big Star for new product descriptions. The quality of the writing was extremely high, sticking perfectly to our brief. Would highly recommend if requiring quality content to be produced."
Michael Woodhall – Head Of Content – The Hut Group
"The Big Star team are quick to understand how we want to communicate deliciousness and add a level of expertise. They know their food. They know their copy. It's a great match."
Meredith Fortescue – Account Manager – Ape Creative
We've been helping businesses reach new audiences and build relationships since 2005. Whether working with international brands or family-run businesses, Big Star offers a unique blend of strategic thinking and marketing experience, with quality copywriting at its heart.
Whether you're looking for ecommerce product descriptions that sell, a regular blog to attract new visitors to your site and re-engage old ones, or just a content marketing strategy with visible results, we can help.
Based on an in-depth understanding of your KPIs and goals, we'll craft strategic content that sets you apart from your competitors and establishes you as an authority in your field. Your copy will be written by professional UK copywriters experienced in writing for conversions and SEO. All you need to do is sit back and watch your traffic increase.
Of course, you may just want large volume copy written quickly: we can do that, too.
What the right copywriting agency can do for you
Professional UK copywriters for quality, unique writing that engages
A content marketing strategy tailored to your brand and KPIs
Optimised, search-friendly content that your audience and search engines will love
Large volume projects and tight deadlines handled with ease
A dedicated account manager who cares about your business
Five steps to stellar content
Over the last 14 years, we've developed a process that delivers outstanding value and consistent quality on every copywriting brief, no matter how big or urgent.
1. Briefing
We ask all the right questions to get to the heart of your business, and offer straightforward online-marketing advice too.
2. Sample
We provide a sample so you can confirm we've got the right tone, structure and style.
3. Writing
Our writers are carefully selected for their experience, reliability and sector expertise, and we match the right one to every job.
4. Editorial
Our in-house editors check everything before you see it, giving you an extra guarantee of quality.
5. Feedback
If anything doesn't match the brief, we'll change it.
Ready to start getting results from your content? Give us a call on
01803 865025 or fill in the form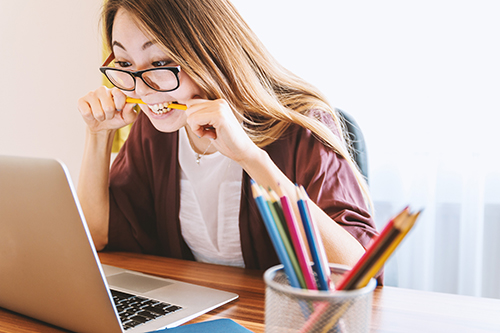 Here at Big Star HQ we like to answer a direct question with a direct answer. And the answer to this is yes. It's a yes because blogging can be your most effective content marketing tactic. The fact that 57% of marketers say they plan to increase their blogging efforts tells us that it's still … Read More