Great SEO article writing achieves great results
Article submission is a key strategy in search engine optimisation, often requiring a high volume of content, especially in highly competitive sectors. However, it's important not to compromise on the quality of your SEO article writing. Articles can stick around for years on the web and badly written content could damage your reputation. On the contrary, good quality, well-researched content can produce some really powerful results leading to better search results, more traffic, conversions and increased customer share.
Paying more for quality content represents a better ROI
Do you know what's being written for you?
If you employ a digital agency or specialist search agency to handle your SEO, you should be aware that often they use SEO copywriters to create content as part of their SEO strategy. We should know, we're the SEO copywriter for several agencies. You should also be aware that articles are a key part of the search strategy for many search agencies. What you may not be aware of is the quality of the content that is being produced for you.
Many SEO agencies publish content without seeking client approval.
Usually, content is not factored in as an additional cost to your monthly retainer for SEO. That means it's in the interest of the agency to drive the cost of the copy down as much as possible. The SEO agencies we work with are ethical and want to get the best results possible for their clients – that's why they use us as their SEO article writing service. However, there are agencies who use unpaid interns or overseas writers to get content as cheaply as possible. That doesn't mean the content is always terrible but ask yourself this:
"Would you trust a copywriter who is getting paid less than minimum wage to represent your business to your customers?"
Cheap, badly written articles do not help your business
As with most things, with SEO article writing services, quality is more important than quantity. If you're just concerned with throwing out articles to get those juicy backlinks, you might be missing a trick and it's this…
People actually read good quality articles
…and will frequently click through to the destination site if they find the article useful or interesting. They are also more likely to repost the article or link to it, giving you that all-important link juice to up your page rank.
Articles, especially in niche areas, can even rank for your search terms in their own right, leading customers directly to your site – if the quality of the article is good enough.
Customers spend money, search engines don't
Publishing content that your customers want to read and investing in quality over quantity is wise. In fact, it's just common sense. Wasting your money on cheap, poorly written articles is not wise. Our SEO article writing service will give you content that is aligned with your brand values and sells your product or service. It's useful, well-researched and engaging. It's the kind of content that people want to share, to tweet and to link to. That helps your SEO. It's also the kind of content that drives traffic to your site – and helps to convert that traffic to sales.
There are two important things missing from this diagram. The first is that bad articles don't just fail to convert, they turn customers against you now and in the future. With the good article the effect is powerful – especially if it's part of an ongoing content strategy – and if you convert you can sell to that customer again and again. The total value of a lost customer is difficult to calculate but bad content is a surefire way of losing a customer forever.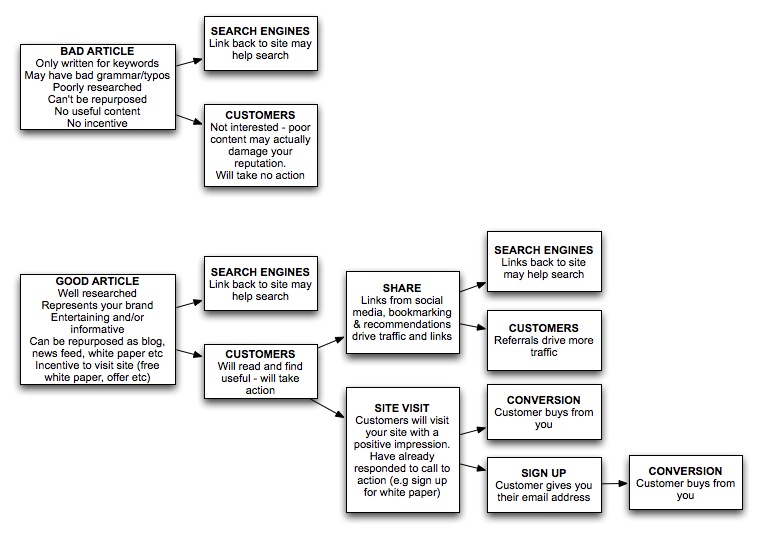 High quality 100% original content
When you employ Big Star Copywriting as your SEO article writing service, you can trust us to:
Deliver excellent quality consistently
Trust us to work autonomously - you don't need to be involved in the content if you don't wish to be.
Create relevant article titles and source research material
Deliver on time, weekly or monthly
Work with you to establish editorial guidelines
All work is bespoke and 100% original. We don't spin articles, and we don't copy. We have NDA agreements with all our writers so articles can be produced anonymously if you wish. All copyright ownership is automatically assigned to you as the client – you can publish articles wherever you want, edit, quote or rejig as you see fit. We can also help you to repurpose the content we create as white papers, longer articles or web content.
SEO article writing from professional UK copywriters and journalists
Our team of writers comprises experienced UK journalists and copywriters. Between us we have worked with high profile brands, daily newspapers, consumer and industry publications. We don't like to blow our own trumpets but we believe we're one of the best SEO article writing services in the UK.
Well-researched, engaging content in any subject area
We supply SEO article writing services to leading UK search agencies, working for end user clients in sectors such as personal finance, legal, travel and property. The brands we write for demand lucid, well-written articles that provide information and interest for their users, as well as making a valuable contribution to their search engine rankings.
Our SEO article writing service is trusted by agencies and brands
We work with dozens of clients who trust us to deliver large volumes of articles on a weekly or monthly basis, without them needing to be involved in researching titles, providing source material or editing.
Here's a quote from Nick Jervis of claims specialists, www.1stclaims.com:
'We have used Big Star Copywriting at 1st Claims for several years now and have been very happy with the service. Deadlines are always reached and the quality of the content is very good. We rarely need to make any changes to the content supplied as Derryck takes time to understand our needs.'
- Nick Jervis, 1st Claims
We've been supplying monthly SEO articles to Nick since August 2007 and he has since recommended us to a number of his clients.
Great content, fair prices
We are not the cheapest SEO article writing service out there by any means – neither are we the most expensive. It takes time to write a good quality article and if you want really good results, to protect and enhance the reputation of your company online and attract that all important link juice then you will probably agree that it's worth spending a little extra on professional copywriters that take the time to understand your business and represent you in the best possible light with engaging, compelling articles.
To request a quote or commission a sample article, contact us now