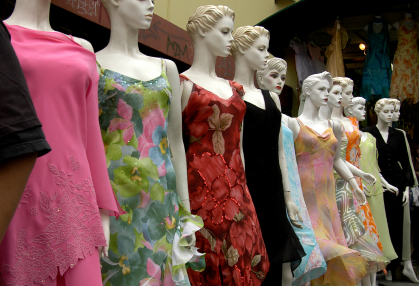 If you, like me, are a web copywriter, you are likely to be familiar with that 'lone wolf' feeling; hanging out in quiet secluded places, tip-tapping away at your keyboard writing lashings of lovely words for copy hungry clients.  For some reason, this takes me back to the time of Boxing Day sales, when I was doing just that.
So imagine my delight when a message popped up on my laptop to remind me of a client's Gala event that evening.
What? A chance to leave my sanctuary after dark, drink wine, and socialise with real people? Yes please! I'm jumping at the chance.
And then, slowly, it dawns on me: I'm a fashion copywriter, and I have nothing to wear.
With the clock ticking, it is time to get my game face on.
The challenge: to bag one affordable, stylish, could-have-dropped-off-the-pages-of-Elle dress by 5.30pm.

Got Game?

Faced with a myriad of retailers, feverish sale shoppers and tantalising discounts, it is time to bring Game Theory into play.
Game Theory, at its most basic level, can be applied to anything.  It is essentially predicting people's responses based upon a desired outcome; from buying the perfect evening dress, to crafting punchy, persuasive web copy.
In his recent post, web copywriter Steve Kellas highlighted why playing chess is good for a copywriter, and, similarly, understanding the basic principles of Game Theory is a great way to improve your web copywriting strategy.

Game Theory Can Improve Your Copywriting

Here I demonstrate how Game Theory helped me find the ideal dress and how it can be used to improve your web copywriting skills:

Decision time – to put together an ideal outfit I have limited time, and since in this tale I'm also battling with New Year's Eve just around the corner, competition to find the perfect dress is high. Stalking the aisles are gaggles of girls with the same dress in mind and pockets full of Christmas cash to spend. So where do I start? Which outlet should I target first – the big shiny department store or the high street favourite just around the corner?
As a web copywriter you face a similar dilemma. Firstly, you need to establish the basics. What is your subject and what are the key facts about your product or service that you're trying to sell? What SEO keywords might you need to include?
This first stage is about identifying what you are trying to achieve and what steps you need to take to get there.
Predicting the response – Now I know from the invitation that it is an evening event, and I predict that formal is the way forward. After much thought and a generously sized Starbucks, I start searching for the perfect little black dress. But wait, this is a fresh, funky, fashion office where people make statements with their clothes. A simple black dress simply isn't going to cut it. I need to think like a fashionista.
As a web copywriter this is the stage where you start to develop a picture in your mind of your target audience. What tone of language is appropriate for them? What will keep them interested and engaged in what you have to say and motivated to know more about what you do, or even better pick up the phone? Is your initial strategy the strongest or should you consider a different tack?
Adapting to suit your audience – Bypassing the mainstream shops away from the jostling crowds I stumble across a pop-up boutique. Only there for a single day, the owners are already starting to pack up when I spy a one-off green mini dress.  It is my evening's perfect apparel, and something I would never have considered if I hadn't used Game Theory.
This last phase is an important one; predicting your audience's response is one thing but adapting to how your audience thinks is another. Look at your copy from every angle. Will it speak to your target reader? Can you answer any questions they may have before they even have them? Is the tone right?
Although your product description writing might be fresh and funny, is there enough solid, factual information to actually convince your prospect to buy? Or, quelle horreur, is your copywriting too similar to your (or your client's) nearest competitor to stand out? Think about your potential feedback and use it to enhance and inform your copy before you write it.
This is just the tip of the Game Theory iceberg. In his post Dany Iny talks more about the principles of gamification.
And for those looking for the stand out party dress this year, a top tip – green is the new black.