This is a question that can freeze search teams and copywriters in the SEO headlights.
In truth, the answer is there are no hard and fast rules about content length. There is common ground when it comes to opinion and experience. The consensus is that longer content works the hardest in helping businesses rank higher on results pages. Real life data takes us beyond opinion and experience to guide our decisions about the content we write – based on analytical evidence.
In this guide, we'll walk you through how the appliance of science can inform how you use different content lengths to improve website rankings on SERPS (Search Engine Results Pages). By this we mean Google.
It's never easy to figure out what Google's up to. But, SEO superheroes like Backlinko, Authority Hacker, Moz and Rank Ranger analyse millions of search results, pages and posts to help us all understand how Google ranks content. We also include superhero analytics and insight from HubSpot and Orbit Media
Ok, let's get started.
How important is content length as a ranking factor?
Google uses 200 ranking factors and content length is just one of them. Before we get on to this, it's important to note that whatever the length of an article, your number one focus should be on publishing original, high-quality content that is relevant to your readers.
You may already be convinced that word count matters. But it's the quality of the piece that matters most. If you're writing 2,000 words on a topic and you go off-piste and start talking about something else, or you ramble on until hit your word count, you're probably not creating any value for your reader.
We should also include a quick note here on Google's Panda algorithm. The algorithm was released to reward high-quality content and penalise sites with low-quality content. The topic of Panda penalties is too big to discuss in a section of a single post, but to give you an idea of the types of content that can trigger a penalty, here are a couple of examples as compiled by Moz.
duplicate content – content that appears elsewhere on the web
low-quality content – pages which lack in-depth information and therefore of little value to human readers
thin content – pages with little in the way of substantive text and resources
So, how does content length impact SEO?
Content length isn't important simply because it's one factor in a list of around 200 that Google uses to rank pages. Understanding how the length of an article impacts SEO means understanding some of the other ranking factors too.
Authority Hacker analysed 1.1million search results. As you can see below it found that the average word count for top ranking articles was lower than the consensus that 2,000 words is the optimal length for SEO. Authority Hacker excluded comment sections, side navigation and author boxes, which it suggests could skew other word count results.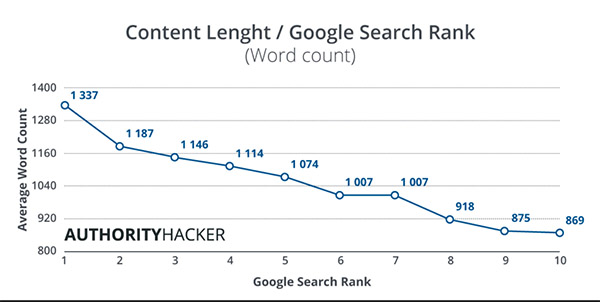 Source: Authority Hacker [typo: their own]
While content length in itself is a factor, arguably we should also be thinking about how other influential factors like links, shares, topical relevancy and keywords boost SEO.
Authority Hacker found that backlinks are still the number #1 ranking factor. This is important because the authority site expert questions whether content length and the presence of an image are factors that Google even considers. It suggests these simply correlate with high-quality content that generates more links.
Meanwhile, Backlinko, together with Eric Van Bushkirk, analysed 1 million Google searches and they found that the average word count of Google first page result was 1,890 words.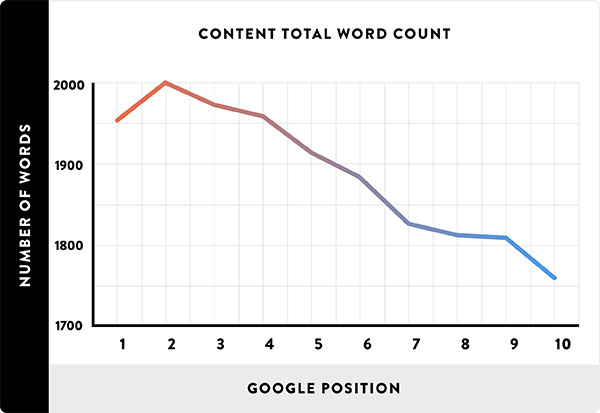 Source: Backlinko
Backlinko suggested the correlation here could be because longer content generates more shares. It could also be easier to demonstrate topical relevance in a longer post, which helps Google better understand your content topic. Google could simply prefer longer articles.
Does long-form content generate more links too?
Data analysis tells us that the answer is a resounding yes. For example, Backlinko and BuzzSumo recently analysed 912 million blog posts. The findings below show that on average longer posts generate 77.2% more links than short posts.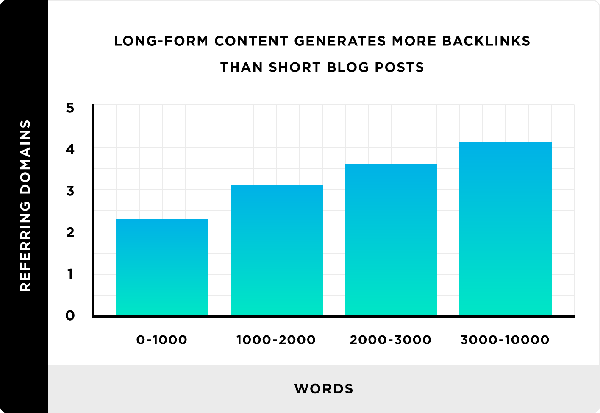 Source: Backlinko
What does the data tell us about attracting more shares?
Backlinko's analysis also discovered that:
if you want more social media shares you should be writing around 1,000 to 2,000 words per post.
a small number of 'Power Posts' disproportionately generate more shares – 75% of social shares come from 1.3% of articles. (Power Posts are usually around 2,000 words)
HubSpot analysed every post that it had published (6,192) to find out the optimal length for shares and links amongst other things. It deduced that:
articles with 2,500 get more shares and links
Are longer posts better for optimising keywords?
In a longer post, there's more room to better structure your article and you won't be using your keywords at a high density. In short posts, the temptation is to try to shoehorn in as many keywords as possible, which impacts the quality of the piece in the eye of the reader and Google's Panda patrol.
Let's check in with the Authority Hacker analysis on this. As you can see below, in the top ranking page, the keyword appeared on average 6 times in the readable text. The 'parent' topic appeared on average 17 times. Authority Hacker asserts that if you don't optimise your article for keywords and show Google a credible density, the length of the piece will not count for much.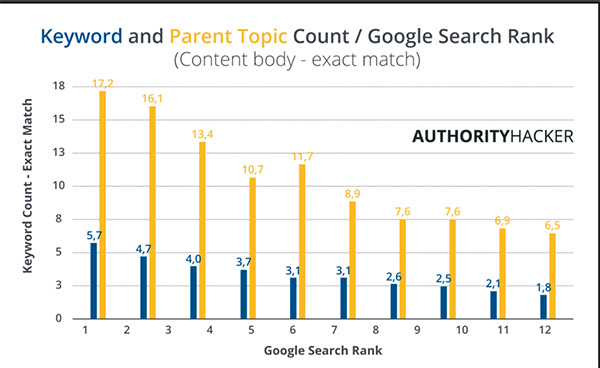 Source: Authority Hacker
Whatever the length of the post – you'll need to first think about what your reader will find useful, interesting and inspiring. Then think about how to optimise for SEO.
What's the average length of a blog post?
Orbit Media asked 1,000 bloggers to take a short survey to understand why some bloggers are more successful than others and find out how they did things differently. The results tell us that blog posts are getting longer. The average blog post now is 1,151 words – a 42% increase on five years ago.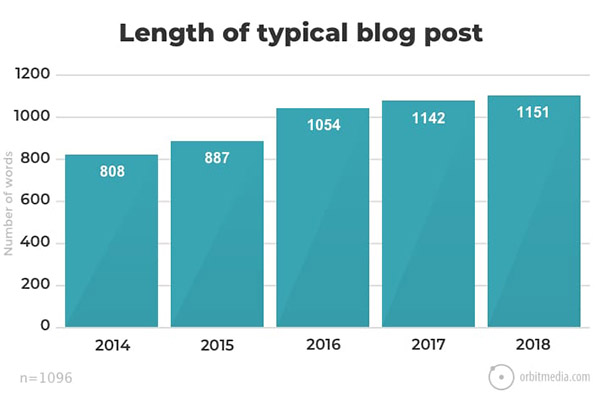 Source: Orbit Media
Dig a little deeper into the findings and we discover that bloggers who write long-form content report better results. As you can see below, 50% of bloggers who write more than 2,000 words report "strong results".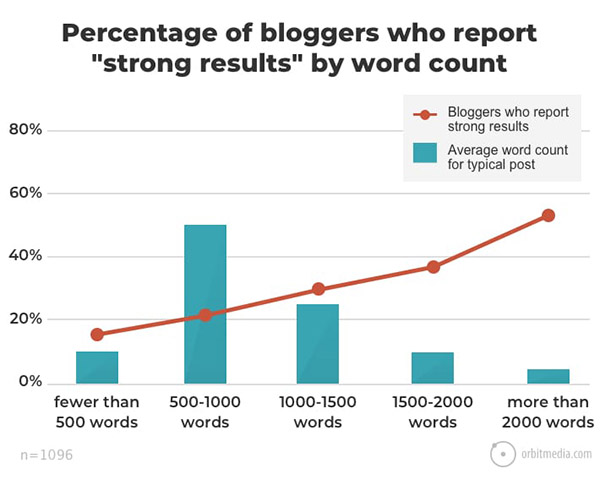 Source: Orbit Media
Should I still write short posts?
Yes of course. As we mentioned at the top you should always be writing for your readers. Short posts are part of a richer reading experience. Clear and concise always has its place in the content marketing kit bag.
There will be topics where you can add more value and interest in 500 words. You could be posting a video or an infographic with some brief introductory text. Or you could be sharing news about the fun stuff. You'll need to post regularly to entice visitors back.
Not everybody has the time to write longer pieces, or the inclination to read them. Some people just want to whizz through. The metrics you use to see how your content is performing will tell you if your readers prefer short articles.
How long should headlines be?
You want your headlines to spark intrigue and compel people to read the rest of your article. You'll want your headline to be shared on social networks and get clicks. Is there an ideal length?
This really does depend on what you want to achieve and how you want to share.
If you want more social media shares:
Backlinko found that headlines of between 14 – 17 words work best
HubSpot data tells us that 14-word headlines get the most social shares
Drilling down by platform, HubSpot's findings also show us:
Headlines between 8 – 12 words get the most shares on Twitter
Headlines between 12 – 14 get the most likes on Facebook
Remember, you will need to include your keyword (s) in your post title, which sends a strong on-page SEO signal.
How long should meta descriptions be?
A meta description is a brief summary of a page that shows the searcher that they've found what they're looking for. There's no limit on the length of a meta description from Google's viewpoint. Snippets are truncated to fit device width. Moz reports that Google truncates to 155 – 160 characters. It recommends descriptions are between 50 – 160 characters.
Here's the thing. Google won't always use the text from meta description tags for snippets. Sometimes it will select on-page text because the text best matches the search query. When this happens is unpredictable, so it's best practice to think about meta titles and descriptions when you post.
How long should meta titles be?
Analysis by Rank Ranger tells us the average length of a meta title is 55 characters. Here below are the UK averages for titles and description lengths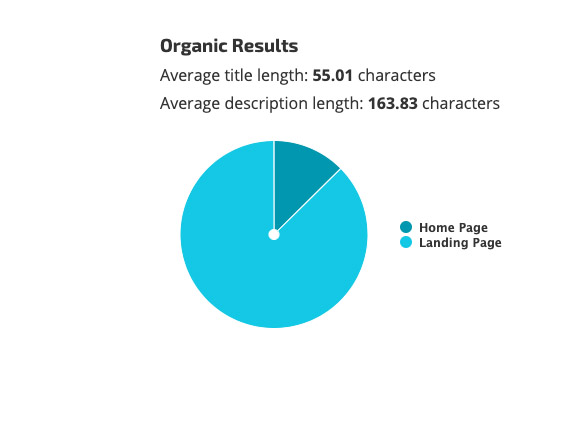 Source: Rank Ranger
To sum up
Arguably the most important lesson we've learned is that unique, high-quality content that is valuable to your customers and wider audience should be your starting point for everything you write. The quality of the piece and long-form content will work hardest for you in boosting website rankings in Google's search results.
Google is never completely upfront about how it ranks website pages. But, thanks to real life data, we all have a guide to how content length impacts SEO. We've also learned that longer content outperforms short articles because it:
is a ranking factor in itself
generates more links
attracts more shares
give the writer room to optimise keyword density
boosts topic relevancy
This is just a guide. Put it all to the test. See what works best for you. We're here if you need our help.