I'm going to take you back to one evening in the latter part of last year. Wednesday 30th November 2022, to be exact. The weather was how you'd imagine it to be for the time of year in Devon – cold, grey and wet. And in full seasoned spirit, I was undoubtedly preparing to put up my Christmas tree. 'Too early' ceases to exist in my household. But amongst the festive preparations and long, dark waking hours, the marketer in me was about to have a field day. 'Why?' I hear you ask as you grip the edge of your seat. ChatGPT was born.
Soaring to an impressive 100 million users just two months after its launch, ChatGPT held the record for the fastest-growing consumer internet app ever until Meta's Threads app won in July 2023. The response was insane – and anyone with their eye on the news heard about it. It quickly became a talking point at staff parties and coffee break gatherings. My nan even brought it up over Christmas dinner. And the question that followed every 'Have you used ChatGPT' was, 'What does this mean for content marketers?'
Using AI for Your Content Marketing
When OpenAI launched ChatGPT, it took the world by storm because of its crazy capabilities. It can process and create words in less time than it took me to write this sentence, solve and write coding scripts, and crawl the web for answers to your most pressing questions. It's a really cool thing, as long as it's used wisely.
ChatGPT is just a needle in a very big haystack when it comes to AI tools. If you search for long enough, you'll find something to help you with pretty much anything. But the question of whether we should be using all of these tools is a big one. And it's one that can't be answered in a simple sentence.
When it comes to writing great copy, avoid AI like the plague. Yes, it can write words, but it can't write anything substantial. We put ChatGPT to the test to see if it could write a decent blog post, and the results were anything but. It may have ticked the box for boring, lifeless copy, but at least it got the word count right…
But copywriting aside, AI might have its uses. Now, I'm not saying the robots might render me jobless. AI will never be able to replace the thing we, as social media managers, do to create good content – be human. But here's how I'm using AI at work to boost productivity, save time and make life a little bit easier.
Idea Generation
From one to one hundred, you can ask ChatGPT to generate content ideas and blog titles, and it takes no time at all. Spoiler alert – not every suggestion is going to be perfect, and the more you ask it to create, the worse they're going to get. However, when you're stuck in a rut and you need a little creative inspo, it's worth a go.
Take a look at what ChatGPT generated from the prompt, 'Can you generate 5 SEO-optimised, copywriting blog title ideas based on search demand?'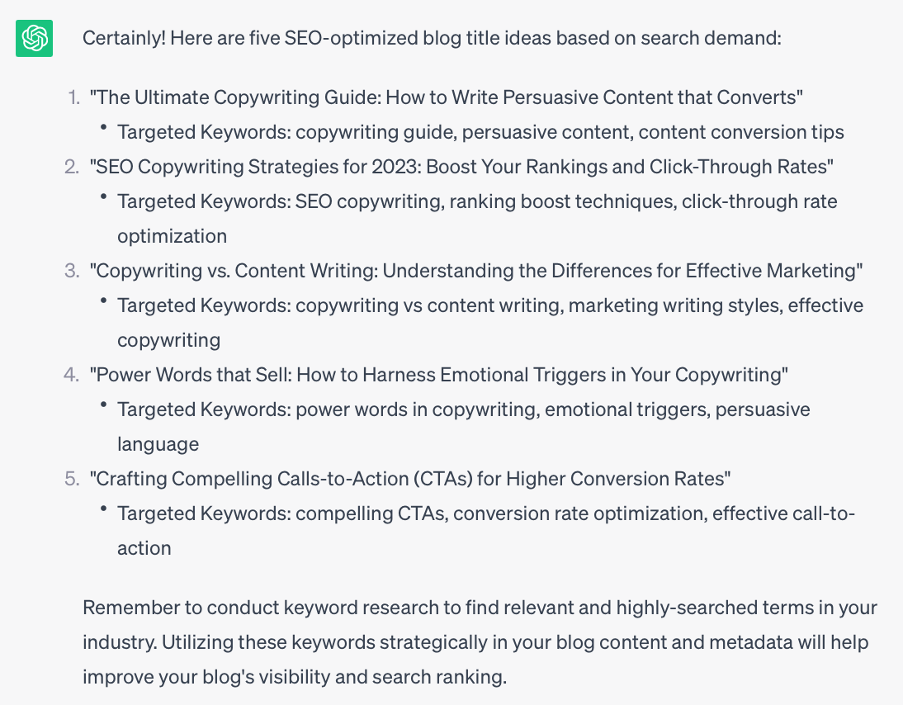 These ideas are a good place to start. They can help you identify topic areas within your niche that you may not have heard of. But ChatGPT is right – and is clearly covering its own back – when it says doing your keyword research is essential. Although it suggests target keywords to use, AI is pretty good at hallucinating, and it offers no proof to show that these keywords are going to help your SEO strategy. And at the end of the day, if the keywords you choose aren't seeing a good level of traffic, your blog becomes a little pointless.
Blogs aside, I find myself heading back to ChatGPT whenever I find myself in a creativity-free abyss while creating social media content. Take a look at this: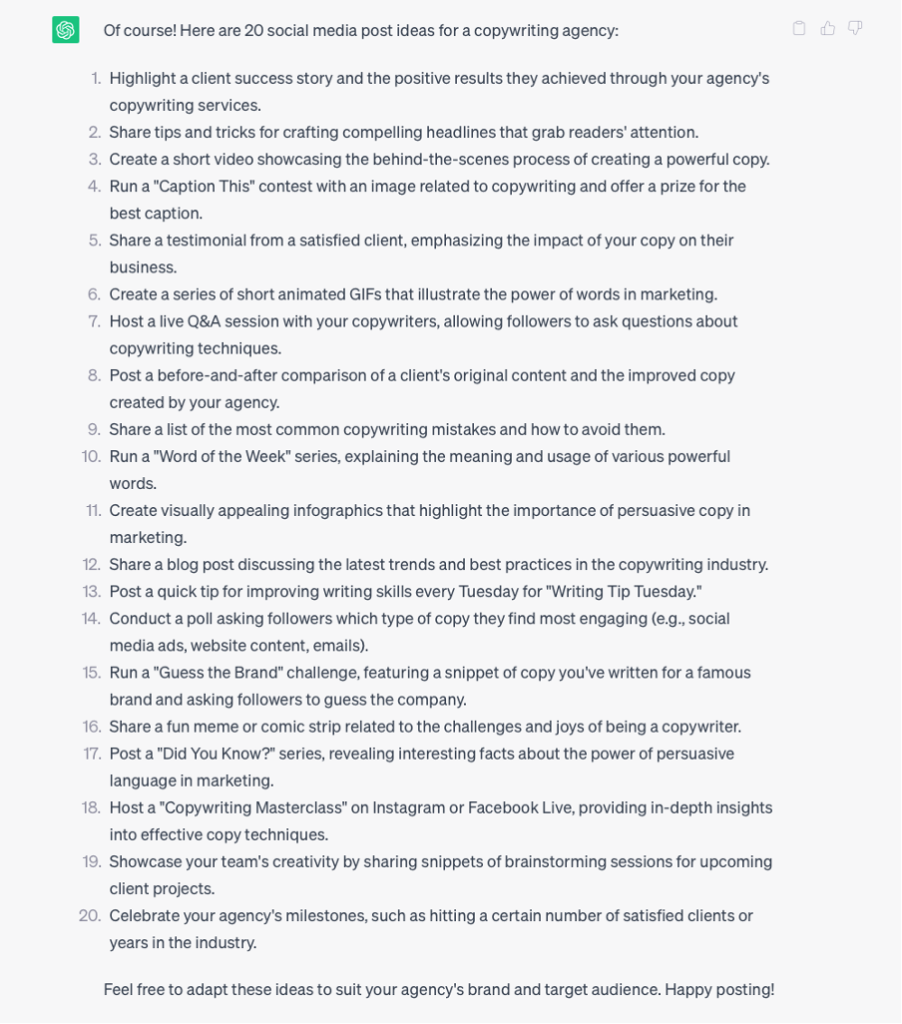 The same things go for the blog titles we generated earlier. Some of these suggestions are a total snooze-fest. But there is definite potential to take these from zero to hero with that important thing we mentioned earlier – the human touch. Chat GPT doesn't know your audience, and it doesn't know your brand. You can ask it to consider guidelines and personas, but it will never truly hit the nail on the head because it lacks the ability to be emotive.
That's why, as I've said one too many times now, these ideas can and must only be a starting point. But a good one to have in your arsenal when you're feeling in a slump. 
The Best AI Tools for Idea Generation
ChatGPT is an obvious tool at the top of my list for idea generation, but aside from this industry favourite, there are many more on the market that are worth dabbling with. Here are the tools sat at the top of my list:
Ideanote:
A great tool for quick and easy content generation, Ideanote spits out ideas in three simple steps. Simply, enter your company or describe your project, choose a topic you want to generate ideas, click 'Generate Ideas' and wait for ideas to appear. It uses the web to drag in information on your company online and suggests things you can do to set yourself apart from competitors.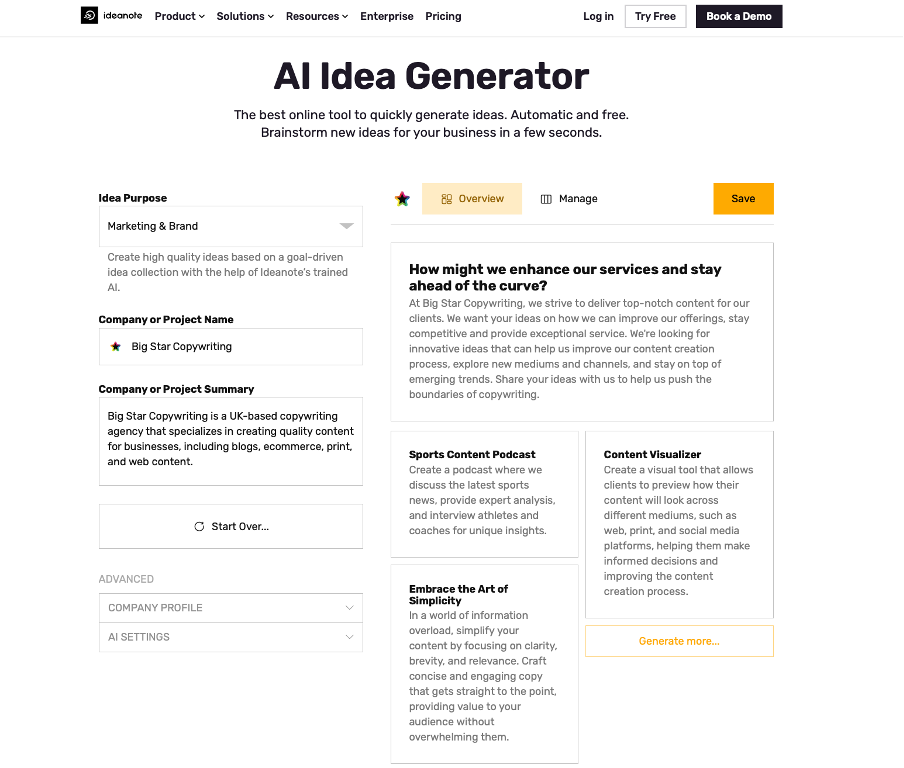 DesignSparks:
Now this tool doesn't just spit robotic ideas at you, it helps you develop them. You can upload PDFs and share ideas or problems, and it will do its best to produce helpful 'sparks' to aid in your creative processes. Using creative problem-solving techniques, this app is a great tool for a little assistance; it collaborates with you or your team instead of leading the work, which makes it effective.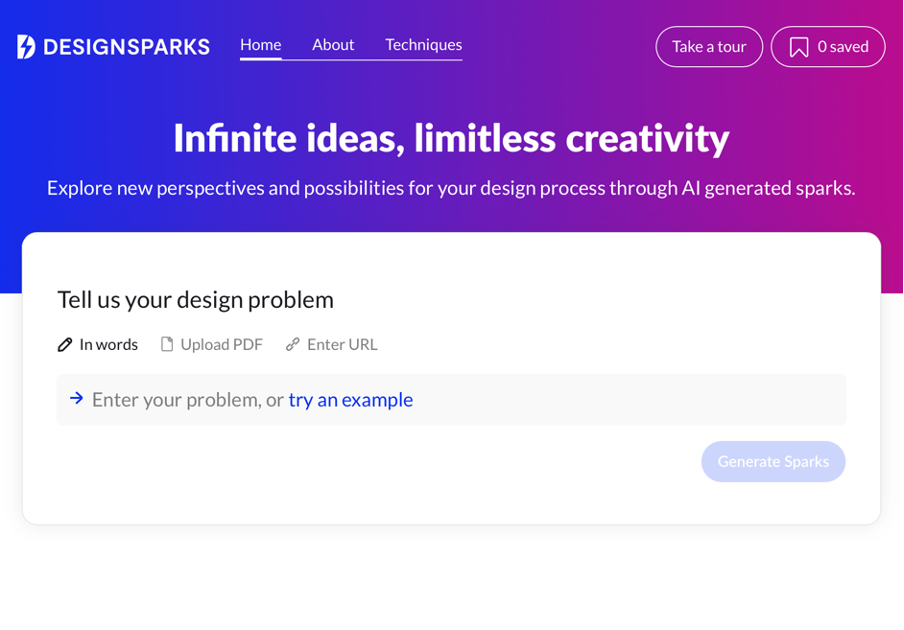 Finding Citations
I didn't discover this hack until I saw a LinkedIn post by Ellie Middleton celebrating its handiness. I've recently finished my MA degree, and if I knew this six months ago, boy, would I have saved myself some time. Take a look at this.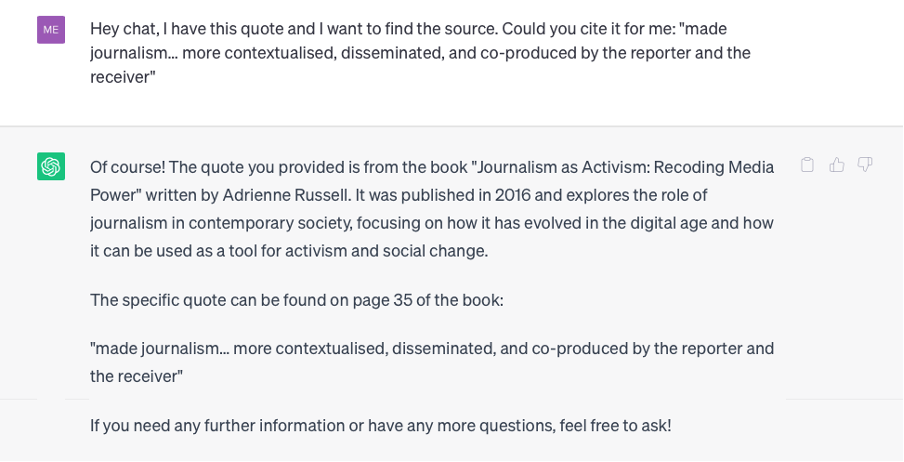 Now, as marketers, we rarely find ourselves dabbling in Harvard referencing – or at least I don't. But have you ever felt the frustration of reading a really good start and not knowing where it came from? Backing up the facts and figures you use in your marketing is essential for credibility, and this AI hack will likely save you many headaches.
Transcribing Interviews
People are the backbone of good stories, and interviews with fantastic voices in your niche can elevate any content strategy. We're creatures that love learning from each other, and what better way of doing so than sitting down for a chit-chat with the experts in your field? Whether I'm interviewing for a case study or article or offering my platform as a springboard to others, I love conducting interviews in person.
Thankfully, the pandemic gave us the gift of Zoom, which has allowed us to do the former with ease, but until recently, I would dread transcribing interviews. It's boring, monotonous, and it takes forever. The cycle of pause, play and writing is one I'd happily never do again – and thanks to AI, I don't have to.
Descript: My Favourite AI Tool
I've tried a few transcribing tools, but Descript takes home gold. It isn't just a transcription tool, which makes it more favourable. It allows you to collaboratively edit videos and podcasts too. I don't tend to make use of the latter that frequently, but its nifty transcribing hero will forever be in my back pocket.
The downside of this great app? You only get so much for free. But the older I get, the more I realise no good things are. But luckily for me and my bank account, its creator plan is only $12/£9.48 a month. Not too shabby, if you ask me. For that, you get ten hours of audio transcription a month, and lots of other AI tools to take your videos or podcasts from meh to wow. This is not in any way sponsored, but Descript, if you want to work with me, I'm game because you have saved me a lot of mind-numbing stress.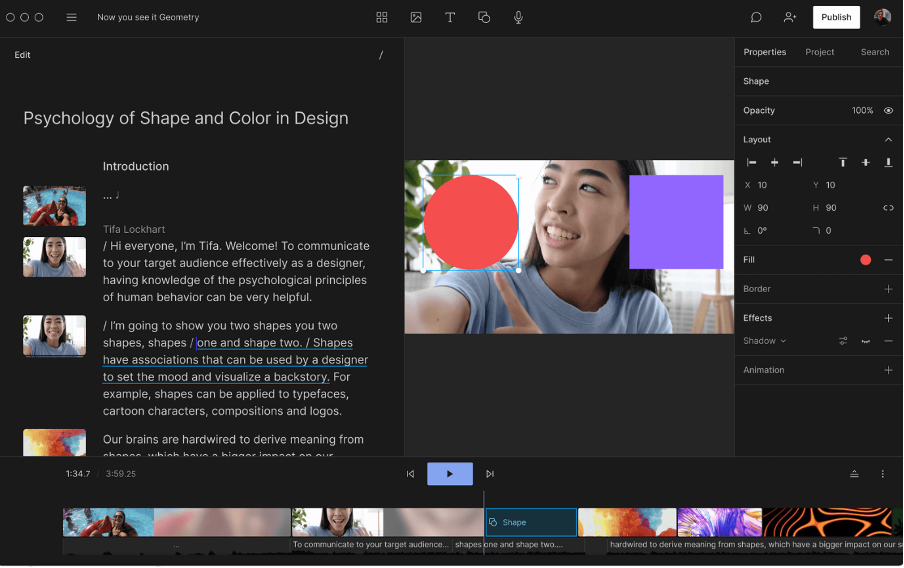 Boosting Productivity
I spend an ungodly amount of time on my phone. Part of that does come with the job, but a lot of it comes with the unparalleled temptation to scroll and scroll and scroll. It's a fatigue-inducing and motivation-draining habit that I've found hard to kick to the curb. But this is where AI can be useful. Here are the top free and paid tools making my life that little bit easier and keep my day-to-day on track:
Motion:
You may have seen this app advertised on Instagram. It kept popping up between stories and posts, and after about the tenth time seeing it, I was convinced to try it. And I wished I'd tried it sooner. Motion makes the promise to help you finish work two hours faster every day, and while I was balancing work, my MA and the series of compulsory side hustles every twenty-something has in tow, it was extremely helpful.
It works by inputting all of your tasks and projects, letting it know when you like to have meetings, and then creating a to-do list of all the things you need to do, prioritised by importance and deadline. You can link up to your calendar, and it vouches to keep you focused. You can try it for free for seven days, but after that, it works out at just 11p a day – which is not bad for what is essentially a virtual assistant in your pocket.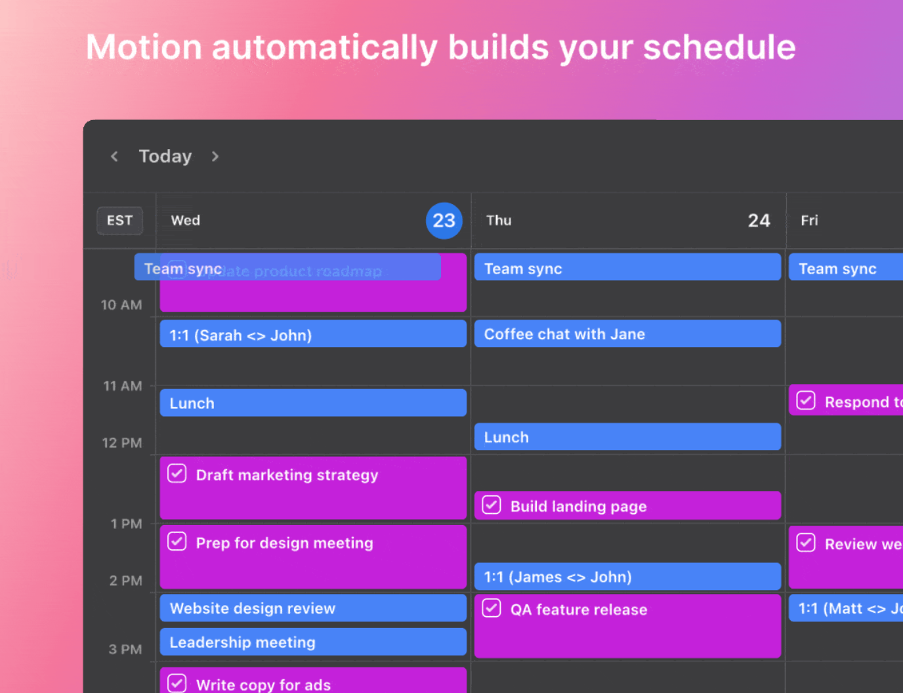 Flow:
Another app to put an end to the feisty doom scroll, Flow is a timer that uses the Pomodoro technique to keep you focused. If you're not familiar with or haven't heard of Pomodoro, it's a time management method based on research that reported humans work best in intervals of no longer than approximately 25 minutes. It works on the basis that if you can focus for 25 minutes straight, you're more likely to continue with the deep work you've already started, or you'll take a short break before focusing again.
Flow blocks apps, websites and other distractions while you work to limit the opportunity of your mind trailing off down some unnecessary path. It tracks your progress in a nifty report generated weekly and suggests ideas to reduce stress based on the results. Since adding Flow into my workflow, I've noticed a change in my productivity levels – I've even got the timer ticking away as I type this, and as I reach the end of this blog, it might just be time for a coffee break.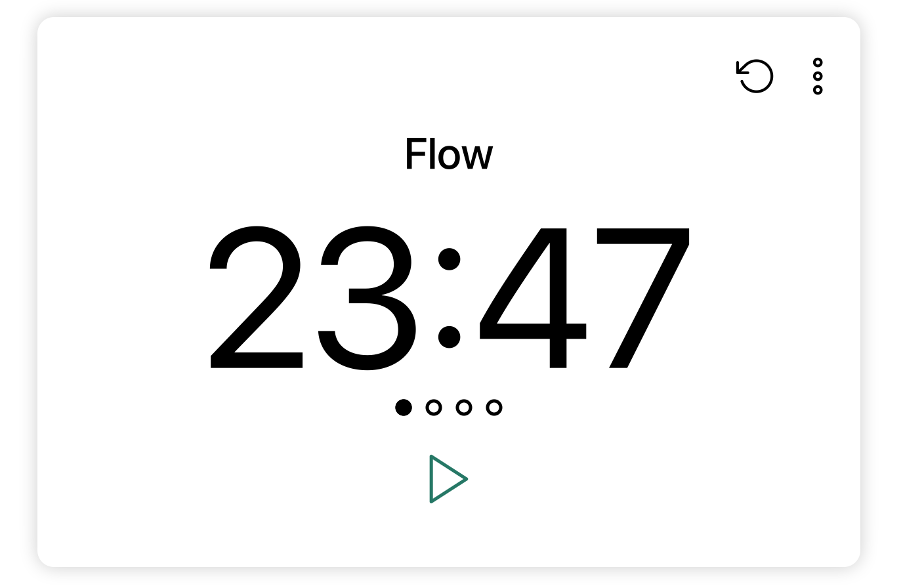 Bottom Line: AI is a Tool, Not a Replacement
I use AI to make life easier. I don't use AI for the things I'm actually good at, aka the things I spent a long time learning to do. If I did, I'd only be cutting corners, and it wouldn't be long before the spark and excitement for my work disappeared. Copywriters, marketers and creatives shouldn't fear AI as a tool because when used well, it can't make a difference to your workflow. And I'll say it until I am blue in the face. It will not replace the work we do on a daily basis. It's not accurate enough for that.
We talk about AI and its latest advances in our weekly newsletter, Content NOW! If you liked this blog, and fancy more content like this, sign up here. It drops every Thursday and I may be biased, but it's a good read.