SEO: A Business Owner Guide For 2019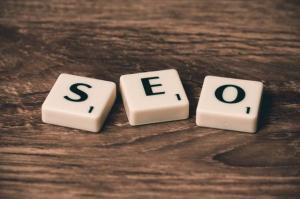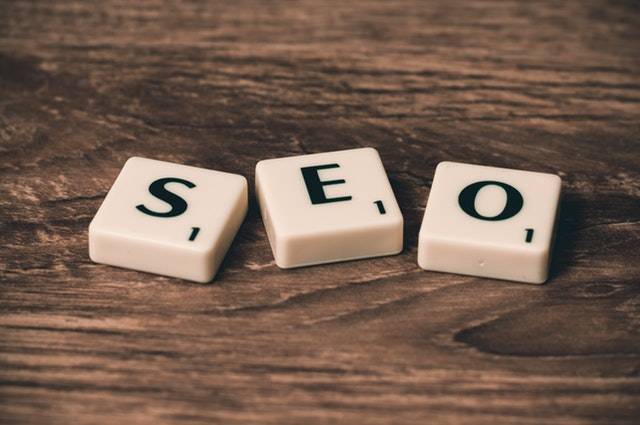 Read all the guides about on-page SEO but not seen any changes? Invested time and money in web content that no-one's reading? Still being beaten in search results by your competitors?
Here's newsflash no.1 about modern SEO: it's hard. And no.2? Gone are the days when a well-researched, correctly placed keyword could give you the edge over your competitors. That brilliant "xx ways to supercharge your SEO today" article you read? Everyone else has read it too.
So what are your competitors doing in SEO that you're not? And how can you, as a small business owner do it too? This article will unmask the key contributors to contemporary SEO success, and explain exactly what you need to do now to succeed.
1. Understand your domain authority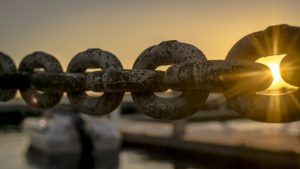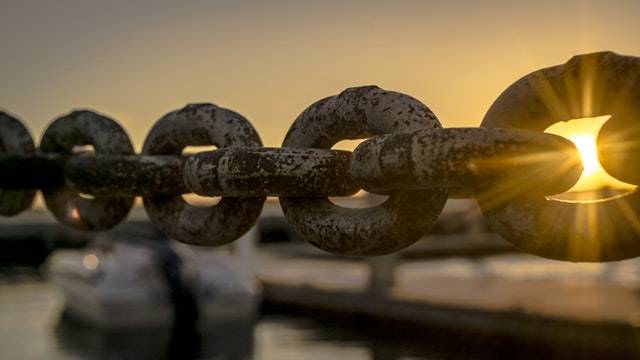 You may or may not be familiar with the term domain authority, but every time you notice you've been pipped to the post in the SERPs (search engine results pages) by a competitor, you're seeing it in action.
The term was developed by the SEO gurus over at Moz to gauge how well a site is likely to perform in the SERPs, based on a number of key ranking factors. Put simply, domain authority is a measure of how popular your site is with other sites and, if the sites that like your site are popular in turn, then your authority is better. It's basically like school, but with algorithms.
Domain authority, as conceived by Moz, is a score out of 100 calculated using the following elements:
Trustworthiness of domains linking to your site
Popularity of domains linking to your site.
Total number of links to your site from other sites
Total number of sites linking to your site
Page authority (also scored out of 100) applies the same testing to a single page, rather than an entire website.
It's important to remember that domain authority (DA) is nothing more than a label (like all grades, depending on your attitude to the education system). As such, increasing DA should not be an end in itself, but used instead as way to understand, and improve, the way search algorithms are ranking your site.
2. Backlinks (for modern SEO)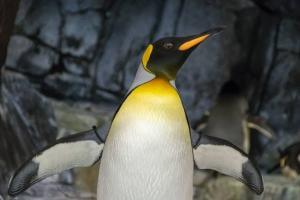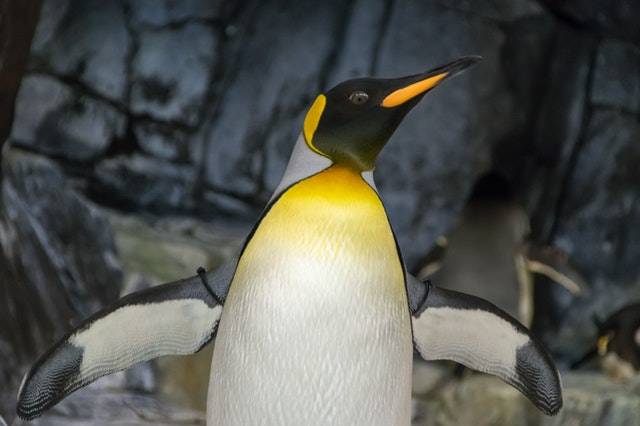 A 'referring domain' is another website linking to yours. 'Backlinks' are the links themselves and are a crucial contributor to good search engine ranking and domain authority. In the days of 'black hat' SEO techniques, there were vast numbers of websites set up with the sole intention of backlink building: Google's more major algorithm updates were designed to put a stop to that by penalising not only these 'spammy' sites, but also those sites that have links on them. Getting links from quality domains remains one of the best things a small business can do for its website ranking.
Although Moz are a little cloak-and-dagger about the exact ingredients of their domain authority scoring system, it's safe to say it's all about backlinks. And, since the Penguin update in 2012, it's about quality backlinks.
Tempting as it may be, arbitrary link-building without knowing which websites will be linking to your site is NEVER WORTH IT.  NEVER. It's not simply a case of poor quality sites doing nothing to improve your ranking: they can actually harm it.
Moztrust (a component of DA) measures the 'trustworthiness' of linking sites by looking at how far away they are from a known, quality domain. This is why links to your site from a .edu or .gov site are SEO gold but, unless you're in an education or government niche, damnably hard to achieve. Luckily, there will be other quality sites that will want to link to you if:
a) your content is right and
b) you ask in the right way (more on this later).
How to spot a dodgy backlink request
As website owners become more savvy, dodgy backlinkers have either crawled back into the hole from whence they came, or become cleverer. Here are a few things to watch out for:
There is no personalisation in the email. Watch out for generic text such as "I was browsing your website and found it really interesting". Did you? What in particular did you find interesting?
They mention your site with the full url. "I was browsing your website https://bigstarcopywriting.com and I found it really interesting". No-one types entire domains manually into an email; these enquiries are likely to come from software designed to send vast numbers of backlink requests out in one go
They use your generic [email protected] business email address. Authentic backlink building requires a bit of leg-work and finding the right person to contact should be part of that
They have no ranking power themselves. Google their company and see what comes up. You can check the domain authority of any site (including yours) using Moz's free Add-On for Chrome, or register (free) with Moz and use their excellent Open Site Explorer
You can't really see the connection between their site and yours. If the relevance seems tenuous, chances are they've sent out billions of emails and their site is going to be chock-full of links (a post-Penguin no-no)
How to get quality backlinks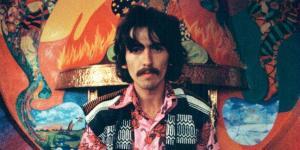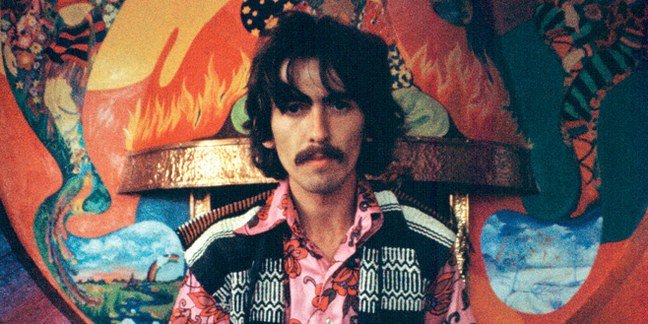 There's no getting round it: backlink-building is one of the most challenging SEO strategies to execute effectively. To quote George Harrison: "it's gonna take time – a whole lotta precious time". If it doesn't take time, then it's gonna take money (to pay for an expert content marketing service).
Here's how to do it, yourself in 8 steps:
Find out who you want to get links from. Do this before you decide what you're going to write.
Look at what they've linked to before. You can use a tool like Buzzsumo to do this, or just have a rootle through their Twitter feed. Are there any common themes or subjects they're especially interested in?
Decide on a title for your article. Think about what you can offer to website curators: how can you make your article so useful that they'll be clambering over each other to link to it? How does it fit in with other articles they're currently linking to?
Decide on a target search term for your article (use a tool like Ubersuggest to get ideas)
Write it. You're looking for a long article – 2,000 words minimum, with an image approximately every 300 words
Optimise the article for search. Make sure you have compelling Page Titles and Meta Descriptions that contain your target search term, and that it's included in the first paragraph of your article as well as in image alt text throughout
Go back to your list and spend some time finding the best person to contact. You're looking for editors or someone on the site's writing team (you can use a tool like hunter.io to find email addresses)
Get in touch. Tell your new contact they you've recently written an article about xxx topic and would they like to see it? Asking for their permission rather than going straight in with a backlink request will improve your chances of success later on. If you've chosen your contacts carefully, most will say yes – then it's a short hop to a backlink request once they've read (and liked) your article
Backlink building is possibly the single most important thing you can do for your SEO and domain authority and it bears repeating at this point that there is no quick fix. The more time you put into researching your content and potential backlinkers and the more you personalise your outreach, the better the results.
3. Internal linking
Internal linking, on the other hand, is easy to implement, completely flexible and described by Kissmetrics as an "SEO Power Technique". So why do so many websites get it wrong? And what do you do to get it right? We've got you covered: read on and learn how to master internal linking for SEO.
Definition of an internal link
First things first. What is an internal link? Not be confused with an inbound link, which is a link from another site to yours also known as a backlink, an internal link is a link from one page of a website to another page on the same website. It can include links within content, but also links in menus and footers.
Why does Google like internal links?
To understand the importance of internal links, you need to think like a spider, crawling the internet for flies (web content) to put in its creepy web (the internet). Internet spiders (also known as 'bots' or 'crawlers') don't care about the fancy graphic design elements of your site, or the colour of your menu bar. This is what they see: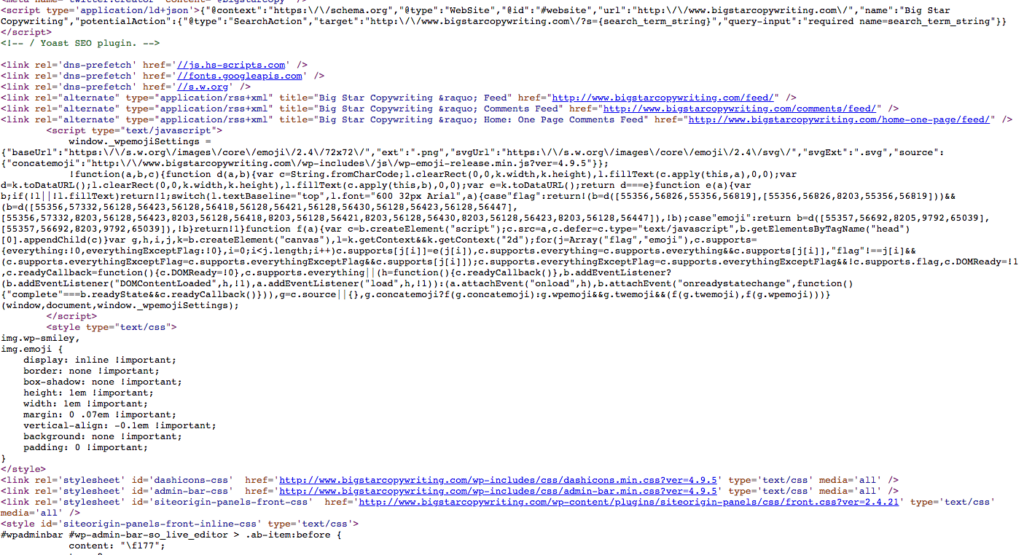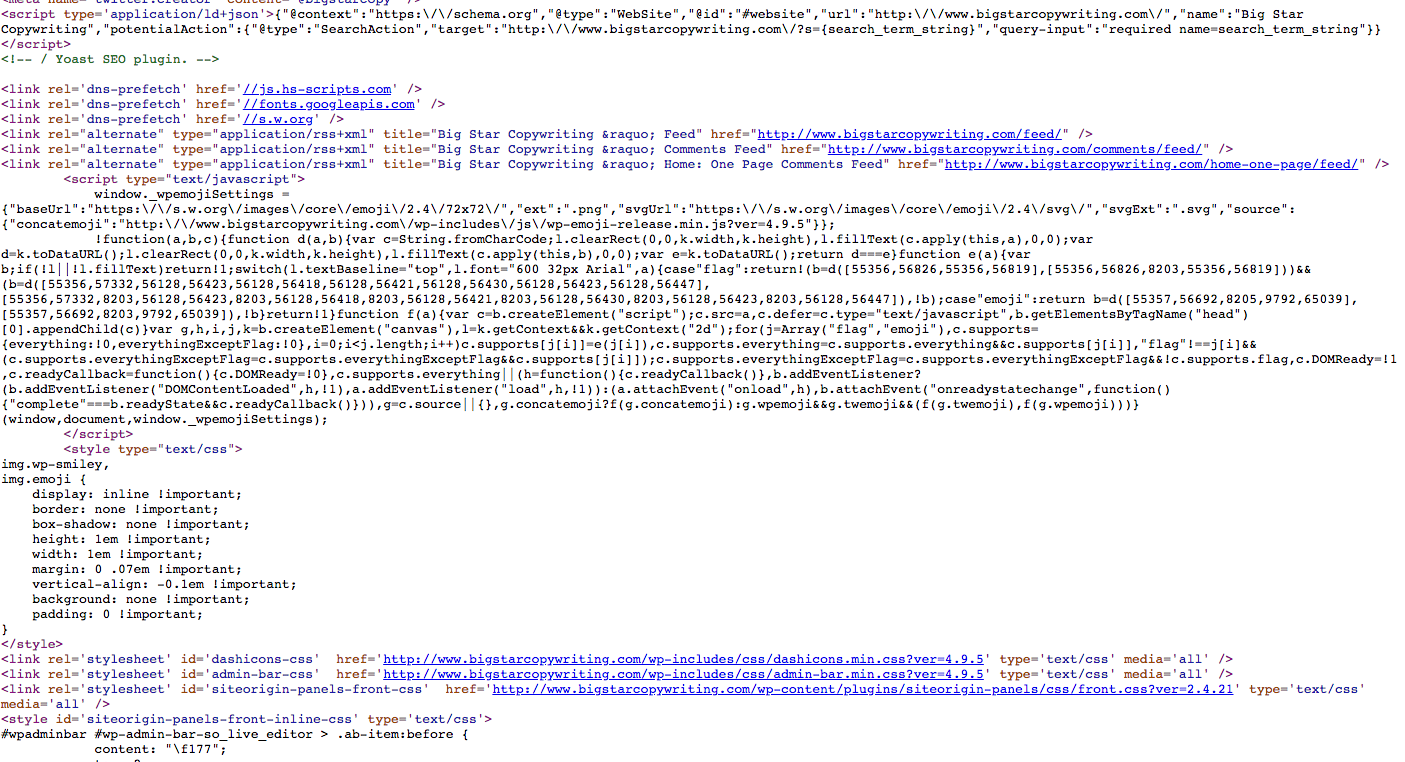 Nice huh? As it's something of a personal bugbear, I'll just add here that this is why you should always make sure your image alt text isn't left blank: if explaining your images to users of screen-reader software isn't enough of a reason, then maybe the fact that spiders (despite having all those eyes) can't see images will help convince you. All they have to help them understand what the image is about is the alt text and file name.
Internal linking gives spiders an overview of your website, showing them how the pages relate to one another and enabling accurate indexing. They also give them an indication of the hierarchy – when spiders find a higher than average number of links to a particular page or piece of content, they deem that page more important (page authority is discussed more below).
Dwell time & internal linking
Aside from being appealing to spiders, a good internal linking structure brings other, less direct SEO benefits in the shape of increased dwell time.
On its mission to create a better, more useful web, Google is always on the look-out for evidence of good, engaging sites. In the golden (easy) era of SEO, this meant 'updating your site' and 'publishing blogs regularly'. Now, with a million blogs being posted every day and every webmaster and their dog having a grasp of rudimentary SEO, the definition of 'good' has become more sophisticated. Google wants to see that your site is:
a) engaging and
b) provides users with the information they were looking for in the first place.
To measure this, Google looks at key metrics and puts them together to calculate 'dwell time'. They are characteristically cloak-and-dagger about exactly which metrics are used, but it's widely accepted as including:
the % of visitors who leave your site after only viewing one page ("bounce rate")
the amount of time people spend on your site
Internal linking can have a significant effect on both these metrics, helping guide visitors naturally through pages on your site and increasing the time they spend there. As far as SEO strategies go, it's uncommonly easy to implement and should therefore be a no-brainer.
Best practice for internal linking
So now I've got you convinced of the benefits of internal linking, you'll be wanting to add them everywhere, right? Here's how to do it properly:
1. Memorise this diagram.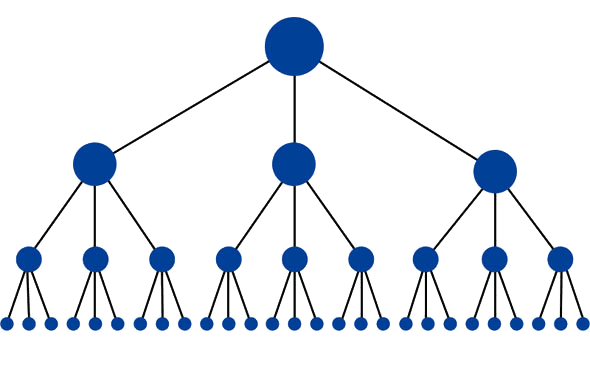 Got it? Good. The lovely folk at Moz created this to show the optimal structure for a website. They explain:
"This structure has the minimum amount of links possible between the homepage and any given page. This is helpful because it allows link equity (ranking power) to flow throughout the entire site, thus increasing the ranking potential for each page"
2. Use Google Search Console to get an internal links report. From here, you can see which of your pages have the highest number of internal links and which ones may need a boost. Look out for a disproportionately high number of internal links to your main pages (those that are navigable to from your menu) – strategic internal link building should take visitors deeper into the site, not send them to places that they've a) probably already been or b) can get to easily at any time.
3. Check and repair broken internal links. There's a broken link checker plugin for WordPress, or you can use the Search Console 'Crawl Errors' report to look for pages returning a 404 error (not found). Click on the page url to see which internal pages are linking to the broken page, then either:
– go to the page/s and correct it
– redirect the broken page to a working, related page.
4. Find pages with poor dwell time. Information on bounce rate and time-on-site are available for free in the Google Analytics dashboard, providing an idea of how Google may rate dwell time for particular pages. Just go to Behaviour – Site Content – All Pages and click on the Avg. Time on Page and Bounce Rate columns to sort by those metrics. Look for the pages with a higher than average bounce rate, or a lower than average time on page: these should be your priority for adding internal links.
How many internal links should I have?
In a nutshell: as many as are genuinely useful and relevant to your readers. Want a figure? Google's Matt Cutts recommends "keeping to under a hundred links or so" per page. For the average website, this can sound like a lot, but remember this includes all links on a page, including menus and footers, as well as outbound links (to other website). Content marketing guru Neil Patel is a bit more specific:
"When it comes to internal linking, I suggest around three to four, depending on the length of your post"
Above all, keep it natural and only use an internal link where it's useful. If inserting a link spoils the flow of your content, chances are it's not relevant. Leave it out, or re-work your content to accommodate it naturally. If you're struggling to find relevant content to link to then it may be a sign that you need a content marketing strategy (we can help with that).
4. Trust and TrustRank
TrustRank, like Domain Authority, is a complex quality metric used by search engines to measure the trustworthiness of a website or page. As with Domain Authority, the higher your site's TrustRank, the better it is likely to perform in the search engine results pages (SERPs)
TrustRank is calculated using the distance between a page on your site and a "seed site" – a known and trusted internet source chosen by Google and honoured with a 10/10 Trust Score. It's a degrees-of-separation kind of thing: the closer your site is to the seed site, the higher your trust. Here's how Moz depict the process…

How do I find out my TrustRank?
1. Pop your domain into Moz's Open Site Explorer
2.Go to 'Compare Link Metrics'.
3.'Page MozTrust' will give you a trust score based on the sites linking to you; if you want to score MozTrust for your domain (rather than a page) then click on the minus sign next to Page Specific Metrics, then again on Subdomain Metrics to see Root Domain Metrics.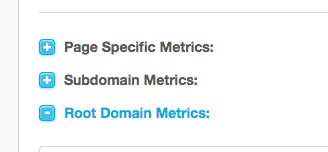 What constitutes a 'good' trust score?
The dizzying variety of sites on the web mean that there are no hard and fast rules about trust score, beyond the simple fact that the higher your score the better. That said, if your site is scoring 3 or less it could be indicative of spammy sites linking to yours and should be investigated. If it's a 1 then you have serious issues and your site is almost entirely linked to by spam sites.
For a useful benchmark, put your competitors' site urls into Moz's Open Explorer tool and see what their MozTrust Score is. To give you an idea of what to expect, here are the MozTrust scores for a popular, well-optimised but 'normal' website (bigstarcopywriting.com) compared to a major ecommerce site (John Lewis), a local council (Manchester), an established news site (The Times) and a hugely successful blogger (Neil Patel).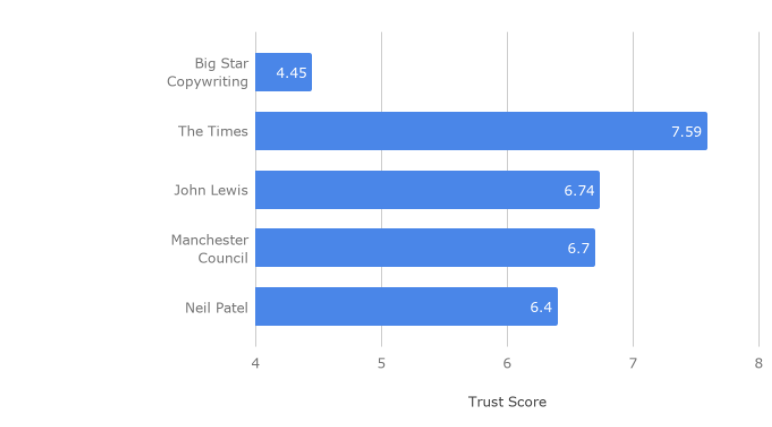 How to improve trust score
As with most effective SEO strategies, building up trust score cannot be done overnight (Google recommends giving SEOs at least 4 months to start getting results for your site). It should be approached strategically, methodically and patiently.
Here's what you need to do:
The single most effective way of increasing your trust score is to get better quality links to your site. You may not be able to score a link directly from a .gov or a .edu, but if you can get one from a site that they do link to, then some of that link equity will pass on to you.
You also need to keep on top of your backlink profile, and be sure to disassociate your site with any spammy sites, either by contacting the site owner, removing or moving the page they're linking to (don't do this if it's ranking well!) or asking Google to disavow the link (use with caution)
Over a million blog posts are published every day. To build quality backlinks, you need to be creating stand-out content that people want to link to. We've written some guidelines on how to do this here.
Link out to quality domains. Including relevant links to authoritative domains may contribute to trust score (even if it doesn't, it's useful to your readers and certainly won't do you any harm)
Pay attention to the small-print. Google, as well as site visitors, is reassured by the presence of Privacy Policies, Terms and Conditions etc.
Watch your bounce rate (the % of visitors who leave your site after only viewing one page – available in your Google Analytics reports). As you'll know from your own internet browsing experience, if you're confronted with a spammy site you're going to leave straight away (yes, you are) – if Google sees that behaviour reflected on your site it will draw negative conclusions.
Keep an eye on dwell time ('Average Session Duration' in Analytics) as well, for the same reasons as above. Contact forms and Thank You pages will traditionally have a lower dwell time, but do any of your main pages have a lower than average session duration? Take a look at why, and whether you can make the page 'stickier' by guiding people somewhere else after they've finished with that content.
What next?
Google considers over 200 ranking factors when deciding where to place your site in the SERPs, and competition for the first page has never been tougher. But, with the right strategy and close attention to the main contributors to SEO covered in this guide there's no reason why you can't be up there with the best of them. So, if you do nothing else, make sure you have:
A strategy to improve your Domain Authority and quality backlinks
A strong internal linking structure
An understanding of TrustRank, its contributors and how to improve your score
Big Star has been helping businesses of all sizes improve their SEO and content results since 2005. Get in touch to find out how we can help yours.