We're all food lovers of some kind. There's bound to be a favourite snack, meal or treat that springs to mind when your stomach starts to growl. We're creatures of habit; we tend to stick to the flavours and tastes we know, making marketers' work much more difficult. The food and drink scene is hard to crack; great copywriting is crucial to get eyes feasting on your products – the right words will ensure your products are at the top of mind the next time cravings hit. So, here are 20 mouthwatering food description examples to inspire your food and drink copywriting. 
Ben & Jerry's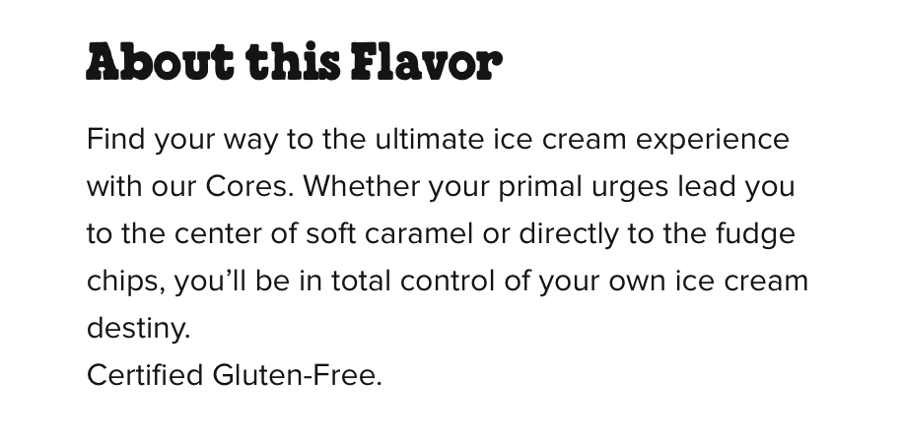 This ice cream brand is a national favourite for a reason. They're all about making dessert the main event, and with their indulgent flavours, the brand rarely under-delivers. And the same can be said about their catchy copy that places their interesting ingredient combinations centre stage. On their website, Ben & Jerry's takes you on an action-led journey with their various ice cream product descriptions. Take a look at the food description example below. Ben & Jerry's appeal to our instincts and the undeniable urge many of us have to gobble down our favourite treat. We – the reader – are the main character in this flavour story as the ice cream brand give us permission to indulge. 
Lidl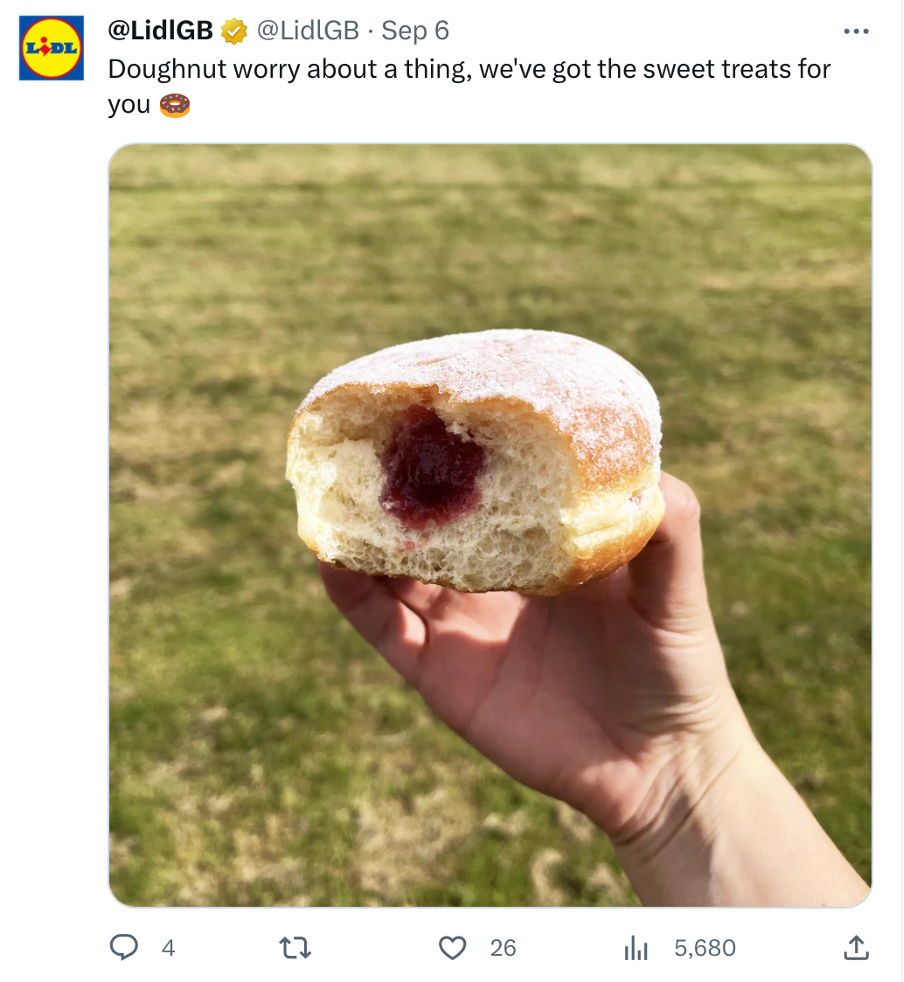 Lidl is always top of mind when I think about great food and drink copywriting. They're always making some noise, whether on social media or one of their billboards and nine times out of ten, it works because they know how to make people laugh. They earn gold in the content marketing game by mastering witty copy. Everyone knows you can't shop online at Lidl – and you never know quite what to expect as you wend your way down their infamous middle aisle. It's the modern-day equivalent of the magical mystery tour. Lidl harnesses the power of social media to sell and promote their good-value products – and their fresh in-store bakery is a favourite conversation starter.
Beyond Meat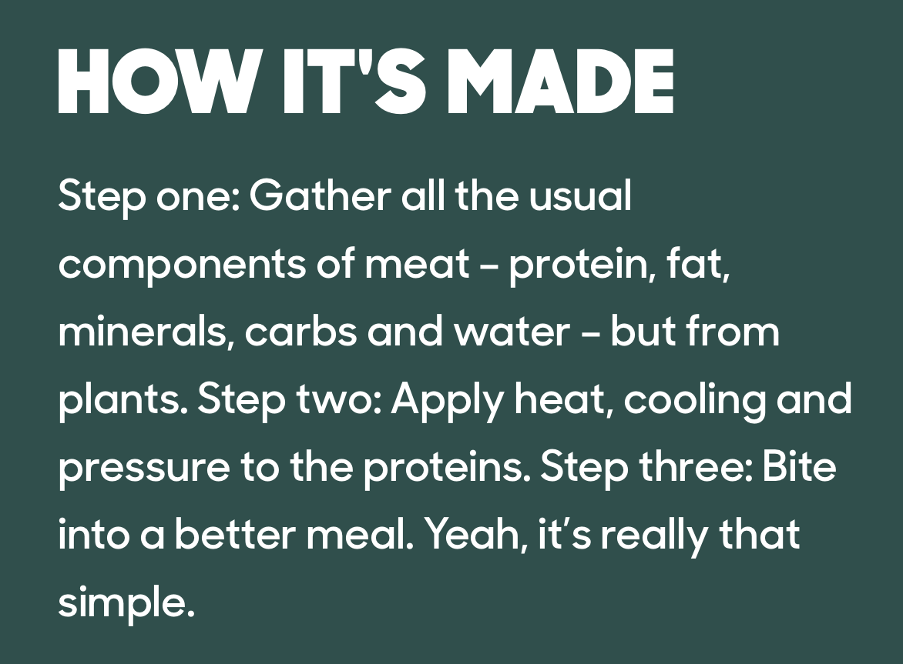 Beyond Meat celebrates the diversity and flexibility meat can bring to a dish while turning it on its head. Throughout its website copy, the meat substitute brand shouts about its likeness to 'the real thing' while highlighting the only difference – it isn't meat. This approach may not be for the faint-of-heart vegetarians who want to extend their distance from animal products, but it is an approach that works. Why? Because they know their market. The alternative-to-meat brand taps into new vegetarians and vegans looking to mix up their diet. For those who are used to the versatility and taste of meat, this one's for you.
Taco Bell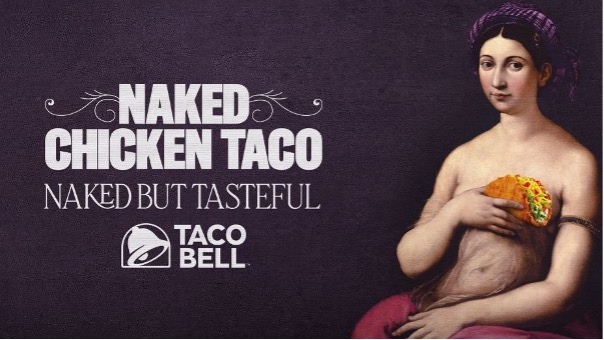 This advert and the accompanying campaign got a lot of attention on social media for its humorous product launch. Taco Bell knows how to turn up the volume, and they announced their range of Naked Tacos with creativity. They automatically get five stars for thinking outside the box – leaving us wondering: who on earth thought of this one? The messaging, snappy copy, and the surrounding visuals reiterate Taco Bell's quirky and cool brand identity. They don't need to get into the details of everything inside their new Taco; they rely on their popularity and established street cred to get by. And it works – you can't help but stop and stare at this one.
Oasis
Nothing builds brand loyalty quite like honesty, and Oasis' upfront approach to content marketing is a strategy brands should take note of. Marketing is a funny old thing. Everyone knows why we do it: to make money. And Oasis' acknowledgement of the fact earns respect. Instead of telling customers an elaborate tale of why their product will likely change your life, they get straight to the point. They say: this is what we can offer, this is why it benefits you, and this is what we will get out of it. Why sugarcoat things when you can cut to the chase and still see results?
KFC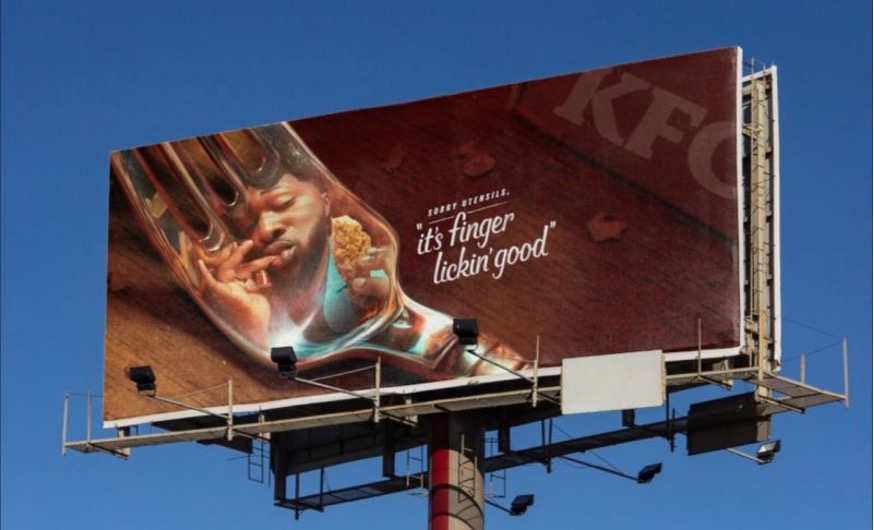 This chicken fast-food chain shows us the power of writing excellent copy once and using it often. This snappy catchphrase is recognised globally – everyone knows the Colonel's cheeky little face. Why change it if it's not broken? Plastered on billboards, social media and TV adverts, the lesson we can learn from KFC's food description example is that it pays to be memorable. And if what makes your brand memorable is a handful of well-written words, it's worth the investment into a good copywriter who can write them. 
Just Eat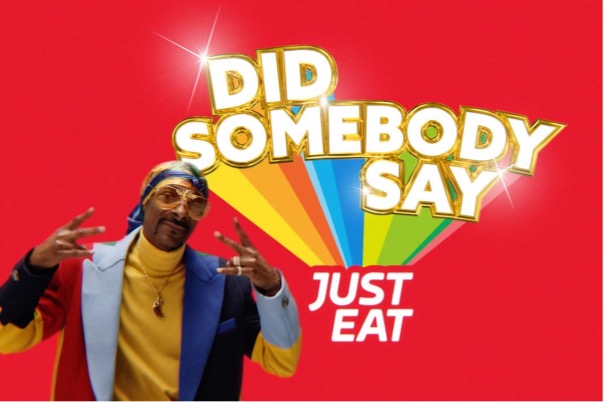 Did somebody say, 'Just Eat'? As you read that sentence, I'm sure you even heard the jingle. Just Eat spends big bucks to get in front of your eyes and ears. From partnering with celebrities like Snoop Dog to buying ad slots between some of the hottest weekday TV (Love Island, I'm looking at you), everybody has heard of Just Eat. And because of this, their brand must be consistent and recognisable. Just like KFC with their 'finger licking good' catchphrase, Just Eat has invested in a slogan they can use repeatedly, amplifying its message. This is another excellent food description example of how sometimes less is more when writing great food & drink copy. 
Gousto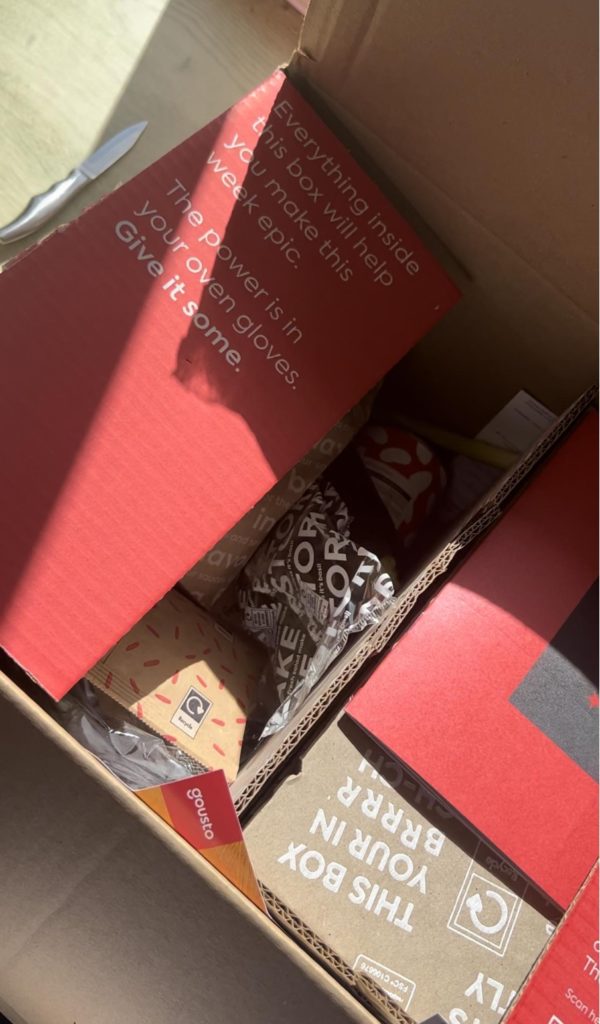 Gousto have thought of everything when it comes to their copywriting. Our social media manager, Melissa, summed her thoughts on the brand in a LinkedIn post, and we couldn't resist giving the food delivery service a place on our list, too. From their recipe cards with quick tips and cooking playlists to their delivery boxes designed to set you up for a week of great food and convenience, Gousto expertly caters to their hard-working, professional audience. They make cooking simple, enjoyable and fuss-free – all communicated in their easy-going, conversational copy.
Oatly

An OG when it comes to copywriting, Oatly get it right every single time. They've mastered the art of breaking the fourth wall and putting you – the reader – in the hot seat. It's honest and abrupt, and it cuts the BS. Oatly's tone can sometimes be a bit condescending, but it establishes their authority. Take the billboard above, for example. Oatly has successfully made those who aren't already converted to their creamy oat drink feel a little silly. The alternative – cow milk – feels somehow transgressive – and if you're not on board the oat milk train, you can hear Oatly from the back row screaming, 'you can't sit with us'. They know it all but use their knowledge wisely; it's informative and entertaining, and you can't help but laugh out loud.
Pizza Express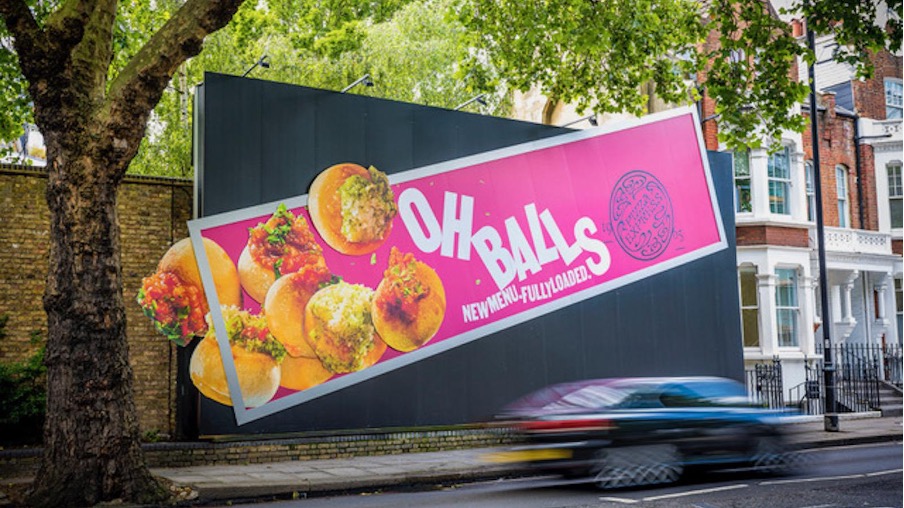 Even if you haven't eaten at Pizza Express, you will have heard about their Dough Balls. In this billboard, the out-of-control, garlicky side takes centre stage with a play on words we can't resist. This billboard works well because of familiarity and comedy – two techniques that go hand in hand to ensure effective food and drink copywriting. This short description adorning the hot pink piece of OOH marketing cuts through the noise. It's a prime example of why you don't need to overcomplicate things: quick copy often wins the race.
Kellogg's

Unlike other brands in this list, Kellogg's holds on to its history with this website description of their pioneering product, Corn Flakes. Their legacy speaks for itself – and they know it. They rely on their status in the cereal world to explain to potential customers why Kellogg's is best. In food and drink copywriting, your product story is essential. Although sharing where you came from in every piece of written word you publish is unnecessary, there is a time and a place, and Kellogg's has nailed it here. They've struck a delicate balance between sharing their roots without writing a boring autobiography. When you have a product that dates back as long as Corn Flakes does, it's worth sharing a little of its heritage.
Innocent Smoothies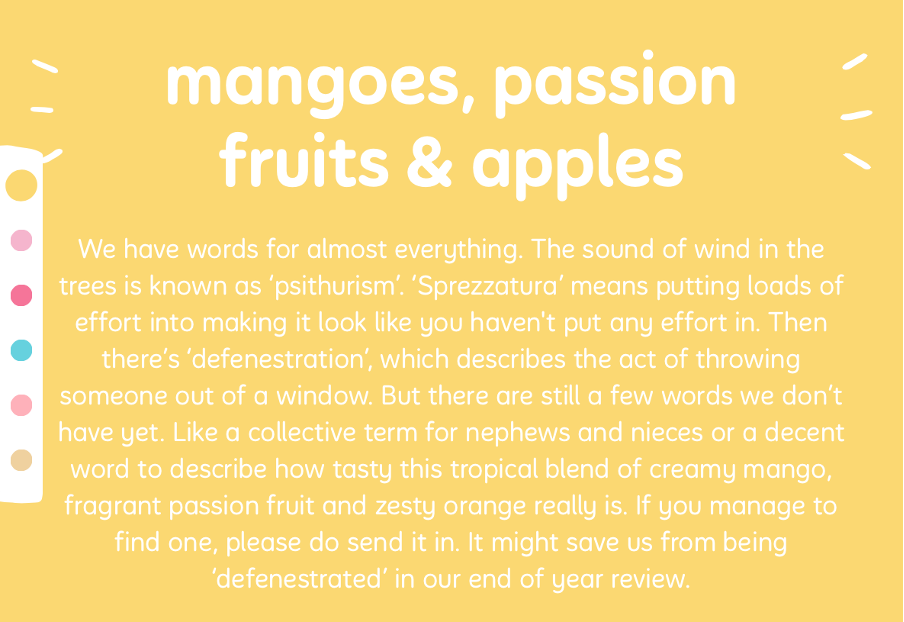 Innocent Smoothies may be over-mentioned on the copywriting scene, but they're a benchmark brand in food and drink marketing. This content marketing success can be attributed to their distinctive tone of voice. Often crazy, imaginative, and mostly off-topic, Innocent draws you in with their funny tales and creative imagination. Their stories frequently make their customers a main character; you feel part of their product and brand stories. Because of this, there's no surprise they've grown such a cult following online. Innocent teaches copywriters that there are no rules when writing your drink and food descriptions. Wacky can be wonderful, and the craziest copy can get lots of attention. 
McDonald's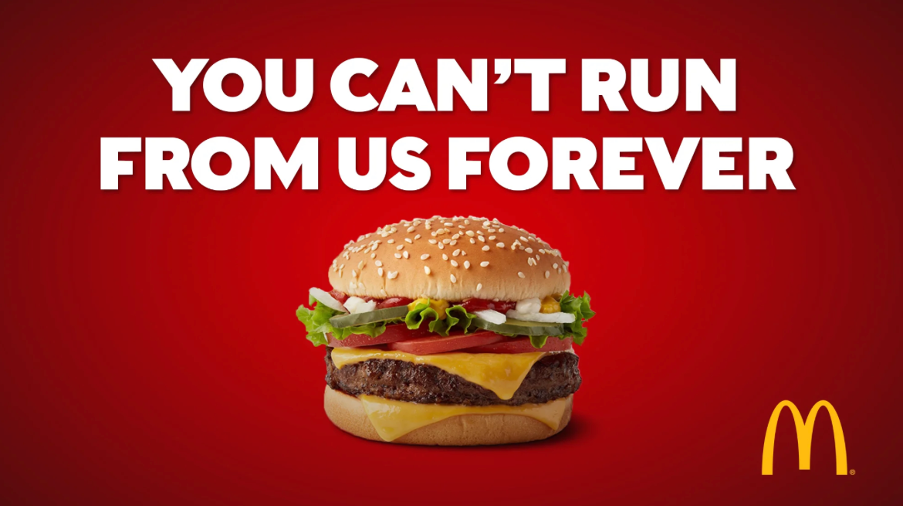 Any individual concerned about the food they eat will probably have a personal vendetta against McDonald's. We all love a Big Mac, but we all suspect it's not good for us. And the thing is, McDonald's doesn't claim to be a nutritious stop for a wholesome meal, as they made clear in their recent campaign. Making a subtle dig at fitness fanatics, they poke fun at those who avoid the fast-food chain. It's funny, a little daring, and a fine example of including your audience in the conversation – even those potential customers who may be a little reluctant to indulge.
Budweiser
A good brand needs confidence; it must be so sure of itself that it hurts. That's a lesson we can learn from Budweiser as they promote their bottled beer as the perfect complement to a meaty, greasy burger. Budweiser knows its audience as it targets young men, sports fans and individuals likely to crave that fast food feeling as they knock back a few drinks at the local bar. A match made in heaven – or so they're likely to say. You can be bold in your food and drink product descriptions and make claims, even if you don't have the evidence to back it up – provided it's done correctly (let's not forget FSA regulations!) With confidence comes trust, and trust is what turns infrequent customers into very loyal fans.
Heinz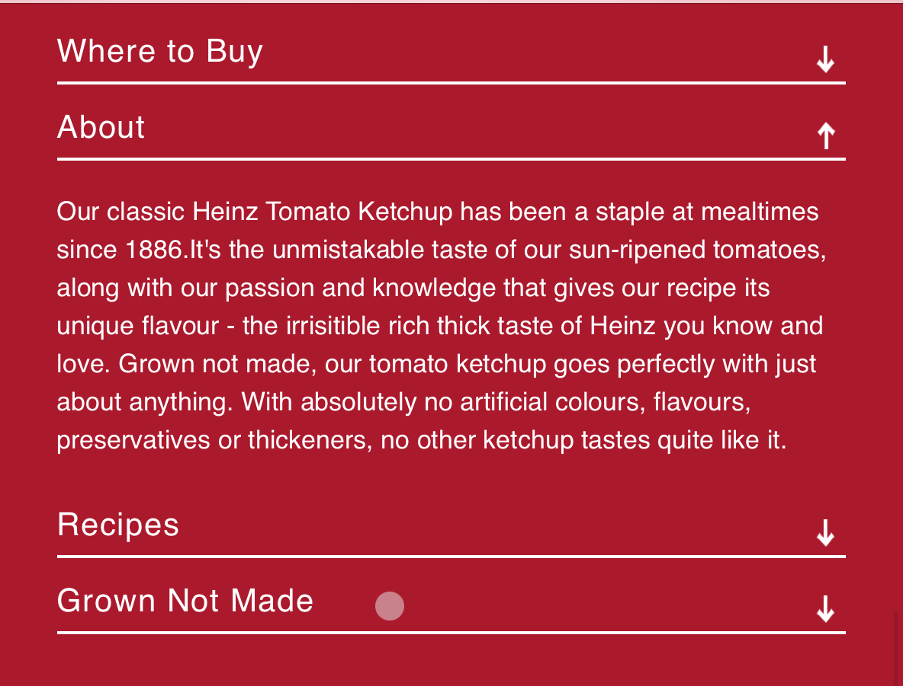 Heinz is the tomato ketchup king, but they know it's a flooded market. Their website copy and food descriptions rely on their product legacy and customer satisfaction to keep consumers on their side. They don't need lavish claims and flamboyant writings to spark the interest of eager eyes. They already have the attention of households nationwide because they've been around that long. It's a product that's tried, tested and loved for generations, and it's that homely, familiar feeling Heinz creates in their simple yet effective copywriting. 
KitKat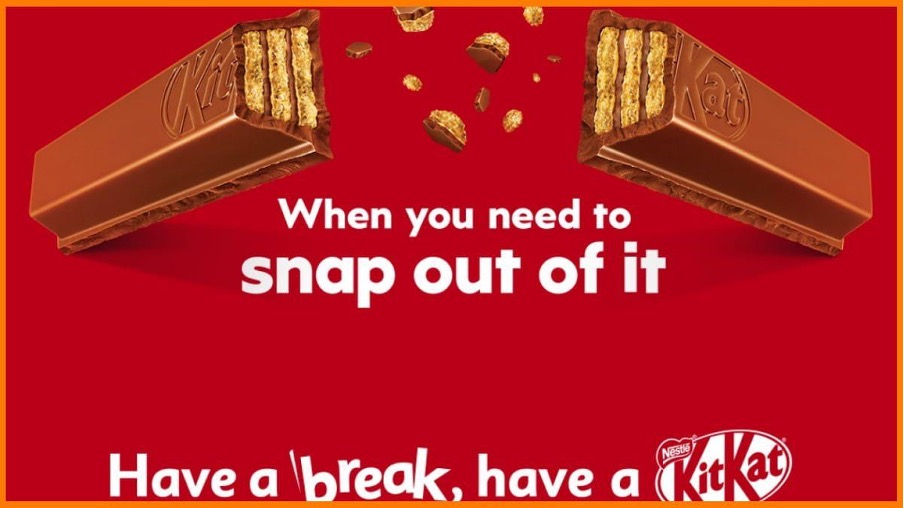 KitKat appreciates many of us live busy lives, with brand messaging that reminds us to slow down, take a break and enjoy a tasty snack. 'Have a break, have a KitKat' is one of those slogans everyone knows, but it's not their slogan that wins gold in this campaign. KitKat is great at using onomatopoeia in their copywriting. But that familiar sound of crispy wafers breaking into two doubles as a snappy pun as well (see what I did there?). This food description example is fun, simple and effective. Take a leaf from their book and get creative with your food and drink copywriting. 
Coca-Cola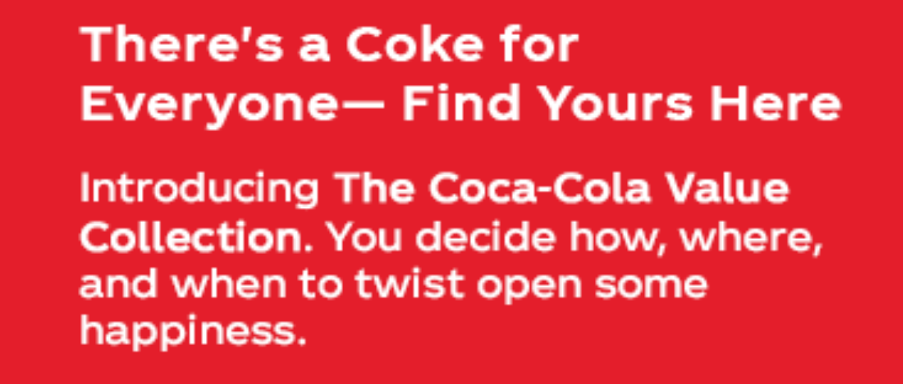 Coca-Cola isn't just a drink. It's an experience. At least that's the message the soft drinks brand share in their marketing. Unlike smaller soft drinks brands, they don't spend pages explaining their flavours or processes. Instead, on their website, they rely on a feeling – the well-known feeling of drinking a cold bottle of Coke. Their copy suggests that drinking Coke is more than just a quick refreshment. To them, it's a lifestyle, and this idea is echoed throughout every inch of the marketing strategy. The takeaway? When you know people like your product, lead with the brand experience to introduce it to more people. People trust other people.
DASH Water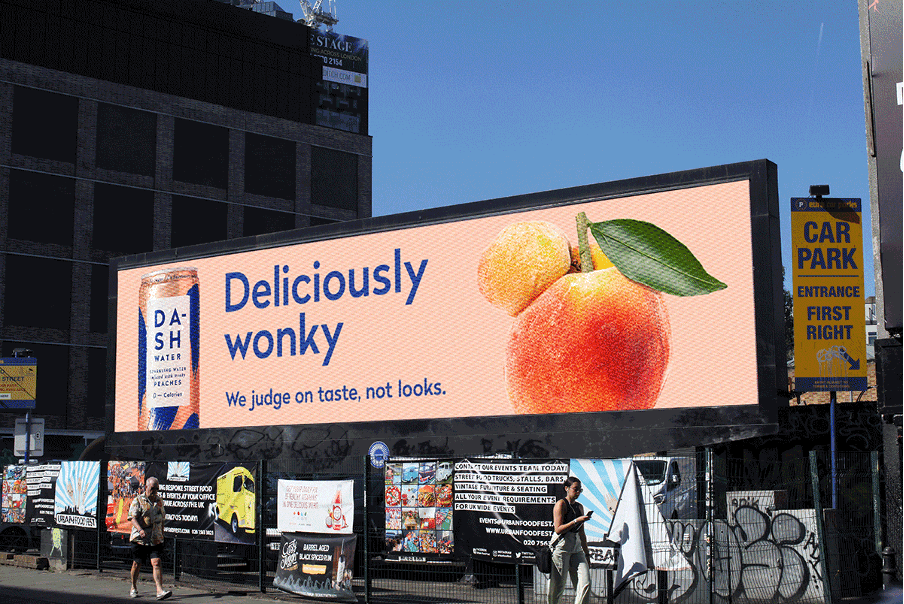 Many food and drink brands harp on about how perfect the ingredients they use to make their products are. But not DASH Water. Their brand is built on being deliciously wonky; they champion zero food waste, and their products proudly use fruit and vegetables that may not have made the cut elsewhere. Their slogan, 'We judge on taste, not looks,' is plastered across billboards, bus stops and social media and is a fantastic reminder that perfection is not always paramount. DASH set an excellent precedent for brands wanting to showcase their values in their copy. If done right, what you believe in can become what makes you stand out from the crowd.
Marks & Spencer's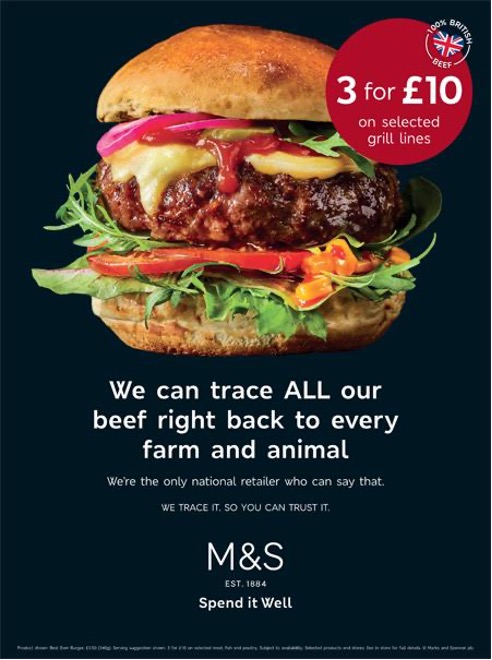 Similarly to DASH Water, Marks and Spencer's is another brand that stays true to its mission throughout its marketing material. With this piece of in-store POS, M&S focus on what makes their products different from their competitors – their ingredients. According to this food description example, M&S are 'the only national retailer who can say that' they can trace their beef back to every farm and animal. It's a big claim and will undoubtedly find favour amongst those who care where their food comes from. The copy is tight and tidy in this ad; it says what it needs to say without saying too much. When making big claims, using fewer words shows your confidence – if there's one lesson you learn from this blog, let it be that. 
Surreal Cereal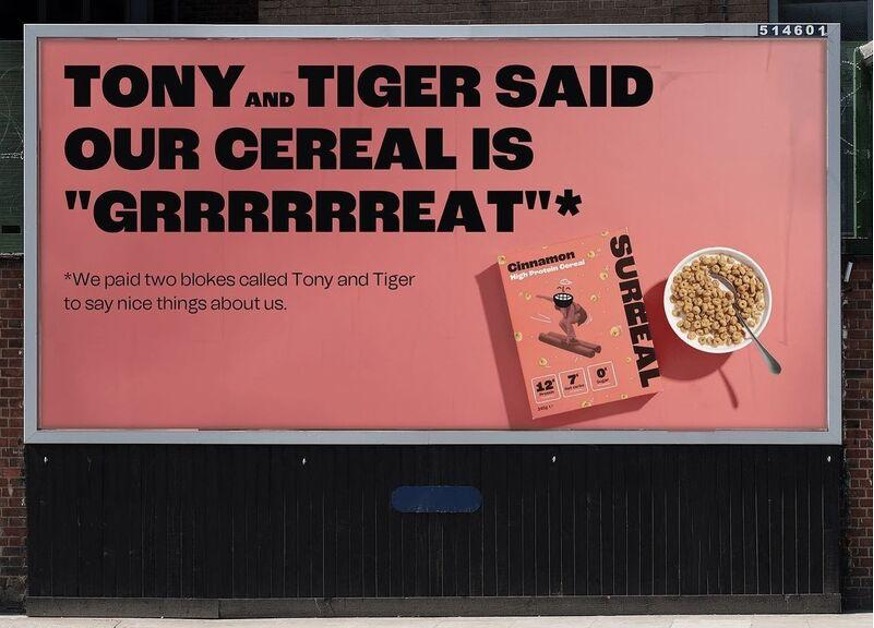 Last but not least of our favourite drink and food description examples, Surreal Cereal is a notable example of great content marketing. Hijacking its competitors' well-known phrases and slogans, Surreal uses customers' reviews to their advantage. We've all heard of Frostie's mascot, Tony the Tiger, and according to Surreal, he loves their products – even if it isn't exactly what it seems. Brave, bold and daring, this billboard copy really makes its mark. 
How to write great food & drink copy: our key takeaways
We hope you found these memorable drink and food description examples useful. Food and drink copywriting doesn't follow a strict regime; there is no rule book to learn or exam to pass. Great food and drink copywriting depends on a few things. Here are a handful to consider: 
Brand identity: your brand should be consistent. With consistency comes familiarity. Your brand identity – from the visuals you use to the tone of voice you adopt – must be at the centre of everything you do. Be memorable – people trust good experiences.
Storytelling: be bold, creative and imaginative. You don't need to be bald and white with your food and drink product descriptions. Tell a story you know will engage your audience – even if it doesn't make the most sense.
Personality: personality is what people will remember. Are you sassy, funny and outspoken? Or are you sensible, soft and witty? Choose your persona and own it in your writing. It will help the right words roll off your tongue.
Your customer: who you are speaking to will determine everything you say and do. You need to know your customer – it's not the golden rule of content marketing for no reason. Get this right, and the rest will follow.
Need a hand creating crave-worthy copy?
If you don't fall into the latter, we can help. We know a thing or two about making copy tastier. And if you need a great copywriter to bring your products to life, you're in the right place.
Our team has been crafting compelling copy since before the iPhone (yep, we've been around for a while!), and we know a thing or two about how to make it resonate with audiences and drive results. We won't subject you to robotic copy (or AI-generated copy, on that note), and we won't send you to sleep with words that hold no value.
You can trust us with your copywriting and marketing communications. It's what we are here for. For more information, get in touch – we'd love to help.