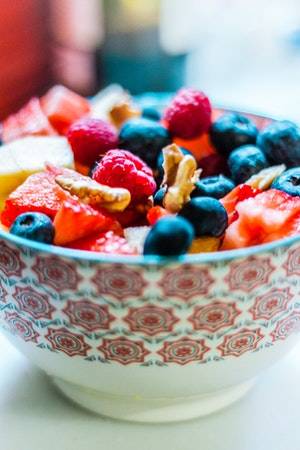 Organic food, natural food, comfort food, bowl food, soul food, fast food, local, heritage. These are all words that evoke an emotional response when we think about what we want to eat and the reasons we buy into certain brands and products.
As the consumer exodus from the high street continues, food and drink retailers without a bricks and mortar presence are busy working out how to use product descriptions to tap into why online shoppers buy the products they do.
The food copywriting you use to do this is as important as those fantastic photographs you post on your website, Instagram and the social media hinterland.
Find out about our food copywriting service»
As an online retailer you probably spend a long time either creating your own products to make them as delicious as they can be, or assembling the kind of product ranges that culinary dreams are made of. And that's great, but people can't taste your products through the screen, and unless they've sampled them before they really don't know what they taste like or why they should buy them. That's where excellent copywriting for food skills come in handy…
For that reason, it really is critical that you make sure the product description is every bit as tasty as the products themselves. Let's take a look at the main components of successful food copywriting.
Who's coming to dinner?
The first thing you need to think about is who you are writing for, what are they interested in, what they value and how your product benefits them.
If you were chatting together at the dinner table, what would you say about your product? What questions would they ask you? How would the conversation go? When copywriting for food, your audience must be at the forefront of your mind.
Are your products gathering digital dust? We can make them shine
Beyond the first bite
The first bite is with the eye, which is why Instagrammers devour picture-perfect food and drink images in their millions. But food is about so much more than aspirational food imagery. To effectively sell it online you really need to engage your customers' senses.
A photo won't do it, but exceptional food copywriting can (and should) give the customer a good idea of what actually eating the product would be like. Just as you invest in the best food photographers to make your products stand out, you should also invest in skilled writers who can bring the tastes of your offerings to the fore.
Food is about so much more than aspirational imagery. To effectively sell it online you really need to engage your customers' senses. Click To Tweet
Engaging your customers' senses
Aroma
Smell is perhaps the most powerful of all our senses, and we've all experienced moments when a scent has carried us off down memory lane. Good food copywriting plays on the strength of this primal sense, with words like fresh, minty, aromatic and fragrant mixing well with comparative similes borrowed from other areas of language.

Taste
Taste is of course of paramount importance in any culinary product description, and a professional food copywriter knows how to use it to sing seductive siren songs to the taste buds of those reading.
As well as describing the nature of the taste with words like sweet, savoury, astringent or chocolatey, good food copywriting can also provide indicators of the extent and intensity of these tastes. For someone looking to buy a curry meal kit for example, whether the product is mild, hot, spicy, fiery or ferocious is of supreme relevance.
Want to boost traffic to your online shop? We've got the words you need

Texture
When you put something in your mouth, you don't just taste it, you feel it. You sense whether it's crunchy, gooey, chewy, supple, hard, tender or smooth. Including textures in your product descriptions enriches the mental visualisation of the food in the imagination of the reader.
Take it easy on the food poetry, though
Nuts and bolts – Hopefully there aren't actual nuts and bolts in your dishes (though if there are be sure to point it out) but you should be careful that you don't get so carried away in waxing lyrical about the food poetry that your products create – that you forget to say what is actually in them. And of course what's not.
Some people are particularly fond of certain ingredients, while some may dislike them with a passion, or even suffer from digestive problems because of them. Being crystal clear about what your food contains will entice the first group, and prevent the other two from making a purchasing mistake that turns them off your entire brand.
Sharing food stories
People like eating food that has provenance and a story. So if your food is the result of a family recipe handed down through generations, or if it's been developed over many years by top chefs, ethically sourced or from a seldom explored corner of the world, be sure to highlight these origins. Copywriting for food can be taken to the next level when a story is introduced.

Cooking up a brand image
When copywriting for food, each of your product descriptions should help to build a picture of your wider brand, while also standing out on their own. If you can latch onto some broad themes within your offerings and then blend these into all of your product descriptions, you can strengthen the impact of your website as a whole, improve brand recognition and make each individual description work harder towards conversions.
Trying to hear your voice in a crowded room? We'll help you rise above the noise.
– Smart content strategy 
– Focused, on-brand writing
– SEO for growth 
A last morsel to consider
Consumer preference on how they do their food shopping is reaching a tipping point. A key takeaway from the 2018 Co-op Retail Conference was the accelerating shift to online grocery shopping. Within the next year or two 60% of people say it's likely that they will shop online for their groceries and have them delivered to their home, Making sure that you keep your customers' online store experience and social feeds fresh with valuable content is crucial to making sure you secure basket share.
Great food copywriting is about more than tasty product descriptions. Are you prepared?
What are your thoughts?
Join the conversation and leave a comment below.
Want to see better results from your food & drink website? Give us a call on 01803 865025 or drop us a line.