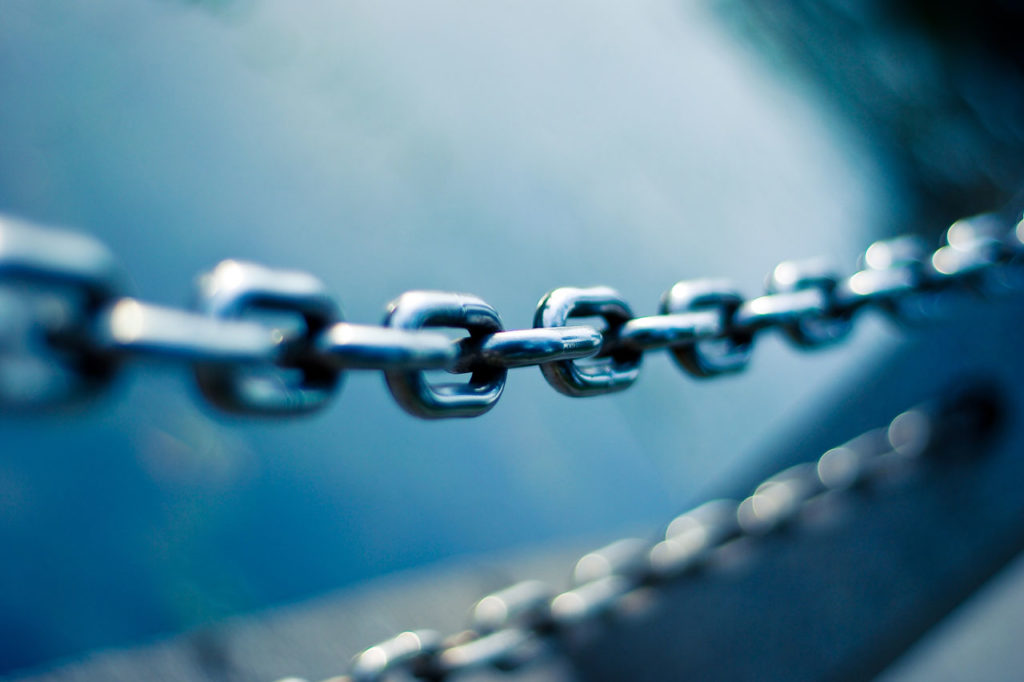 Appearing on the first page of SERPs is a content marketer's goal. And with only 0.63% of Google searchers clicking on results from the second page, you can't blame us. Users know that a higher rank means, more often than not, higher quality; if your content offers what it says on the tin, it will be labelled trustworthy by the search engine and will be shown to more people. But when considering what makes a quality domain, search engines take multiple 'trust indicators' into account. The result is a website trust score or 'TrustRank' score, which helps Google decide, amongst other factors, how to rank your site. In this blog, we will explain what TrustRank is, why it is important, and how you can improve and maintain a good website trust score.
What is TrustRank?
TrustRank is an algorithm that helps search engines fight web spam by using trust signals to determine if the published content is legitimate. Like Domain Authority, it is a complex quality metric used by search engines to measure the trustworthiness of a website or page. Trustworthiness is measured by looking at two indicators – content quality and link quality – and your site's content is compared to content that already exists online. Therefore, just like with Domain Authority, the higher your site's TrustRank, the better it is likely to perform in the search engine results pages (SERPs).
Big Star's SEO Manager, Ricky Marshall says: "TrustRank is more difficult to improve than Domain Authority, Spam Score and other SEO metrics. However, we shouldn't ignore it. Always scope out the quality of sites you're linking to and aim to link to a few high authority, trusted websites in each post. Links to BBC, CNN, Google Scholar and other high-trust sites will help you improve your TrustScore over time."
Pushing customers away with boring content? Our blogs are the real deal
How is TrustRank Calculated?
TrustRank is calculated using the distance between a page on your site and a "seed site" – a known and trusted internet source chosen by Google and honoured with a 10/10 Trust Score. It's a degrees-of-separation kind of thing: the closer your site is to the seed site, the higher your trust. Here's how Moz depict the process:

How Do I Find Out My TrustRank?
Your trust score is a little tricky to figure out. It's not a figure you can accurately calculate because TrustRank is a search-engine algorithm that takes into account a number of factors. However, domain authority is closely related and gives you a good idea of your website trust ranking. And when it comes to your SEO, it's really useful to know your domain authority.
Moz says: "Domain Authority (DA) is a search engine ranking score developed by Moz that predicts how likely a website is to rank in search engine result pages (SERPs). Domain Authority scores range from one to 100, with higher scores corresponding to greater likelihood of ranking."
Domain Authority is based on data from Moz's Link Explorer web index and uses dozens of factors in its calculations – including trust. New websites start with a DA of one, and as they grow their link profile, this number increases. But why is this important?
Google wants to provide its users with reliable information and results. This means that the more authority you have, the more customers you can attract through organic search.
And according to Marketing Insider Group, over 55% of websites don't receive organic traffic because they don't have backlinks. Backlinks determine your DA, so a good strategy to build quality links is essential.
If you don't know your site's DA, then now is the time to find out. Here's how:
First, head to Moz's free Domain Authority Checker, previously known as Moz Trust.

Type or paste the domain you want to analyse and click 'check authority'. You'll get a result that looks a little like this.

Moz's previous TrustRank checker, Moz Trust, gave you a score based on how trustworthy Google determined your site to be. The new version doesn't give you as straight forward as a result, but there are lots of handy features that you can use to determine what you're doing well, and where you may need to pay a little bit of attention.
In the example above, you can see Tesco.com has a very healthy domain authority score. And that's to no surprise when you think of the size of the company, the quality of their site and their popularity. But aside from that, Tesco.com receive praise from Google for nailing their SEO efforts. You can see above that not only do they have 54,000 ranking keywords on their site, they also have 96,400 linking root domains. That's pretty impressive.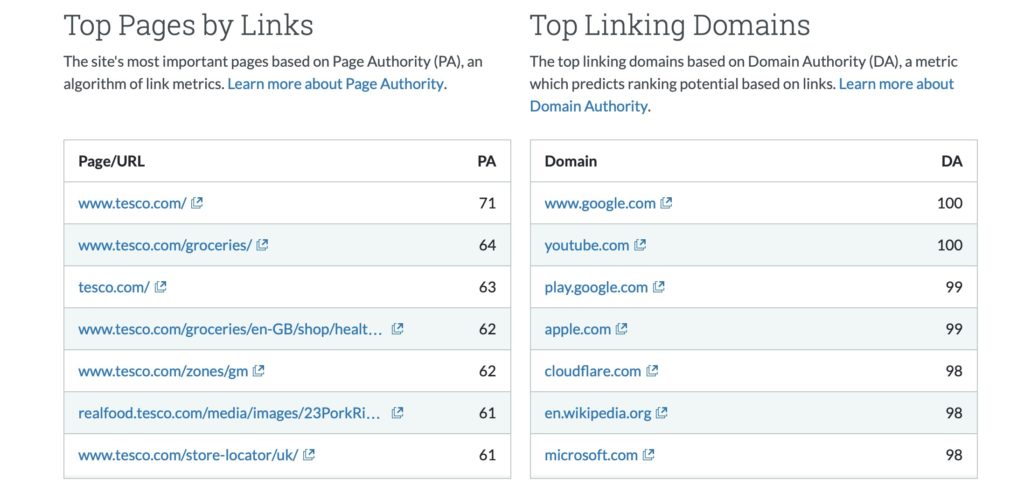 When we take a closer look at these links, we can see that they come from big sites with high domain authority. That's what you want when creating a link. If Google sees that other authoritative sites are linking to your content, it will assume you know what you're talking about – and that will boost your rankings. Use this tool to find out what Moz says about your website. Are your top linking domains well established sites or could they be improved? The golden rule here is that the higher the domain authority score, the better the results. Trustworthy sites will only turn to other trustworthy sites – and you need to become a part of that cycle to establish a good trust score.
Why is TrustRank Important?
Although Google trademarked the term in 2006, TrustRank can be originally attributed to Hector Garcia Molina and Zoltan Gyonhyi, two Stanford University researchers who collaborated with Yahoo to create a link-based spam detector. Despite this, its impact on SEO and its influence on Google search rankings is extremely important.
Losing traffic to your competitors? We can help turn the tables
How to Improve Your Website Trust Score
Many factors contribute to a site's trustworthiness in the eyes of Google. These include website age, age of inbound links, quality of backlinks, the authority of the authors and the general quality of content. You need to produce well-written, SEO-optimised content for any of these next TrustRank-improving steps to matter. And as with most effective SEO strategies, building up your website trust score cannot be done overnight (Google recommends giving SEO at least four months to start getting results for your site). It should be approached strategically, methodically and patiently.

Here's What You Need to Do:
Get better quality links to your site:
The most effective way to increase your website trust score is to score good links to your site from reputable websites with good domain authority. You may not be able to score a link directly from a .gov or a .edu, but if you can get one from a site they link to, then some of that link equity will pass on to you.
Get rid of any spammy links holding you back:
You also need to keep on top of your backlink profile and be sure to disassociate your site from any spammy sites, either by contacting the site owner, removing or moving the page they're linking to (don't do this if it's ranking well!) or asking Google to disavow the link (use with caution).
Create quality content that users want to read:
Over a million blog posts are published every day. To build quality backlinks, you must create stand-out content people want to link to. And this includes writing well for SEO too. 53.3% of all website traffic comes from organic search – you want your audience to find you.
Link out to quality domains:
Including relevant links to authoritative domains may contribute to a trust score (even if it doesn't, it's useful to your readers and certainly won't do you any harm).
Pay attention to the small print:
Google, as well as site visitors, is reassured by the presence of Privacy Policies, Terms and Conditions etc.
Does your website feel a little stagnant? We can fast-track change.
– Smart content strategy 
– Focused, on-brand writing
– SEO for growth 
Watch your bounce rate:
Your bounce rate is the % of visitors who leave your site after only viewing one page – available in your Google Analytics reports. And as you'll know from your internet browsing experience, if you're confronted with a spammy site, you will leave immediately (yes, you will). If Google sees that behaviour reflected on your site, it will draw negative conclusions.
Make people stay on your site for longer:
Keep an eye on dwell time ('Average Session Duration' in Analytics) for the same reasons as above. 'Contact forms' and 'Thank You' pages will traditionally have a lower dwell time, but do any of your main pages have a lower-than-average session duration? Take a look at why and whether you can make the page 'stickier' by guiding people somewhere else after they've finished with that content.
Keep your branding consistent:
You need to build clear brand signals. Write a thorough about page, keep your tone of voice consistent, link active social media accounts to your site and communicate with your audience. Make your brand searchable; get people talking about what you do. The more people are interested in what you have to offer, the more Google will trust what you do.
Start by Writing Your Website Content Well
As we've already mentioned, a good TrustRank score starts with your website content. Dwell time and bounce rate are irrelevant if you're not creating well-written, consumer-driven content. But mastering your website copy can be a tricky task to manage. So that's where we come in.
If you're a business owner or marketing manager who wants to take your copywriting to the next level, we've got your back. Our team has been crafting compelling copy since before the iPhone (yep, we've been around for a while!), and we know a thing or two about how to make it resonate with audiences and drive results. Don't hesitate to get in touch with us to discuss your copywriting needs. We'd love to help!