When considering what makes a quality domain, search engines takes multiple 'trust indicators' into account. The result is a 'TrustRank' score which helps Google et al decide, amongst other factors, how to rank your site. If you've received one of Big Star's free content marketing audits, you'll have received a score based on the 'MozTrust' indicator, which is scored out of 10.
Understanding TrustRank
TrustRank, like Domain Authority, is a complex quality metric used by search engines to measure the trustworthiness of a website or page. As with Domain Authority, the higher your site's TrustRank, the better it is likely to perform in the search engine results pages (SERPs)
TrustRank is calculated using the distance between a page on your site and a "seed site" – a known and trusted internet source chosen by Google and honoured with a 10/10 Trust Score. It's a degrees-of-separation kind of thing: the closer your site is to the seed site, the higher your trust. Here's how Moz depict the process…

How do I find out my TrustRank?
1. Pop your domain into Moz's Open Site Explorer
2.Go to 'Compare Link Metrics'.
3.'Page MozTrust' will give you a trust score based on the sites linking to you; if you want to score MozTrust for your domain (rather than a page) then click on the minus sign next to Page Specific Metrics, then again on Subdomain Metrics to see Root Domain Metrics.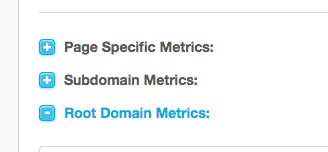 What constitutes a 'good' trust score?
The dizzying variety of sites on the web mean that there are no hard and fast rules about trust score, beyond the simple fact that the higher your score the better. That said, if your site is scoring 3 or less it could be indicative of spammy sites linking to yours and should be investigated. If it's a 1 then you have serious issues and your site is almost entirely linked to by spam sites.
For a useful benchmark, put your competitors' site urls into Moz's Open Explorer tool and see what their MozTrust Score is. To give you an idea of what to expect, here are the MozTrust scores for a popular, well-optimised but 'normal' website (bigstarcopywriting.com) compared to a major ecommerce site (John Lewis), a local council (Manchester), an established news site (The Times) and a hugely successful blogger (Neil Patel).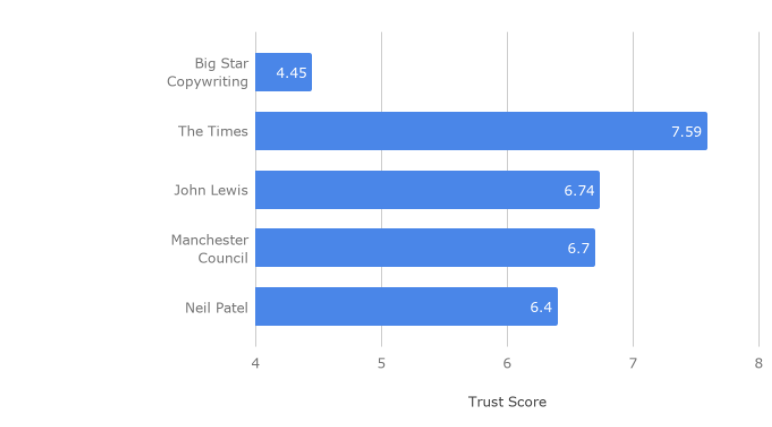 How to improve trust score
As with most effective SEO strategies, building up trust score cannot be done overnight (Google recommends giving SEOs at least 4 months to start getting results for your site). It should be approached strategically, methodically and patiently.
Here's what you need to do:
The single most effective way of increasing your trust score is to get better quality links to your site. You may not be able to score a link directly from a .gov or a .edu, but if you can get one from a site that they do link to, then some of that link equity will pass on to you.
You also need to keep on top of your backlink profile, and be sure to disassociate your site with any spammy sites, either by contacting the site owner, removing or moving the page they're linking to (don't do this if it's ranking well!) or asking Google to disavow the link (use with caution)
Over a million blog posts are published every day. To build quality backlinks, you need to be creating stand-out content that people want to link to. We've written some guidelines on how to do this here.
Link out to quality domains. Including relevant links to authoritative domains may contribute to trust score (even if it doesn't, it's useful to your readers and certainly won't do you any harm)
Pay attention to the small-print. Google, as well as site visitors, is reassured by the presence of Privacy Policies, Terms and Conditions etc.
Watch your bounce rate (the % of visitors who leave your site after only viewing one page – available in your Google Analytics reports). As you'll know from your own internet browsing experience, if you're confronted with a spammy site you're going to leave straight away (yes, you are) – if Google sees that behaviour reflected on your site it will draw negative conclusions.
Keep an eye on dwell time ('Average Session Duration' in Analytics) as well, for the same reasons as above. Contact forms and Thank You pages will traditionally have a lower dwell time, but do any of your main pages have a lower than average session duration? Take a look at why, and whether you can make the page 'stickier' by guiding people somewhere else after they've finished with that content.
Or, Big Star Copywriting can take the whole lot off your hands, if you like. Drop us a line about our backlink building service to find out more.
If you've found this useful, or have any comments or questions about trust score we'd love to hear them – please add a Comment below!