Duplicate content is an SEO no-no. It confuses search engines, leaving them unable to figure out which pages to prioritise in the rankings. It's likely to deter potential customers as well. If a quick Google search results in pages and pages of very similar or the same content, you'd be pretty frustrated too. But there are ways to keep on top of duplicate content, whether internal or external and in this blog, we will look at five great duplicate content checkers to give you a helping hand.
What is duplicate content?
Duplicate content is a block of content identical or very similar to another piece of content that exists online. Duplicate content can be found internally, within your own site structure, or externally across other domains. Internally, duplicated content is likely to occur in page titles, meta descriptions, headings and in the page's HTML code. It can also occur by simply copying and pasting chunks of text across your site – we frequently see this with product descriptions.
Sometimes, external duplicated content may result from plagiarism or syndicated content. Whereas plagiarism is a huge red flag (and Brand Point has some great advice to help us marketers avoid it like the plague), syndicated content comes in the form of links and shares and is often a lot more positive. This type of similar content is natural and unavoidable – many pioneers specific to your niche are likely to want you to share and quote their works.
The implications of duplicate content
But what are the implications of duplicated content? Google isn't going to fine you or ban you for having similar or the same content on multiple pages, but it could penalise you with low search engine rankings. One Google search is unlikely to return multiple versions of the same content on the results page. Instead, search engine algorithms will choose the one they think holds the most value and answer the search intent clearly. This means Google or any other search engine could favour the copied or paraphrased version of your original content. Diluted site visibility will lead to less traffic, meaning fewer potential customers are likely to discover your service or product offerings.
How to check for duplicate content 
When writing for your site, it's easy to fall into the trap of writing content that is already very similar to that which already exists online. Perhaps you're describing something with a specific definition or publishing a rather basic recipe online. Similar content can't always be helped, but you can utilise tools to ensure your writing is as unique as possible. Here are five great duplicate content checkers that we wholeheartedly recommend.
Copyscape:
Copyscape is one of the internet's most well-known and popular duplicate content checker tools. It's easy to use and very straightforward. Like many tools, there are free and premium subscriptions. Although the paid version is a much more powerful plagiarism checker, the free version still offers many helpful features and doesn't require signup. Using their search function, you can discover other websites with similar or identical chunks of text and compare two articles side by side. And with Copyscape Premium, you can produce weekly reports that reveal whether any of your site content was copied to help you keep on top of anything likely to impact your SEO negatively.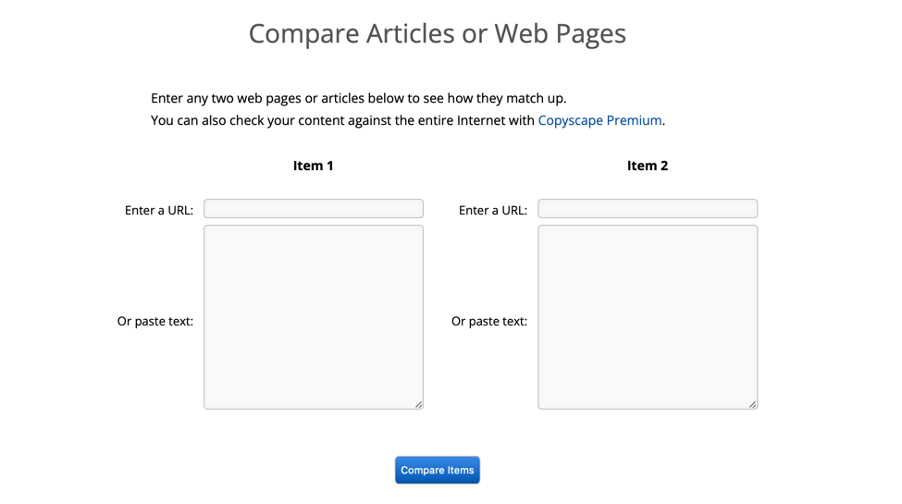 Siteliner
Another great tool that can be used without signup or registration (because nobody likes that faff), Sitelinerscans your entire website, generating a handy report in a matter of minutes. Focusing on plagiarised content within your site's internal page structure, it analyses the main factors influencing SEO ranking: duplicate content, page power and broken links. Siteliner will scan up to 250 pages with the free plan, but with the premium plan, this number shoots up to 25,000.

Dupli Checker
Dupli Checker is a tool with many uses. Not only offering a nifty duplicate content and plagiarism check, but it also offers a paraphrasing tool, backlink checker, word counter, domain authority checker, reverse image search and it can generate keyword position reports – and a lot more. You can check up to 1000 words per search for free or significantly more with their pro plan. It's very user-friendly and easy to navigate – we like this one a lot.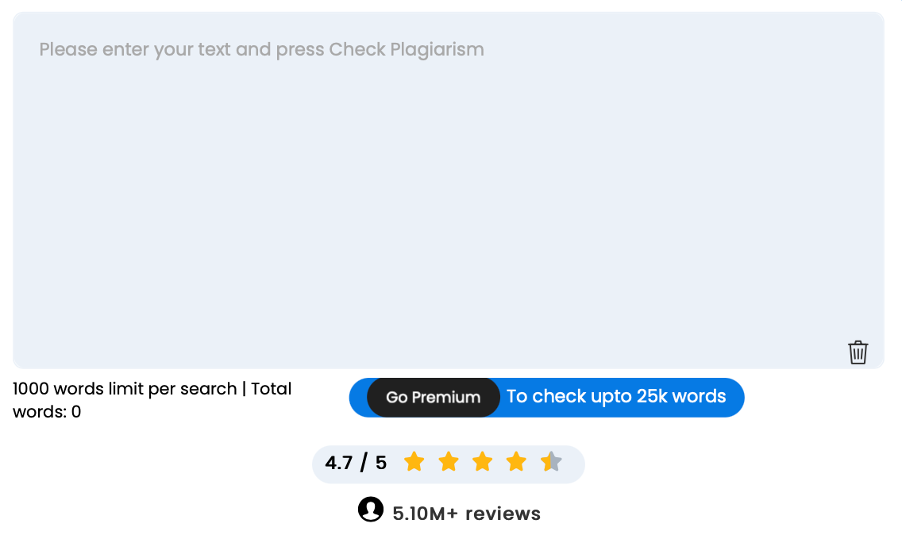 Copyleaks
Copyleaks is a popular choice amongst educational institutions because of its powerful, AI-driven plagiarism checker. Not only can it check for duplicate content, but it can also detect when content has been paraphrased or re-written with little originality. Copyleaks can support over 100 different languages and also seamlessly integrates with Google Docs to give you access to real-time information. This easy-to-navigate tool is free to use for up to 20 searches a month, but if you are looking to check more than that, it also sets itself apart from similar tools as one of the most affordable on the market.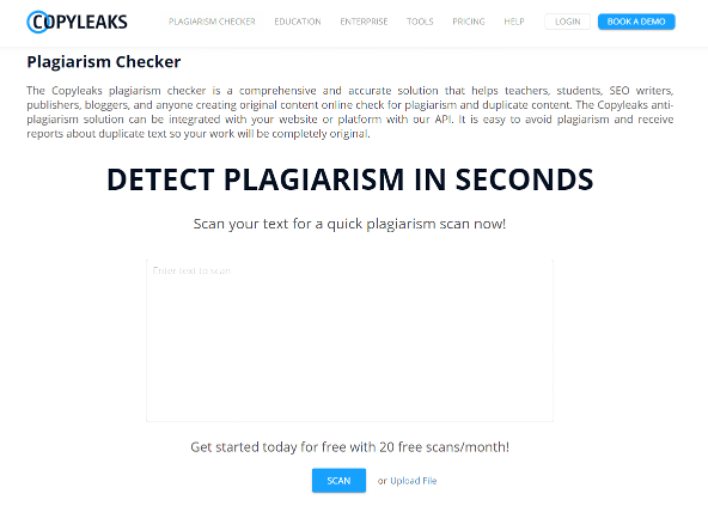 Grammarly
We've all used Grammarly to spellcheck our work for typos and grammatical errors. But a lesser-known tool Grammarly offers is its plagiarism checker. Detecting duplicate content from billions of web pages and academic databases, this nifty tool gives you all the resources you need to properly credit your sources and ensure you're not accidentally claiming original work as your own. Although it doesn't scan webpages like the other tools mentioned in this article, this content checker works well for blog posts and other copy destined for your website.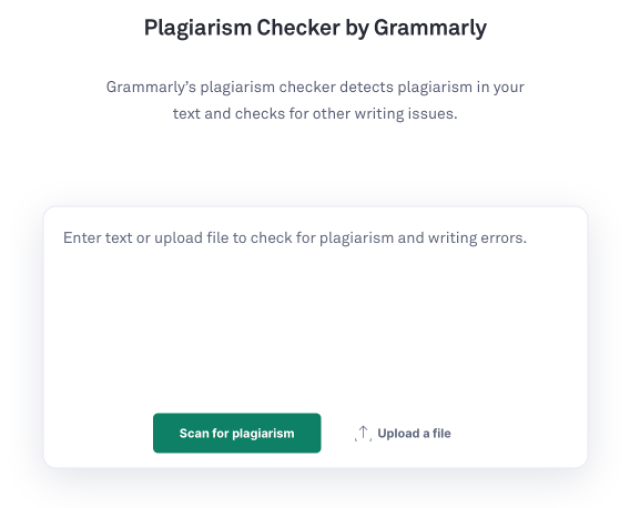 Avoiding duplicate content 
You don't put hours of hard work into your site for other websites to copy your content or risk losing out on good SERPs rankings. And you shouldn't solely rely on duplicate content checkers to ensure the job is done. When creating and uploading content to your site, there are two things to keep in mind:
On-page elements: every page has to have unique page elements to avoid duplicate content issues arising. This included a page title, meta description and the page's HTML code. Your page headings should also differ from others found on your site unless it's absolutely necessary. These may only be minimal changes in the grand scheme of things, but every bit of replicated content contributes to the negative implications we mentioned earlier.
Product or service descriptions: writing product descriptions can be a really laborious task. It's repetitive and easy to fall into a cycle of copy and paste. What may be time-saving in the moment will only cause you more stress in the future. Spend time writing original product descriptions for every product or service your site offers.
Writing original content for your website
Writing unique and original content for your website is always worthwhile. It builds brand trust, customer loyalty and good rapport with Google. Think back to when you were in school or university (or maybe you're still studying now) – plagiarism had the power to ruin your chances at good grades while also ruining your reputation. This is no different. Just like those handy plagiarism checkers you may have used during your studies – and we recommend Studycrumb if you're in the market for one now – checking for duplicate website content is essential and investing in unique content for your site is something all brands and businesses should continue to do in 2023. Well-written website content has the power to rank high, put your company offerings in front of the right people and ultimately, ensure conversions.
So what are you waiting for? Over the last ten years, we have written millions of words of fresh, original copy for brands, helping them rank higher and get results. If you want your business to cut through the noise, get in touch – we can help make it happen.