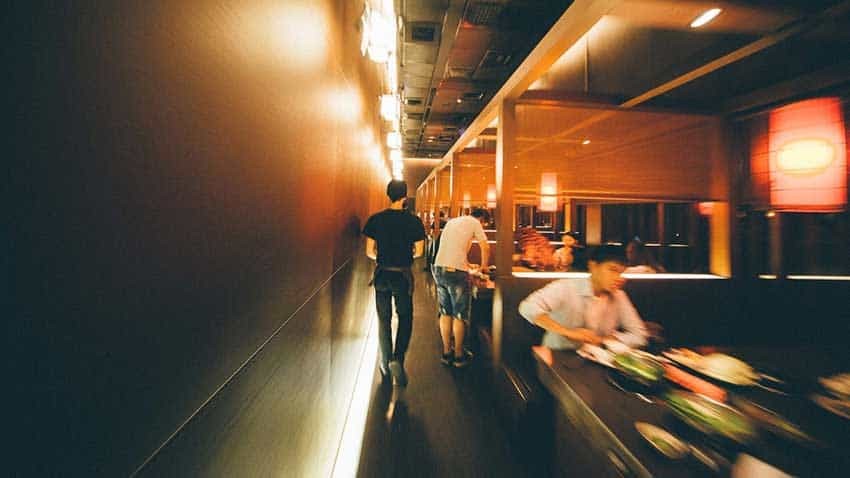 With 80% of restaurants shutting down within five years of opening it's not hard to see why businesses in the food industry need to be incredibly creative to stay afloat. Even the big hitters can no longer survive on reputation alone. For a modern day restaurant to keep thriving, continual digital marketing is a necessity. With a bit of pragmatism, common sense, flair, and most importantly exceptional content, it's certainly possible to keep the bookings coming in. Try these juicy restaurant marketing ideas to boost your covers.
Idea # 1. Serve Up Regular Blogs
Whilst food bloggers can produce the kind of positive write-ups that will encourage customers to walk through your restaurant door, writing your own blog offers a platform for promoting your restaurants whilst developing your unique brand tone of voice. In addition to being able to refine your own style and convey your brand values, producing regular blogs will help with SEO and give you that all important content for social media and email broadcasts.
Ideally, each blog should be over 1000 words – longer content is proven to get more shares than shorter posts. And whatever you do, make sure you add great images (which can also be shared on Instagram and Twitter) and optimise each blog to make it search engine friendly.
Naturally, it's the words that make it all come alive  – so consider using a good copywriter to help you or someone within your marketing team that has copywriting experience. Above all else, your writer must absolutely nail the correct tone of voice for your eatery and be an out and out, passionate, foodie.
Example One: Dishoom – The Story Is As Important As The Taste
Dishoom is a small chain serving authentic Indian food inspired by the Persian Cafes of Mumbai. The food's great and it's no surprise that most evenings there's a queue outside to get a table.
Their journal is full of amazing content, mostly food orientated as you would expect but there's also some great posts on ultra cool retro Asian music (they even have their own vinyl collection) and spiritual festivals such as Holi and Ramadan.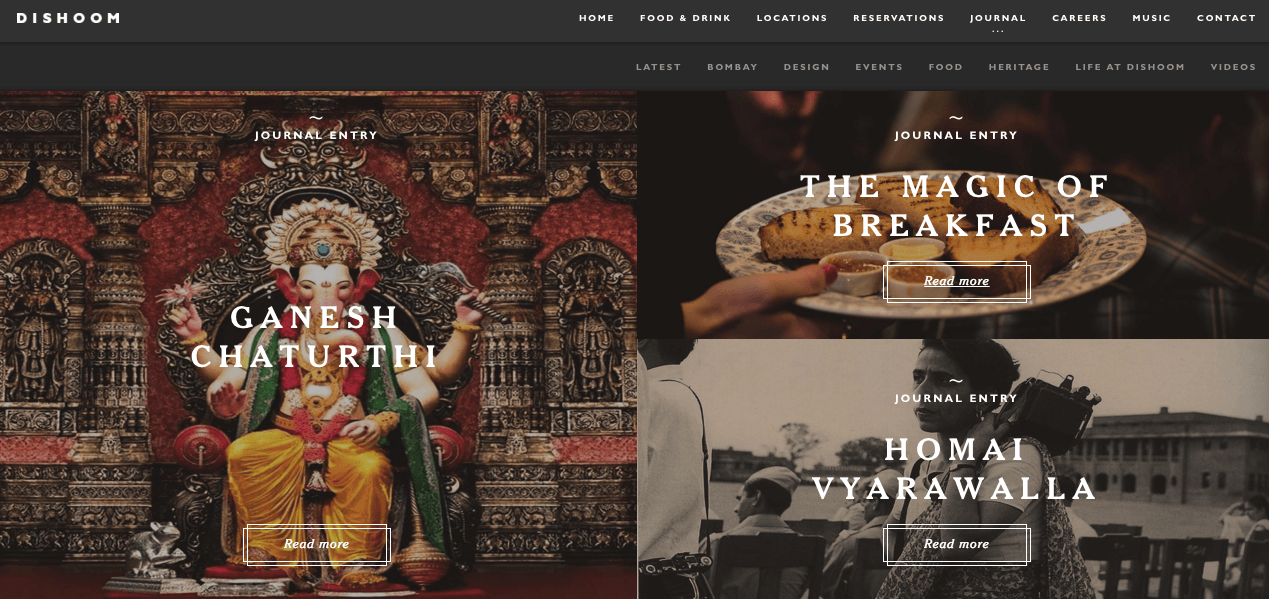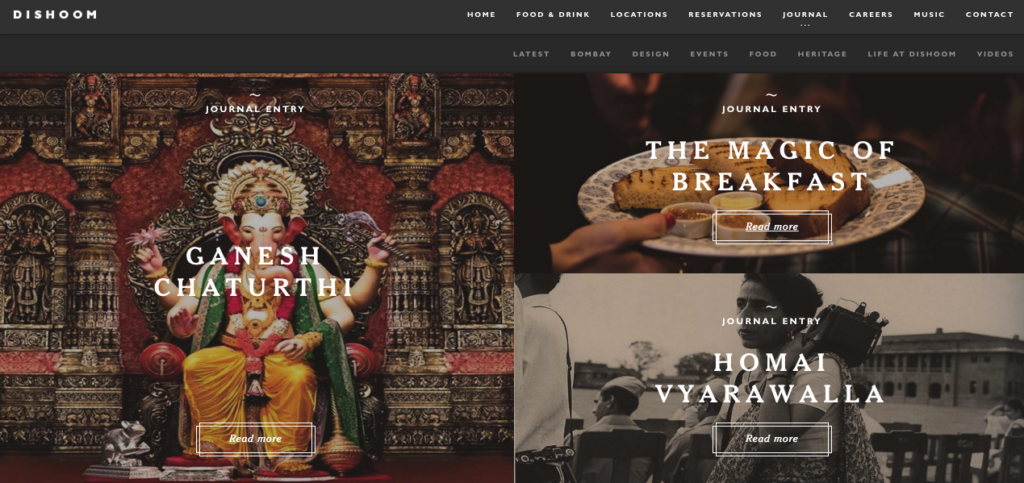 Customer-produced content is important too. People tend to take note of restaurant reviews as they offer a full and frank opinion written by someone without an agenda, and by inviting bloggers to review your restaurant you can begin to accrue some invaluable customer-generated content.
Reaching out to these writers doesn't have to be a laborious process: The modern day popularity of food blogging means there's a good chance an industrious writer with a big fan following is based nearby to your restaurant. When a blogger responds, you needn't encourage them to produce a glowing piece or try to bribe them with a deal.
There's a much bigger picture here to consider: getting your restaurant's name out in the digital world. If the work involved is too much, then use an agency to get this done swiftly and professionally.
Idea # 2. Tantalise With Online Offers
Accumulating page likes and followers by sharing tasty recipes and whip-smart advertisements can certainly help to establish your reputation in the social media world, but not every post or Tweet has to be shrewd and insightful. One of the best restaurant marketing ideas in the current climate is something as simple as offering a deal to customers on social media or on your site.
Regularly offering deals online not only helps to keep your social channels active and busy, it also provides users with an incentive to revisit your restaurant in the hope of discovering more discount dishes and drinks. Online deals can assist you with building strong relationships with customers and developing a loyal fan base – which is key when it comes to filling up your restaurant.
Example Two: Jamie's Italian – Great Offers To Keep Diners Coming Back For More
This chain needs no introduction, but it's a good example of how a well-known restaurant website never sits on its laurels. With continual offers and incentives for diners, an exclusive Gold Club and regular stories for example featuring Gennaro Contaldo – the restaurant marketing ideas here, are geared up to keep diners coming back again and again.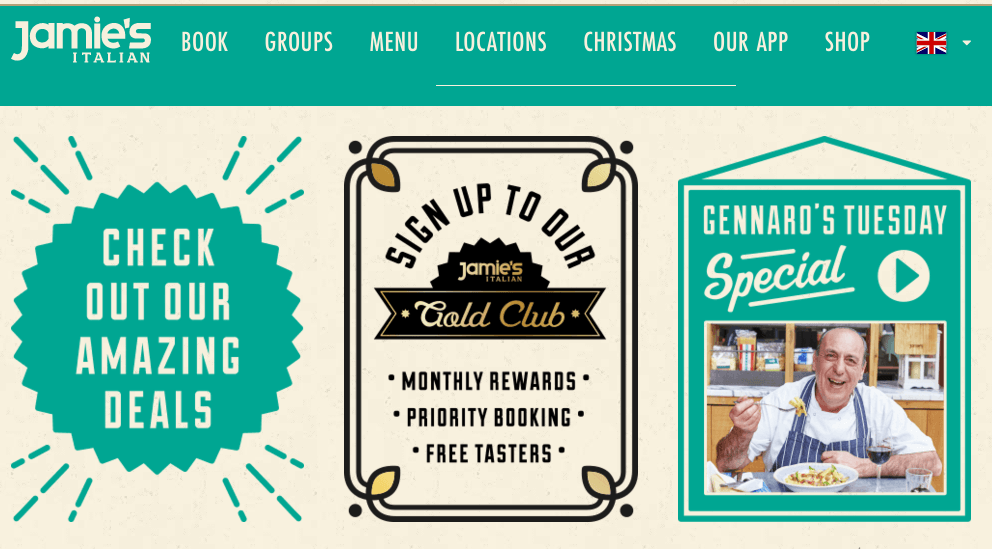 Idea #3. Think Mobile
The societal shift to searching on small screens in recent years has meant embracing the mobile trend has never been more important for restaurant owners.
As far as restaurant marketing ideas go, optimising your web page for mobile is one of the most valuable – as this post by Econsultancy confirms. Making your website mobile-friendly by auto-resizing images and eliminating the need to pinch-and-zoom is a sure-fire way to reduce your bounce rate.
If customers on portable devices can easily slide through your menu and quickly pick out a dish that appeals to them, it'll encourage them to sample your restaurant. Integrating a booking app that functions with mobile (such as bookatable or OpenTable) to your website will also assist in turning page visitors into satisfied customers.
Idea #4. Follow Up With An Irresistible Email
Email campaigns give you the opportunity to push a diverse range of content on potential customers, whilst segmenting these email marketing lists, as Benchmark recommend, can help you to send the right type of content to the right kind of people.
Digital newsletters, in particular, are a worthy addition to your restaurant marketing ideas toolkit and can work wonders when it comes to filling up tables. The first rule is to send them sparingly, perhaps once a fortnight. Nobody likes having their inbox flooded on a daily basis. Secondly, pack your newsletter with informative content that can help to establish a loyal customer base. By showing people what they can expect to see in your restaurant over the coming weeks, you'll begin to establish a reputation within the industry.
Newsletters also give you the chance to experiment with your content and learn which approaches work best. Embed some links into the email and use the likes of Mailtrack or a UTM builder for your analytics account (such as Google or Kissmetrics) to see which ones are performing. This way you'll be able to carve out a successful brand identity for your restaurant and steadily implement this image/tone across all your related content to turn your business into an organisation that people recognise and remember.
Example Three: Giraffe – An Attention Grabbing Incentive to Sign Up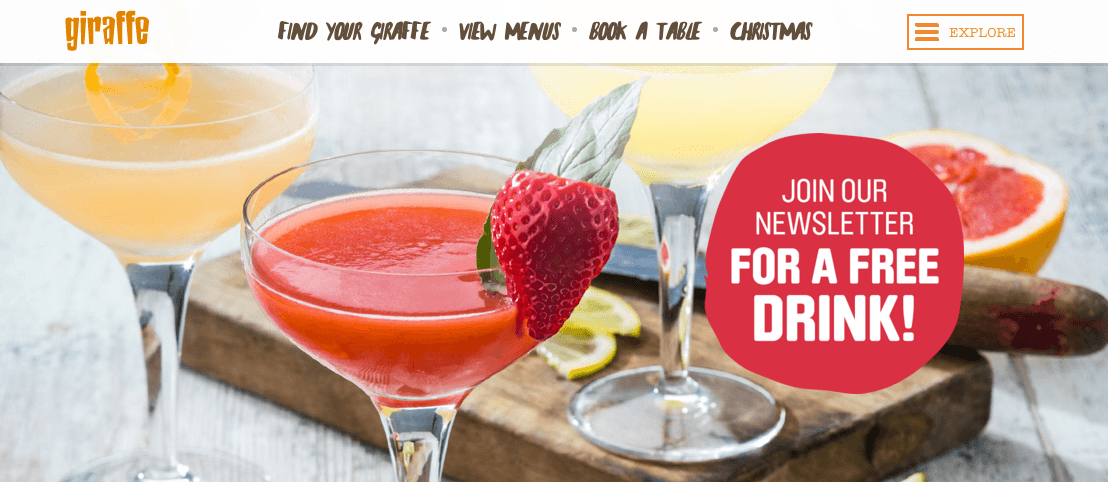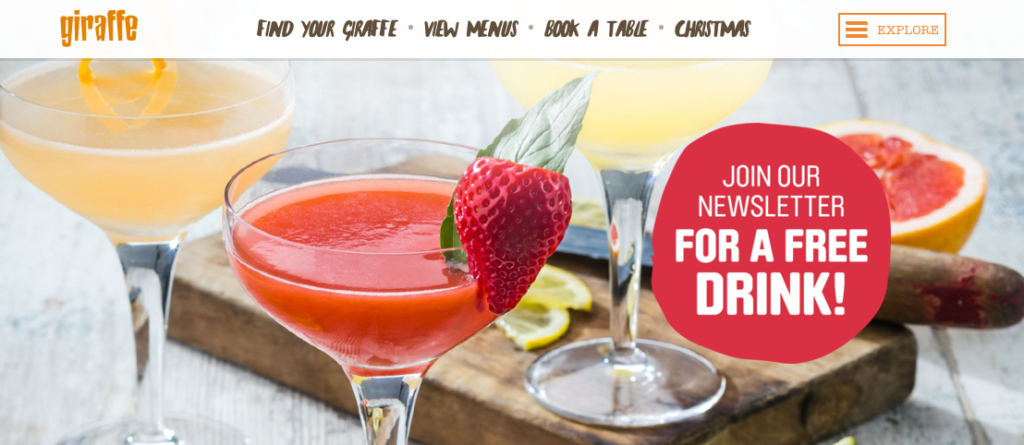 World food chain Giraffe's incentive is simple and compelling. The exchange is clear and is exactly the kind of thing that would yield an impressive sign-up rate.
Idea #5. Create Concise, Up-To-The-Minute Web Content
Staying on top of your content is worthy advice for any business owner, but given how a staggering number of customers research a restaurant before booking a table, keeping your details (including location, menu, deals) up to date is imperative for any business owner in the food industry.
Re-evaluating your website as a whole is a good place to start.  A stand out 'About Us' section (check out our blog on this here) is essential. Compiling sparkling profiles on your current members of staff offers consumers the opportunity to see the faces behind the brand. Make sure all your web copy is top notch too and remember that carefully optimising every page for SEO is invaluable if you want the search engines to index your site properly.
Whilst you focus on implementing some of the restaurant marketing ideas listed above, making your site easy to read and navigate ought to take precedence:
Insert clear, clever, Call-To-Actions.
Emphasise how easy it is for customers to book a table (and deliver on this promise)
Make it easy for visitors to contact you by having your phone number on every page
You might also want to pick out some attractive images and integrate your Instagram or Twitter feed (#foodporn has nearly 100million results on Instagram alone) to the site. All this will play a significant role in impressing your page visitors to the point where booking a table at your restaurant becomes completely irresistible.
Boost Your Content
If you think these ideas can help your business but need experienced marketing help then consider hiring an in-house specialist or an agency. We have many years experience with food marketing and would gladly offer you a free initial consultation and website report.
Call us on 01803 865 025 for a chat.
Do you have any restaurant marketing ideas you'd like to share or comments on our suggestions? We'd love to hear them – please dig in to the comments section below