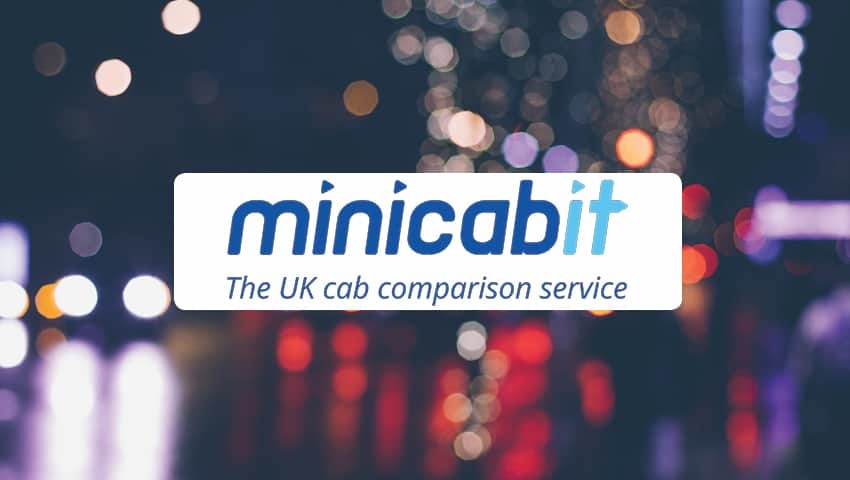 We're always very interested to know how our work has gone down after the copy has been signed off.  Getting the words right and the tone of voice is one thing, but what about the impact on SEO, sales, and conversions?
And to what extent do doubts about working with an agency come into play before commissioning?
minicabit is a leading price comparison website, Android and iPhone app. They have enjoyed tremendous success since their successful pitch on Dragons Den a couple of years ago, being the first mobile app to receive offers on the show. Establishing themselves as the market-leading UK minicab comparison service, this exciting startup commissioned us to work on the copy for their website.
They wanted:
SEO copywriting for 150, new geo-located pages with keywords naturally positioned within the copy
Properly researched content integrated with the USPs and service proposition of the client
Page Titles and Meta Descriptions written following industry best practice
Further copy for existing search engine ranked pages
Similar content for their sister brand 

chauffeurit
How Did It Go?
The initial work went very smoothly. Chris Lynch, their Product Manager, had minor comments on our initial samples, but we responded to those quickly, amending the original samples the same day. The work took place in batches, and we responded accurately to slight amendments in the tone of voice and phrasing of certain statements.
He then requested two further batches of content over the next couple of months which we dealt with swiftly, assigning the same writers to ensure continuity in writing style.
More recently we worked on similar content for another of their brands, chauffeurit, minicabit's sister premium car service, requiring a different tone of voice to cater to the higher-end audience, which we were able to adapt to easily as we understood the client's needs.
Following Up
For this case study, we spoke with George Rapley Data Manager for minicabit.  We were especially keen to ask about any concerns they had about working with an agency and the impact of our work.
Traffic
Good SEO copywriting is going to increase visitors (the right kind) and not decrease visitors (a risk with bad SEO copywriting on existing pages).  So, understandably we wanted to know if our copy had shifted their visitors and user sessions in the right direction.
BSC: Did our copywriting improve your traffic?
GR: Yes, the copy updates and brand new landing pages are estimated to have increased our organic traffic by 15%.
BSC: So, are the keywords we targeted for the landing pages working for you?
GR: Yes, especially for the long tail keywords we identified for localised pages. The copy was well researched in that respect, and this brought a richness to the landing pages which translated into greater findability.
BSC: How much did sales increase by?
GR: We estimate the increase in organic traffic drove an increase in sales of 10%
BSC: Ok, so the copy helped conversions?
GR: Yes, we experienced a small but significant increase in conversion, which was a pleasant surprise.
Tone of Voice
The tone of voice was important – it needed to have broad appeal and represent the accessible, affordable nature of the brand. We've written for a couple of traditional cab firms and extensively on taxi insurance for Park Insurance, so we had some familiarity with the subject matter.
BSC: minicabit is a respected, high-profile brand. How important is the tone of voice to your company?
GR: With any successful brand, it's one of the most important things when communicating with your customers. Our tone of voice is functional but not too formal, which we have found is what our customers prefer, so it was important to us to get this right.
BSC: Did you have any concerns before the work starting, that we would get your tone of voice correct?
GR: Naturally, yes, but once we saw the copy for the new pages we could see the quality was consistent. After that, we felt more confident commissioning updates to copy for existing pages. Obviously, it's a greater risk re-writing pages that have existing strong SEO rankings. But we were confident to choose Big Star for this task as a result of the well-researched copy and the great fit with minicabit's message and tone of voice generated initially.
Time: Concerns and Benefits
BSC: Did you have any concerns before work starting that it might be time-consuming working with a copywriting agency, in that, revisions may take time and divert you from your main focus?
GR: Again, of course, it was a concern. But the high quality of the copy meant not much of our time was spent editing, and more time spent growing the business!
BSC: Has working with us helped your business to be more flexible and agile?
GR: Copywriting is a time-consuming, yet essential task.  For startups like us, it's important to be able to rely upon your copywriters to get it right the first time, so you can focus on growing your business. The biggest benefit of working with Big Star was the flexibility that comes with being able to rely on their work, ensuring we were always able to stick to our planned timelines.
Conclusions
For us, it was exciting to be working with a growing brand like minicabit and to have a hand in shaping their tone of voice.
We always love to hear that our work is playing a vital part in improving search results and sales – sometimes with SEO copywriting you're never quite sure that what you're doing is having an effect but in this case the results were tangible. It's very rewarding knowing that our work is having a real effect on the growth of the business.
The best thing about working with minicabit though was knowing our work had helped them in the short term, in terms of time and flexibility but also in the long run regarding SEO and sales. Win-win.