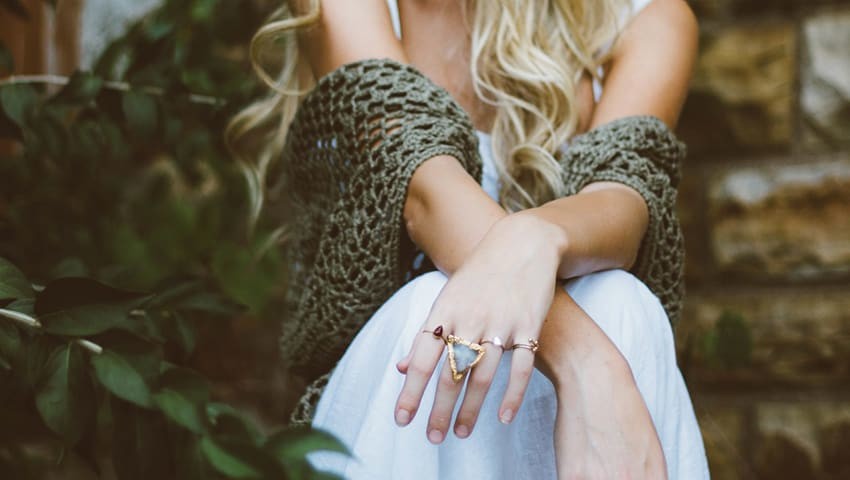 "Clothes means nothing until someone lives in them" – Marc Jacobs
Forrester predicts that within two years fashion buyers will be the largest category of online shoppers.
As an online fashion retailer you need to ensure everything you do is exceptional. Your clothes need to be exceptional. Your deals need to be exceptional. But you also need people to know how exceptional your offering is. That means utilising irresistible fashion copywriting to make people want to live in your clothes.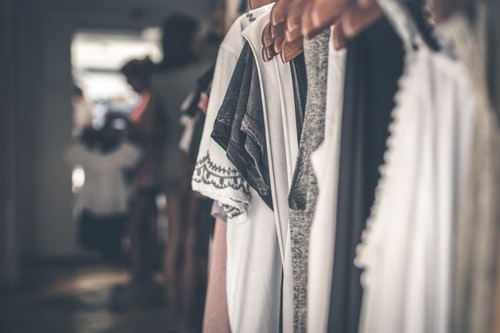 In a world where consumers have virtually unlimited choice, eCommerce retailers are using informative and inspirational content to grow their business, bring their brand to life, position themselves in the lives of customers and fend off competitors.
Without a bricks and mortar presence, your copy can be your most persuasive salesperson. So, whether you sell high fashion or fast fashion, we don't want your content to end up in the bargain bin. Here we'll guide you through some of the fashion copywriting techniques that will help your brand consistently find the right words to make the right fashion statement at the right time. We'll also share some stand-out fashion copywriting examples from leading online brands.
Is your brand word perfect? We can give you instant appeal
1. Preach to the choir
Not everyone wants to buy your products. They're not their style or fit. They're too expensive. But that's fine; you weren't going to sell them anything anyway.
"Speak to your audience about what's in their heart" – Jonathan Lister
Rather than trying to appeal to everyone, your fashion copywriting should speak directly to your core customers, using language, attitudes and perspectives that they're familiar with.
Find out about our fashion copywriting service »
2. Sell the 'sizzle'
Legendary marketing guru Elmer Wheeler once said that marketers should "sell the sizzle, not the steak". This principle is highly relevant to fashion copywriting, as people are not necessarily buying your clothes, they're buying the way that they think your clothes will make them feel about themselves.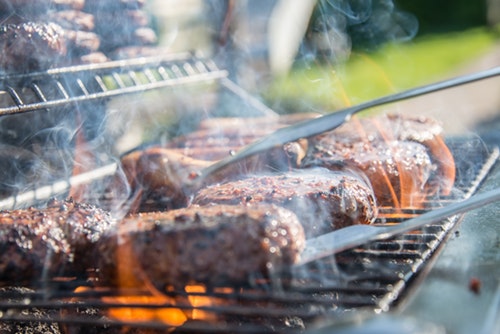 Wheeler elaborated on his now famous soundbite by explaining that –
"What we mean by the "sizzle" is the biggest selling point in your proposition – the main reasons why your prospects will want to buy. The sizzling of the steak starts the sale more than the cow ever did, though the cow is, of course, very necessary!"
In the same way, having fantastic clothes to sell is very necessary, but when you're selling them you need to position your products in the lives of customers. Will they make them feel trendy or appeal to their individualist streak? Or will they fill an emotional need – more secure, empowered or confident? Will they make the wearer feel professional and ready to take on the world? Will they last for a particularly long time?
So, to understand your 'sizzle', you need to:
Know who your audience is (your core demographic)
Understand how to talk to them
Leverage this information in your copywriting for fashion.
You'll need to write like you're talking to your ideal customer.
If, for example your main customers are teenage girls, then you should speak in a young, vibrant and fun voice that will resonate with them. Avoid the urge to throw lots of trendy 'buzzwords' or teen colloquialisms in there though as this will usually come across as insincere and forced. At the same time, avoid dull or over-elaborated language that will bore them. Similarly, if you're selling high-end suits, adopt a professional and dependable tone of voice that will resonate with that particular audience.
3. Brand your fashion copywriting for success
To ensure that your business experiences continued success, rather than small victories with one or two popular products, you need to have a strong and consistent brand.
Branding for success means determining what makes your fashion retail business different from the competition, and telling a positive story that will set it in the best possible light. Within this story should be your unique selling propositions, which highlight what is special about your brand, and provide compelling reasons for people to buy from you.
"Your brand is a story unfolding across all customer touch points" – Jonah Sachs
Once you've created a brand blueprint, you need to put in place a system of ensuring that this branding is present and consistent across all of your product descriptions and website copy. The most effective solution is to create a brand tone of voice and style document that can be easily distributed to in-house fashion copywriters and copywriting agencies as needed.
4. Think mobile first
Mobile accounts for 65.4% of traffic to online fashion retailers and 57.1% of sales according to SaleCycle.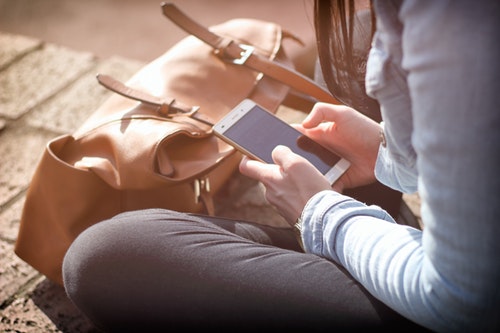 The 'see it, want it, buy it' crowd are using apps to buy wherever they are. People are clothes shopping while streaming their favourite TV show, on their lunch hour, on the train, while waiting for a bus. They are reading shoppable content on their mobiles, which means you'll need to think about persuasive copy for interactive blog posts, video ads, digital look books and magazines. The rules of engagement for traditional formats still apply.
Even if they're not actually shopping on their mobile, the way people process information is changing. They consume information in short nuggets and in very short spaces of time, and they're far less loyal to one particular source.
Stuck in the Page 2 doldrums of Google? We can get you moving
Therefore, online businesses need to adapt their web content to be 'mobile first'. This means:
Keeping copy succinct
Writing shorter sentences and paragraphs
Using sub-headers and bullet points for reading ease
Getting straight to the point and focusing on it throughout
5. Create aspirational images
From novels and films to television advertising and persuasive articles, imagery has the power to shape our minds and influence our behaviour.
If you've ever read a good book that left a lasting impression, chances are it's because the author created some compelling imagery to accompany the story. Could it be that the rolling green hills of Tolkien's shire, the chaotic claustrophobia of Hunter S Thompson's Las Vegas and the descriptions of your next product range all share something in common?
Imagery helps you portray the lifestyle that your brand embodies.
To leverage the power of this in your fashion copywriting you might try building pictures in your readers of minds of how they'll look or feel or act when they're wearing your clothes. For example, you might plant the image in their mind of being a free spirit on an adventure, boldly striding through a crowded public space or taking part in an action sport in complete comfort. Work out what people want and how your clothes can fulfil this need – then create an image which will link these two together.
6. Bait, hook, sell
As we mentioned earlier, people are increasingly promiscuous with their information sources and where they seek their solutions from.
Though you may achieve a healthy loyal following who eagerly anticipate your product launches, many will have more of a casual flirtation with your brand. Your goal with this latter group should be to very quickly entice them, convince them and then close the sale.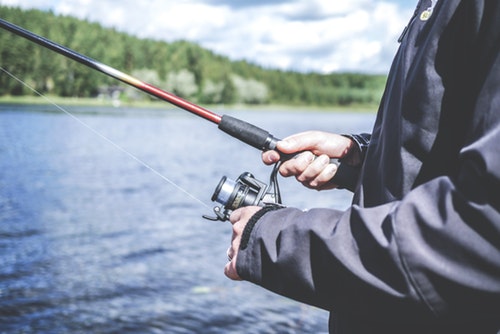 Bait
Alongside high-quality images of your clothing products, your product descriptions should also be highly desirable. Use the techniques above to make this so.
Hook
Once you've got their attention, you need to hook them on what you have to offer by selling the 'sizzle' as discussed earlier. Emphasise the benefits of your products, position your brand in the lives of your customers and bring in your USPs for maximum effect, such as affordability, luxury stylings or even something more practical like fast delivery times.
Sell
You've convinced them, but you haven't made a sale until they've checked out. Your aim should be to make this process as quick, intuitive and straightforward as possible, whether this is from your website, apps or social media posts. Provide a clear call to action such as "hit 'buy now' to purchase this item". When they take this action this should lead them straight to the checkout page, and everything about this should also be kept as clear and simple as possible.
Fashion copywriting examples
Asos
ASOS holds inclusivity at the centre of its brand. From their diverse range of models and great sizing range straight down to their copy – ASOS DESIGN really is made for everyone. ASOS's brand description puts the customer in the driver's seat: "Created by us, styled by you." Their clothes and accessories are fit for purpose and creativity in your styling is encouraged. ASOS recognise that it isn't just about the latest trends but also a lot about their customers own personality. With fashion copywriting like this, consumers feel listened to as your individuality is celebrated.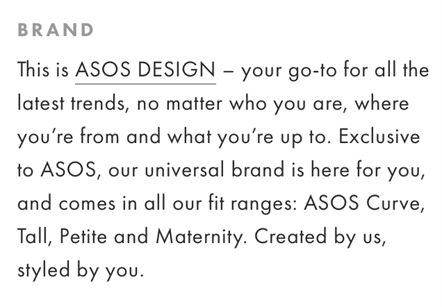 Net-A-Porter
In this fashion copywriting example we look at Net-A-Porter. They're one fashion company that are seriously investing in their content marketing. They're not just relying on well written product descriptions and easy to navigate category pages to get the job done, Net-A-Porter are creating stories around their products. In a series of articles, customers can get to know their products and how they have the possibility to change the lives of their users. Customers are persuaded to 'Read and Shop" with the simple yet impactful call to action – this shopping experience becomes a lot more interactive than just browsing aimlessly online.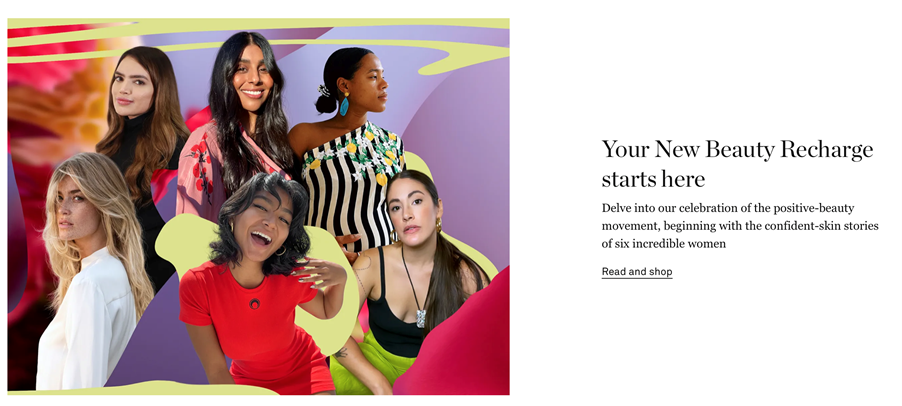 Dior
The luxury fashion brand, Dior utilises its website copy to tell a story of haute couture. Dior's copy is as elegant and dramatic as their runway shows; it's elite an untouchable like an expensive piece of artwork. And Dior's description of their latest collection is described as just that – a magical, experimental composition. Dior's tone makes it clear that these clothes are not for the everyday consumer as they speak to their customers with a high appreciation for fashion and detail. Just like a showstopping art exhibition, this is a collection to be shown off and admired; a statement of status within the world of fashion. This is a luxury fashion copywriting example that really stood out to us.

Ralph Lauren
Every piece of clothing sold by Ralph Lauren has a story. And this story is told as much through the copy as it is through the high-fashion product photography scattered throughout their eCommerce store. Ralph Lauren communicates that the brand is timeless and versatile – their iconic polos can truly be worn on every occasion. Much alike Net-A-Porter, Ralph Lauren is a great fashion copywriting example of how articles and stories set around products are a great way to sell your products. It's a great technique to show the many uses of your products and your consumers may just discover a new feature or benefit that persuades them to make a purchase.

Nike
Despite their ongoing relationships with world renowned athletes, Nike's copy asserts that their workout gear is for everyone. "Progress starts here" motivates consumers to purchase Nike products on the chance that it will be the key to getting started. `And at the same time, "grow at your pace" reminds consumers that there is no such thing as a race of progression. Their tone is real, straightforward and to the point – there's no waffle and certainly no flowery adjectives to try and motivate you. Nike exudes confidence in their brand and products – by making a purchase you are already one step closer to the finish line.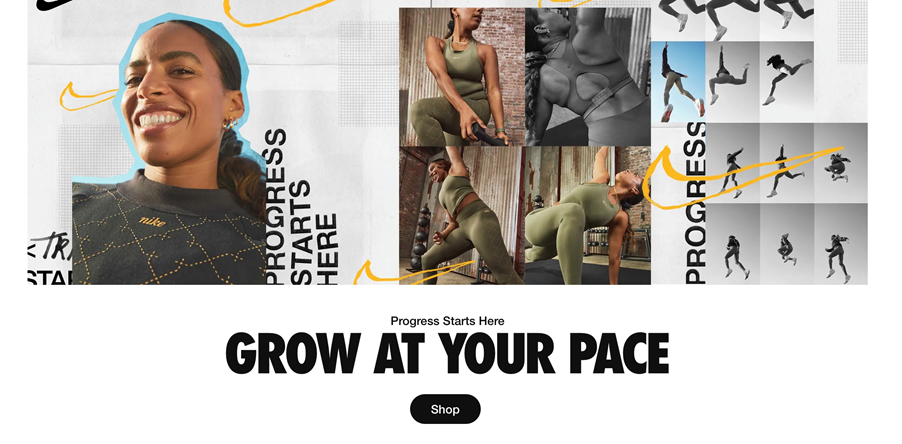 What next?
If you consistently employ these techniques in your fashion copywriting, you should begin to see some great results. What are your thoughts? Do you still have questions? Let us know in the Comments below.
Discover how we've helped brands like yours with SEO and copywriting for more traffic, more conversions and more sales.
– Smart content strategy 
– Focused, on-brand writing
– SEO for growth