The majority of brands are making the most of their content marketing in 2022; in fact, according to the CMI, 66% of marketers are spending more on their content strategies compared to last year. Therefore, making an impression that lasts is crucial for developing brand loyalty. But how do you do it? You've got to be memorable. And by creating and sticking to the distinctive tone of voice guidelines, your customers will keep coming back for more. In this blog, we look at why your tone of voice is important and share some tone of voice examples from brands that are nailing their branding game.
What is tone of voice? 
We've written a couple of blogs on tone of voice before – why a consistent tone of voice is important? And how to create some good tone of voice guidelines – so before we dive into the tone of voice examples, let's recap exactly what we mean by tone of voice.
According to Semrush, tone of voice describes how your brand communicates with its audience whilst representing, and staying true to, your brand's personality and values. Tone of voice considers the words you use, the way you structure them within sentences and the purpose behind them. A successful tone of voice will consistently convey your brand messaging to your audience, playing a great part in the definition of your brand identity.
Why tone of voice is important
If your brand was a person, how would they speak? As we create first impressions of the people we meet, we decide if we like someone based on the way they speak to us and the way they make us feel. Your tone of voice has great influence over the relationships consumers build with your brand and the reputation you build within your industry:
You can express personality. Your brand isn't a faceless company; it's not only about what you sell but who you are, says Brain Labs Digital. Through your tone of voice you can express your values, the things you love and hate, the things that drive you, and the reasons why you wish to share your products or services with the world. All while telling your consumers why they should choose you over your competitors.
Familiarity build trust. With familiarity, comes ease. People love investing their time and money in brands that they recognise. By creating and building a consistent and recognisable tone of voice, you can build a loyal customer base for your products or services.
And a trustworthy tone of voice carries a lot of influence. Your customers won't always remember what you had to say, but they'll definitely remember how you made them feel. The majority of people are sensitive to what they hear so the way you choose to articulate your intentions makes all the difference to persuade or influence your customers' buying decisions.
A note about consistency
However, with all of the above, your tone of voice will not be effective unless you are consistent. Your brand tone of voice needs to sound like you, and you only, therefore all your marketing channels need to sound the same. Read our full blog on tone of voice and the importance of consistency here.
Great examples of tone of voice 
Let's take a look at the brands setting a good example when it comes to finding and using their voices effectively and consistently. There are many different types of tone of voice, from formal, humorous and motivating to respectful, assertive and conversation, and these brands often use a combination of these action words to develop their own unique tone of voice. Let's dive into some of our favourite tone of voice examples:
Aldi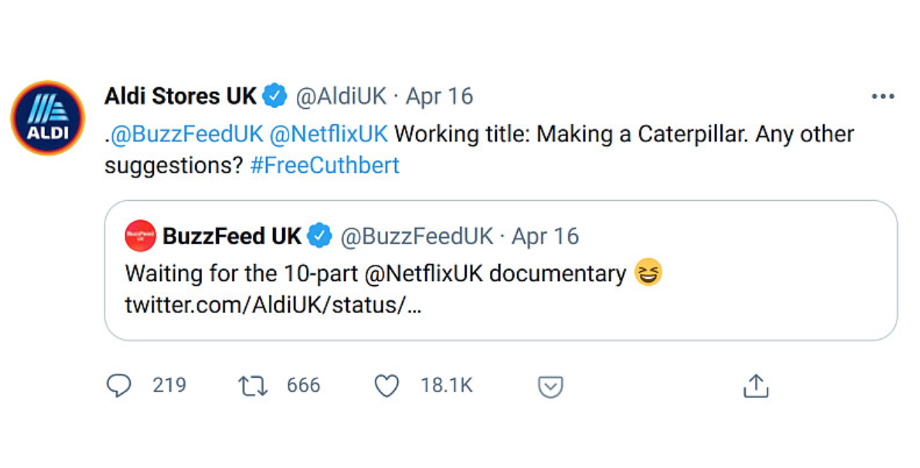 Aldi is known for their witty and bullish social media content with tweets that have repetitively stirred up a storm online. Earlier this year, the supermarket hit the headlines when M&S wanted to sue Aldi for copyright infringement of their popular Colin the Caterpillar cake. But Aldi's Cuthbert the Caterpillar cake was soon everywhere online and #FreeCuthbert trended on Twitter. Aldi knows how to bring personality to their tone of voice; they consistently communicate in a tone that is accessible, humorous and entertaining. Fans of the brand love Aldi's honest tone of voice.
Oatly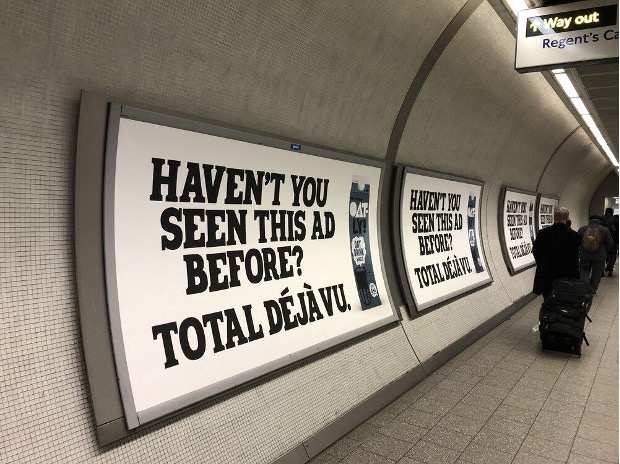 The self-aware oat milk brand, Oatly, knows how to nail out-of-home (OOH) marketing and speak to their audience. They are pointed and use location well with their copy. Plus, they know how to make an impact with their straightforward, no-BS approach to content marketing and sustainability. Oatly uses a conversational tone to convey its brand values and messaging. They humanise the brand, making these values and their mission particularly accessible.
Pip & Nut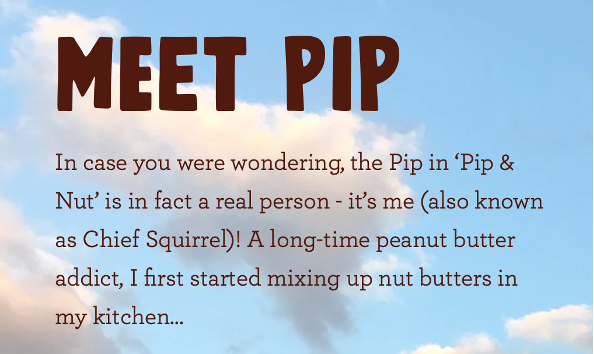 Pip & Nut is another great tone of voice example of humanising a brand. They communicate with their audience in an accessible and conversational tone. Pip & Nut use simple sentences to tell their story; one of honesty, detail and one told well.  Pip & Nut have also found the sweet spot between effective storytelling and informative fact-telling; they place themselves as experts in the field and they tell us why they are passionate about their manifesto; why they are nuts about nuts.
Innocent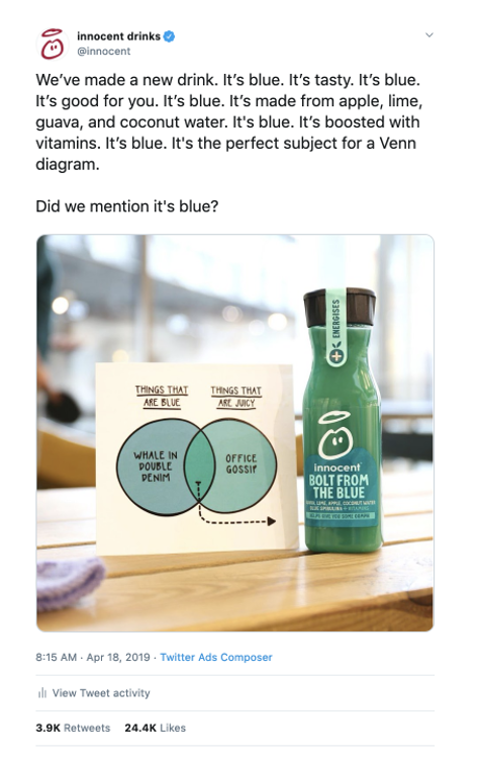 Innocent mixes informal with witty and creates something pretty unique. It's simple and accessible, it's funny and, at times, naïve (or innocent, for a better word). Innocent knows how to communicate with their audience and they know what types of content marketing work for them. Jokes and humour sit at the centre of many of their posts – many not even directly advertising their smoothies. They jump on trends and are honest and authentic. Innocent have really nailed their tone of voice.
Uber

In the brand guidelines, Uber defines their tone of voice as considerate, simple, bold and consistent. This tone of voice example expresses what the brand stands for and the mission it sets out to achieve – straightforward and efficient service. Their writing is simple and direct, like their taxi service and it's consistent with the user experience consumers have with the Uber app. You can order an Uber and it will arrive in minutes – it's that efficient – just like their tone of voice.
Mailchimp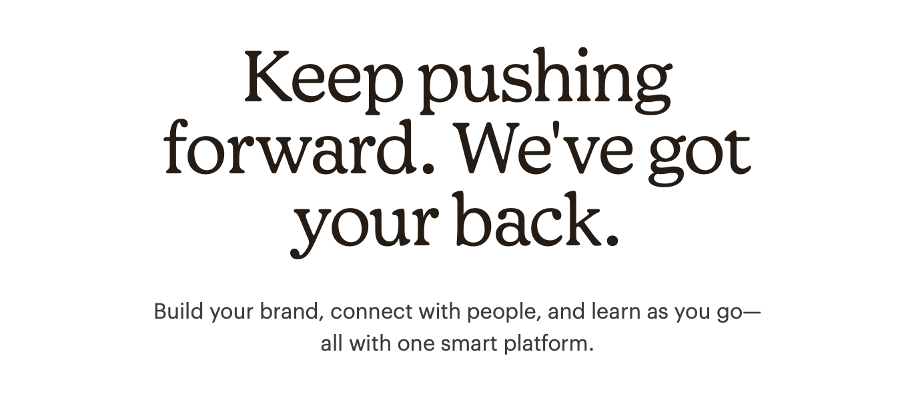 Mailchimp is also pretty familiar with humour in their content marketing and their tone of voice is clear and genuine. MailChimp strips away all the jargon and hyperbolic language in order to avoid appearing snobbish – they are an accessible platform. Their genuine tone speaks to their audience in a warm and familiar way; consumers feel an emotional connection with the brand as they feel supported. Their informal tone, which is supported by humour, makes you feel like you're talking to an older, and wiser friend; you don't feel intimidated by their automation systems.
First Direct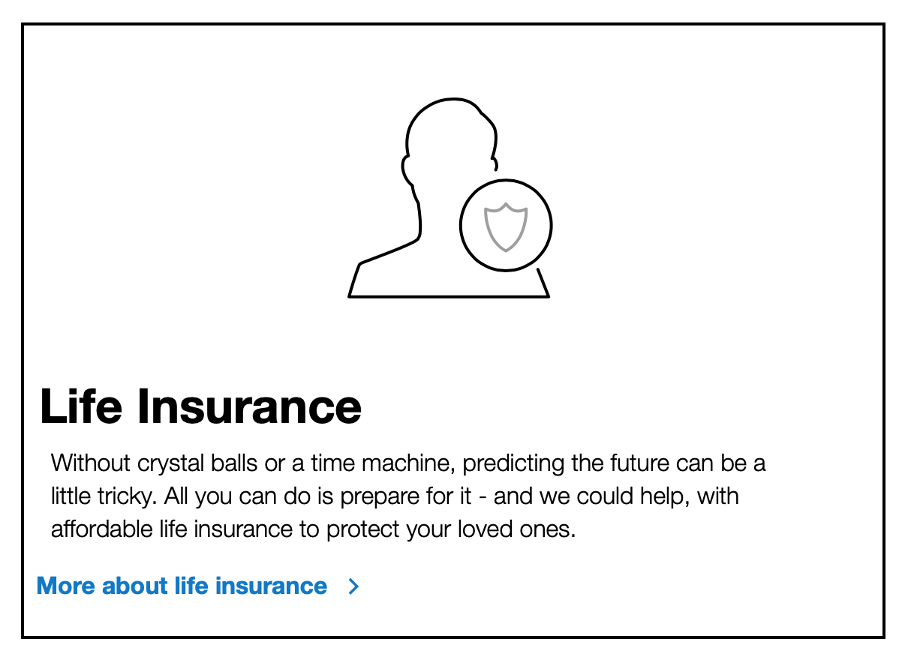 First direct know how to start a conversation with their audience. They don't shove their products or services in your face. Instead, they say: "we could help, if you want us to". Despite their products, which may need some in-depth explanation for the average person to understand, First Direct convey them in an accessible way. It's straightforward, entertaining and understanding.
Finding your tone of voice and creating guidelines
Now you know your brand needs a strong tone of voice in order to stand out. But how do you find your voice and establish some good tone of voice guidelines? As we mentioned earlier, we wrote a step-by-step guide on creating effective guidelines. You should read this next if you haven't already nailed this down.
Can we help?
Need a little extra help finding your voice? Get in touch. Tone of voice guidelines take time to craft but once you have a definitive tone for your business, it'll make a huge difference to internal and external communications.