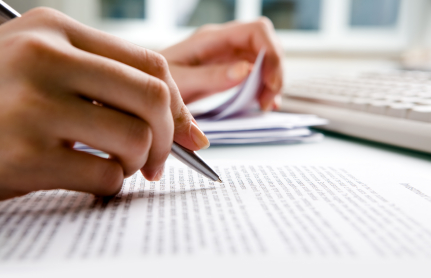 Whether you're selling furniture, fashion or food, if you run a medium or large e-commerce site you cannot afford to overlook the quality of your product description writing.
Writing product descriptions that are punchy, persuasive and SEO-optimised is a powerful tool to drive business, increase conversions and maximise profits.
Who has time for writing product descriptions?
It is easy to see why as an online business copying and pasting your manufacturer's descriptions to your web pages is attractive – after all, who has the time to focus on re-writing hundreds of individual product description when you have a 24/7 online operation to run – right?
Wrong.
By failing to personalise your product description writing, or hiring someone else to do it for you, you are potentially missing out on some serious money-making tactics.
Firstly, Google loathes duplicate content. By reproducing manufacturers' production descriptions, you risk your website appearing lower in Google's search engine results. This means fewer visitors, fewer sales and fewer notes in the till.
Secondly, writing product descriptions that are unique, engaging and search engine-friendly stand a much greater chance of being viewed. This means more prospects, more business and more profit.
If you are stumped by writing product descriptions here are three tips to help you create enticing product copy.
Here are three tips for writing product descriptions that dazzle.
Write for your target audience
It goes without saying but knowing your audience is essential for effective product description writing. Spend time thinking about your target audience and your 'typical' visitor. What are they looking for? What tone of writing is appropriate for them?
Take an online fashion emporium as an example.
If your target audience is twenty to thirty something fashion conscious individuals, then you will want to highlight the breadth and quality of labels you have, how an item fits in with a current trend or which celebs are also fans of the style.
However, with the changing shape of men and women, there are also likely to be visitors looking for on-trend clothes to flatter curvier, plus size figures.
As part of your target audience, it is important that your product description writing outlines how your clothes are designed for this sector too.
Through teasing out and catering for each segment of your online audience you will maximise traffic to your site.
Focus on benefits not features
The problem with manufacturers' product description copywriting is that it isn't written to inspire. It is written to provide factual information about the product features, its dimensions, its materials, its care instructions and so on.
This doesn't tempt a buyer into buying. Tempting a buyer into buying is about illustrating how a product will work for them, benefit them and generally make their life better.
Let's go back to the fashion for fuller people example.
A product description for fitted jeans which states "Women's fitted jeans: Straight fit, side zip fastening, front and rear pockets, 99% cotton, 1% spandex" isn't really going to cut it.
Now try product description writing with the following:
Women's perfect fit jeans – figure flattering fitted jeans sizes 14 – 36. Fitted jeans designed for the most flattering fit: slimming side seams and boot cut to flatter your shape. Closure with a side zip to add a smooth silhouette. Fitted jeans with 99% cotton and 1% spandex for gentle lift.
This draws on what the product will actually do for the buyer.
Product description writing which speaks to your audience and motivates them to buy should stick to benefits not features.
Optimise your product description writing
Product copywriting that works hard for your business shouldn't just highlight a product's benefits but also enhance your SEO efforts.
Incorporating relevant keywords in your product description writing will help search engines, and therefore customers, find you more easily.
Ideally you should include your keyword in the title of your product description and at least one or twice in the body of the text (see 'fitted jeans' is mentioned three times in the example above). You should also add your keyword to your main image caption. With any SEO, keywords work best when used sparingly and don't interfere with the flow of the text.
Effective product description writing is an easy way to enhance your site's search engine performance, attract visitors and increase revenue, so start making your product copy work harder today.
Squeezed for time? We can handle all your production description writing needs.
Call us on 01803 865 025 or email [email protected]