Infographics: How to make and use them in your content marketing
In marketing your business online you have a variety of tools in your arsenal which you can use to boost your brand and increase your exposure. Some of them, like blog posts and social media, you'll use frequently to keep your content marketing machine ticking over. Others meanwhile you'll tend to use more sparsely, but when used at opportune times they can score you massive results in terms of increased brand exposure, building authority and generating additional interest. Infographics fall into this latter category.
What is an infographic?
Chances are you've seen them in one form or another, but let's take a moment just to crystallise the concept. Infographics, as far as marketers are concerned, are striking and attractive visual representations of previously collected or compiled data. That data might be your own, or it might be outside data you've collated together and are referencing to support a larger picture. Either way, the purpose of an infographic is to convey data that could otherwise appear dull and inaccessible, in an easy to understand visual format.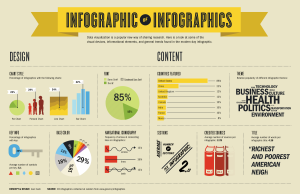 Why should businesses and marketers use them?
For businesses, infographics serve a number of useful purposes:
They can boost your image as an authority in your field
They can be used to support ideas and concepts central to the uptake of your products or services
They can bring substantial amounts of additional traffic to your website
Because they're catchy and easily digestible they're often shared online, and can even go viral
Making your infographic
Before you create an infographic, you should think about what you're trying to communicate to those who view it. What are the key themes that you want to explore and the more specific points that you want to get across? Once you have firmly in your mind what your infographic is about and what its purpose is, you can begin the process of creating it.
Step one:  Gather your data
The data or information that you are presenting forms the meat of your infographic. It should be:
Interesting
Illuminating
100% accurate
There are a variety of ways in which you gather your data. You might simply be presenting the results of a customer survey you ran, or it might be the result of extensive testing. Your data might also be the result of many hours of research into a specific topic, and may bring together data sets or information from multiple sources. Wherever your data comes from you should make this clear in the infographic, and properly reference any information from outside sources.
Step Two: Identify your key findings
Once you have your data you should begin exploring what it means and which trends are the most interesting and relevant to your audience. It's important to consider this at this point, as it will set the tone and overall message of the infographic.
Step three: Translate your data into visual form
At this step you should consider how best to represent your information. Do you have data which readily lends itself to pie charts, quirkily illustrated soundbites, lists of statistics or treemaps? Your finished infographic may well combine any number of these elements and other forms of visual representation.
Step Four: Illustrate, write and compile
The final stage is the actual creation of the infographic. For this you might use a number of different staff members or freelancers. A professional illustrator can give your visual representations an extra edge that draws people in and encourages them to share, while a professional web copywriter can help ensure that the textual information is easily understood and memorable.
Promoting and sharing your infographic
Creating an infographic represents a significant investment of time and money. Therefore you want to get as much mileage as possible out of it to receive maximum return on investment. As well as featuring the infographic prominently on your website, you should also post it on your blog, include a teaser link to it on all of your social media accounts, and promote it in your email newsletter campaigns.
If you need any help creating an exceptional infographic that works hard towards your marketing goals, don't hesitate to get in touch with Big Star Copywriting.