When most of us are looking for a particular product we'll most likely end up with one of a few "favourite" options.  If we know what we want, Google gives us a few clues and we go with a balance of what we think is the best product, at the best price, from the most trustworthy source.
Quite often there are three leaders within any market – normally including a genuine innovator, a household favourite, and a well-known cheaper option.  For example, when it comes to laptops some would argue it's Apple, Dell, and Asus.
We'll also take clues from our friends, from our favourite social accounts or we'll read an article or review which confirms or triggers our wish to make a move to an "unknown" brand or retailer and purchase that desired item.
Sites where we've been before and had a good experience with will most likely figure for us too – we are, after all, creatures of habit and it's nice to go back to where our custom was appreciated.
Although the big brands dominate – it's true to say that we also like championing smaller independents and start-ups.  So much so that in a recent study by Enso , Nike was shown to being outgunned by the much much smaller Toms footwear brand when it came to how it ranked overall in their World Brand Value Index.
For brands that are slightly behind their niche leaders, ending up on page two or three of the search results for essential keywords is no joke. Less traffic means fewer sales and is a threat to your bottom line. You don't want to slip further down the rankings but if you don't know what you're doing it can feel like your brand is running just to stand still – or even worse, you're slowly disappearing further down Google's index.
It might be harder for smaller independent brands to be successful with niche marketing these days – but remember niche marketing is not about world domination it's about positioning within your market – however small that might be.
With the correct insights and data, backed up with really good content, carving out a highly profitable niche can become effortless. The formula is actually pretty simple.
Step 1: Be The Master Not The Servant
There's no shortage of data available for your brand. Companies like Moz or SEMrush plus a thousand others can offer you the stuff of dreams:
keyword rankings,
referring URLs,
social impact,
on-site behaviour, etc.
You name it, there's someone out there that can provide data on it.
The secret is getting actionable insights from the data.  Without that, it's just numbers, graphs, and stress.
Data that is understandable and sets out a clear pathway for your content and SEO strategy is indispensable. You need to know:
how you rank alongside your top competitors
what keywords you rank for (and what % of the traffic you're getting)
what keywords you should be ranking for (find the related keywords to those you already rank for)
how your visitors are getting to your site – from which search engines, referring sites and social platforms
what content is getting good results (and why)
Understanding how your customers behave on your site will give you the intelligence to know what's working and what isn't – providing you with a clear process of refinement, based on sound content and scientific understanding.
Do they leave on certain pages?  Do you have pages with higher levels of hits but high exit rates?
You need to make practical sense of the data – and whoever does that has to understand your business.  That's time-consuming at first, but once you get the hang of it and begin to see the results you'll be mastering your own intelligence process.
Step 2: Know What's Already There
Although you should never give up on your short keywords, you'll probably find that most of them are just too competitive to make much of an impact on. Longer search strings are the "lower hanging fruit" of organic traffic and you definitely need to target them in your content and product descriptions. Using a good keyword tool will mean you can research the best ones for your products and then start to incorporate them into your content.
There's traffic available for longer keywords, so you need to take those opportunities if you want to boost your sales.
Here's an example:
A Skateboard E-commerce Site
Selling skateboards online is a tough nut to crack – with many sites in the UK alone.  The main keyword for this market is obviously "skateboards" but this keyword yields over 2o million results and has a keyword difficulty score of 83% (highest would be 100%).  Although there's a very high amount of organic traffic available it's going to be hard to make much impact on that keyword.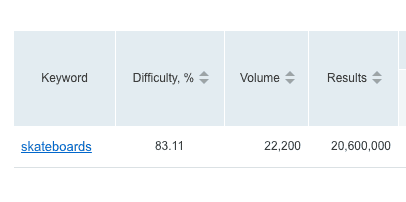 However, the related keyword "custom skateboards UK" has a much lower difficulty score.  Less traffic, yes, but still 140 searches – that's hits available for free.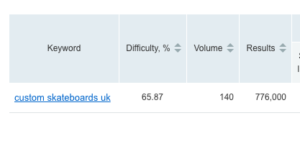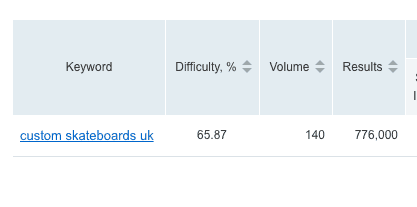 With several well-written blogs and evergreen content on your site – using the above and several similar focus keywords – getting traction should be possible.  Exploiting an easy to use SEO tool like Yoast would ensure greater impact – so these types of keywords could very soon start yielding results.
Step 3: Create It And They Will Come
A well-designed website with good copy makes a massive difference to your sales and marketing oomph. Decent analytics and reporting will show you what's working and what's not. But you're perhaps less aware that to catch up with your competitors you need to produce blogs or articles on a regular basis.
There's a significant amount of data around that confirms how effective longer blogs are in getting traffic – but the proof of the blog pudding is really in the eating. In other words, you need to test it for yourself and use your own data to improve and build upon the success it brings.
Having time to do this is imperative and whether it's through an in-house copywriter or a copywriting agency getting it right is essential – not only when it comes to incorporating those keywords but also in providing useful, brilliantly written content for your customers (new and returning).  Definitely not a job for Fiverr.
Another thing to pay special attention to is your product descriptions. We looked at this in detail recently, with this infographic. Use the best practice shown in the infographic and make sure your data backs up any changes you make.
Step 4: Be Like A Child
It's not enough to have a website that's got great search engine optimisation. You need the outreach, aliveness, fun and of course the traffic from social. Although social media signals are not used directly by Google for ranking, social pages are still indexed and treated like any other part of the web. In addition, there's a clear correlation between social engagement and search ranking – as this recent research from Moz shows.
Getting social, crucially, allows you to celebrate the customer.  For example sharing reviews, photo's of your customers using your products and responding positively to what they're saying about you. As Daniel Priestley explains in his book Oversubscribed, celebrating your existing customers is much more productive than chasing new ones.
With lots of stimulating content, your brand will gain that all important social authority and get your customers talking about you and sharing your story with an ever-increasing audience.
Niche Marketing: The Effortless Way
Once you get a smooth system up and running – a fusion between content, social and data – you'll be adding value to your brand in an almost effortless way.  From an informed place, you'll be putting your wisdom into practice every day and making increasing sales a reality.
If that's not enough, or you need some help from a niche marketing master, then give us a call.