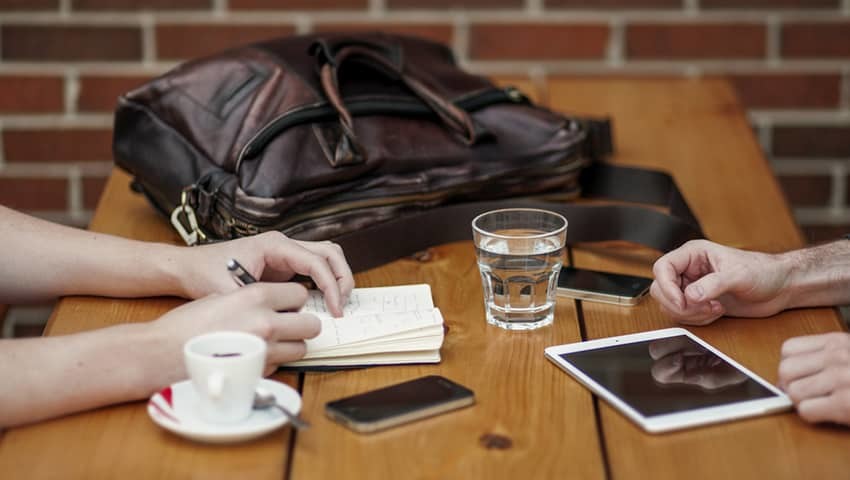 Today, businesses from all sectors are required to create an unparalleled level of content for the web. Here are some reasons why that's the case:
According to strategy guru's Curve, "'Interesting content' is cited as one of the top 3 reasons people follow brands on social media… B2B companies that blog only 1-2 times per month generate 70% more leads than those that don't blog at all," and "two-thirds of consumers say the information provided by content marketing helps them make better purchase decisions."
Research by Hubspot adds further depth to this second statistic, suggesting that brands that create 15+ blogs each month average 1,200 new leads per month. Neil Patel meanwhile recently revealed that "content marketing costs 62% less than traditional marketing and generates about three times as many leads."
Why More Brands Are Outsourcing Their Copywriting
You could write this content in-house. But this can create some problems and difficulties, such as:
Increased/ overwhelming demands on in-house marketing staff – Putting your increasing content demands on your existing staff can lead to diminishing quality and morale, and potentially burn-out.
Lack of scalability – You can't simply hire staff when content requirements are high, and then let them go when you need to ease back on content production.
Lack of resources/talent – If your business' marketing team is small, you may not have the skills to generate high-quality content.
Lack of time – Good content takes time. Even if you have a skilled marketing team, they may not have time to handle everything themselves. This can lead to other important marketing tasks missing deadlines or going undone.
As you will have of course guessed from the title, there is a way to meet your online content needs while avoiding the problems above:
Outsource your copywriting
The need to outsource your copywriting and content marketing needs is becoming far more common. If you choose to then you're in good company. In fact, research by the Content Marketing Institute found that 72% of large organisations and 33% of small companies outsource their content creation needs.
In contrast to the problems above that might otherwise arise, outsourcing your content needs to a dedicated copywriting agency has some significant benefits, including:
Immediacy – Instant access to highly experienced copywriters who can create compelling and useful content.
Flexibility – You can use a copywriting agency to handle all of your content demands, or you can hire them to pick up the slack during busy periods or times of high demand.
Expertise – You can make use of a reliable pool of expert copywriters to complete a single project, or you can use them on an ongoing basis, such as for blogs.
Scalability – If your needs grow month on month, you need only communicate these increased needs to the agency. If your needs diminish again, this too can be easily accounted for. Though you may negotiate a minimum contract period with an agency, it is also easy to discontinue or pause your use of these services as required.
Now we've covered the reasons why it may be a good idea to outsource your copywriting, let's look at how you can do it while ensuring the integrity of your brand and the quality of your content output.
How do I choose a copywriting agency?
When you begin your search for a suitable agency, the easiest thing to do is Google 'copywriting agency', 'outsource your copywriting' or similar, and look at the websites of a selection.
Look for an agency that demonstrates that it has specific experience in writing the type of content you need. If you're in a niche industry, you may also want to look for an agency with copywriters who are experienced in your specific field, though in general one of a copywriter's main talents is to research such topics accurately and communicate them effectively.
Linkedin can also be a useful tool – use the search function to identify connections you could be introduced to or just to search for the appropriate terms (copywriting agency, travel copywriter etc as needed).
By now you should have narrowed your potential selection down to a handful of agencies. In making your final selection you should consider some key things:
Cost – Clearly you want to save money wherever possible, but you should also weigh this up against the other factors below. It's also worth bearing in mind that if you invest more now, the return on investment generated by better quality copywriting will be greater later on.
Geography – Choosing an agency in your country/ the target country for your website will eliminate the possible impact of cultural differences, and will allow the writers to understand your customers better.
One interesting trend is that European and other non-English native speaking countries are choosing to recruit UK copywriting agencies to write all their web content in UK English before translation into other markets.
Capacity – You need to determine whether the prospective agency has the resources available to complete the copy you need in the timescale you require.
Quality/ experience – Take a look at some of the agencies blog posts and other content to get an idea of the level of quality they are capable of. Then take a look at their 'testimonials' page or similar. Who are their satisfied clients? Are they of a similar scale to your brand? Are they from within the same industry?
Editorial control – some agencies may act like an introduction service between you and the copywriter. They will find the right writer for you but after that essentially it's up to you to manage the writer. That can work well when you're looking for someone full-time, to work in-house with you or for a specialist writer.
Other agencies provide a more hands-on service, managing their own in-house or freelance writing teams. You may have little or no contact with the actual writer or writers working on your project with all the briefing, management, copy editing and amends handled by an editor or account manager.
This can be a huge time-saving, especially when you're working on a large volume project, and provided the agency can keep a consistent tone of voice it can be a very efficient and cost-effective way of generating the content you need.
Negotiating a contract/ agreeing terms
Once you've chosen a copywriting agency you need to agree on terms of service.  The details of this will vary from agency to agency, but you will agree on either a fixed cost for the project or a day/hour rate for the work completed. The former has the advantage of making it easier for you to control and predict your costs.
You will also agree on when payment will take place. This will usually be on completion of the project, though for larger projects a smaller percentage may be requested as a deposit at a more early stage, with subsequent staggered payments. Keep in mind that most large copywriting agencies charge VAT, so check whether or not this is included in your quote.
Once the work is completed, the agency will send you an invoice for the work, which you should instruct your finance department to issue remittance for in the agreed timeframe.
Preserving your brand voice
One of the biggest concerns for established brands is that by outsourcing their copywriting, they may somehow dilute or distort the image of their brand.
Provided you issue the agency with specific guidelines on the image you want to convey, the tone of voice of your brand and the style that the writing should adopt, they should be able to replicate this precisely.
The best way to do this is to create a tone of voice/ style guide if you don't have one already or ask the agency to work on this with you.
Your tone of voice document should be relatively short – perhaps two sides of A4 – and easy to follow. It should specify details such as:
Who your core audience is
What qualities you wish the copy to convey about your brand (e.g. experience, professionalism, attention to detail)
What kind of language should be used (e.g., simple/complex/ technical/ trendy)
Details of specific words that should or should not be used throughout the copy
Formatting guidelines, such as paragraph/sentence length, hyphenation, etc
Any skilled and experienced copywriter can adapt their writing to match your required style, in the same way that a decorator or architect can match your wishes for your home.
Communicating effectively with your copywriting agency
The best way to ensure that the finished copy is exactly what you want is to communicate your expectations clearly. You will need to provide them with a brief of how many pages or blogs you require, with approximate lengths and topics.
In the case of web content, this will probably be quite specific, such as a home page introducing the website, or an 'about us' profiling your brand and its history.
For product description writing, you can send across details and specifications for your products, and work with the agency to determine what format the descriptions should take and what information they should include.
You may wish to invite the agency to attend product presentations in person, post physical product to them or invite them to discuss the product story directly with your product managers. In the case of travel clients, you can even send writers to review accommodation, facilities, destinations etc – there's a lot of evidence to suggest that this level of research and first-hand experience is what consumers are looking for in the content they search out.
We find that the more hands-on we can be with your product, the more authentic and engaging the content.
In the case of ongoing blogs, you may wish to give the agency some broad details about the topics you want to cover, and then leave them to research these and come up with some prospective titles. This approach can save you considerable time, and leverage the research experience of the agency's copywriters to your advantage.
At the beginning of the relationship, it's a good idea to ask the agency to produce a sample piece of content for you to look at before commencing with the larger brief. This allows you to check whether they're on the right track, and to provide feedback which will help them to more closely match your expectations and requirements.
Confidentiality
In briefing your copywriting agency, you may have to divulge privileged information which you do not wish to fall into the hands of your competitors, or to be disseminated to the wider public.
In addition to this, you probably don't want your competitors to know how much you are paying for your copywriting, or for it to be widely known that your content was created by an external copywriter.
Copywriting agencies understand this need for confidentiality, and all respectable agencies will happily sign a non-disclosure agreement (NDA) which keeps any details of projects worked on confidential. Employees and freelancers of these agencies are also generally required to sign NDAs before commencing work.
Copyright
While the ownership of copyright on the content you are paying for shouldn't ever really be an issue (i.e it's yours in perpetuity to do with as you wish) it's always a good idea to clarify this in writing.
Delivery
When briefing an agency, you can specify a date by which you wish to receive the content by. This might be an urgent request for content by the end of the week, or it could be a date further in the future to tie in with a wider project or publication cycle.
All professional copywriting agencies can meet tight deadlines as required, with the obvious allowances for sickness and other unforeseen circumstances.
Amendments
If the content isn't quite right when you first receive it – maybe the tone needs tweaking, or you feel there's an aspect of the topic missing – you can request that the agency makes changes, and this will usually be considered within the scope of the original brief.
Most copywriting agencies will agree to some degree of amendments as part of their costs. However, don't expect this to be unlimited.
We define "reasonable amends" as anything up to the second draft that allows us to meet the content brief. If we're making changes to the content that are not defined by the brief, then we would charge for those changes.
In practice, that works something like this.
A client briefs us on an article about the 10 Best Castles In France but provides no other information. It turns out that one of the castles we write about is not actually in France but just over the Belgian border. We change the article immediately no questions asked.
If however, the client comes back to us and says, "hang on, the castles you've chosen are not the ones I wanted" (despite having not told us which castles to write about) "please can you rewrite the article to include these ten different castles." At that point, we would have to charge for the article.
That said, the vast majority of our clients understand what are reasonable demands and consequently we're pretty flexible in what we'll do to make sure the job is delivered correctly.
Discontinuing your copywriting arrangement
Most copywriting is done by the project or brief, so you are under no obligation to continue outsourcing your copywriting work to the agency beyond this. This provides you with flexibility, which can be particularly important during times of financial and market-based uncertainty, and means that if you're not completely satisfied with the work once complete, you are free to look elsewhere in future.
In the case of blog projects in which content is to be produced each month, there may be minimum durations of around three or six months. But these will be discussed and agreed upon in advance between you and the agency.
Want to know more?
At Big Star Copywriting we've been handling the outsourcing requirement of brands large and small for more than a decade.
If you'd like further advice about outsourcing your copywriting, or you've got a project that you need handling, please don't hesitate to get in touch.