"People don't buy features, they buy benefits. Your copy needs to get across three things: what the product does, how it is used and why people should buy it."
The world has gone online. You know the narrative about the past year. We have all lived through it. And we have all ramped up our digital footprints – as businesses and consumers.
If you are an eCommerce brand or a non-essential retailer that closed your doors, you may have been scrambling to fit out your online shop and fulfil orders to keep up with increased demand. But did you get around to writing or updating your product descriptions? Maybe you need some high performing product description examples to get you started?
'Product description' is a bit of a misnomer here because you won't want to just describe the product on your website or eCommerce platform. Every eCommerce business needs informative and compelling product copy to assure visitors that they have landed in the right place and nudge them to buy.
But you won't want to waste your time – or theirs. Neil Patel reports that 20% of purchase failures are potentially linked to unclear product information – that's one in five potential customers that are lost because you've got the wrong copy.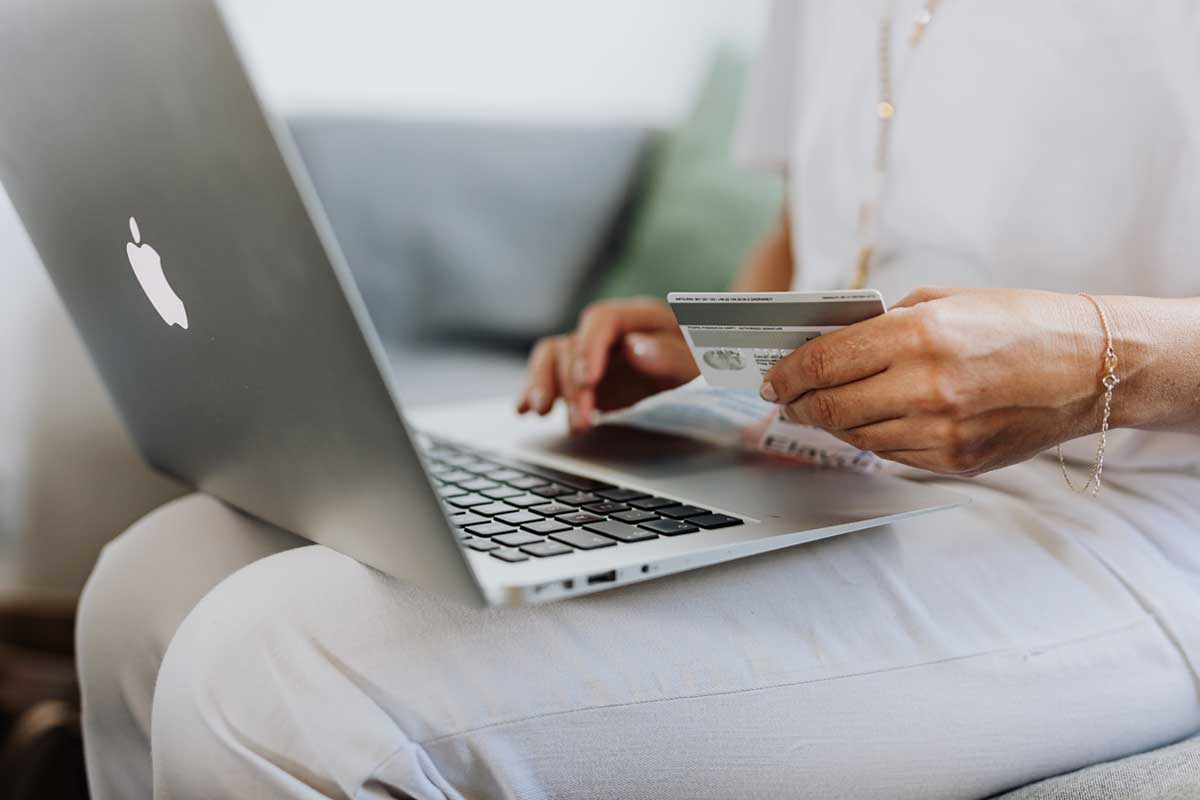 But what's the right way? Your copy needs to get across three things: what the product does, how it is used and why people should buy it. Sometimes the best way to learn how to do this is to be inspired by how others do things – and the copywriting tactics they use to increase conversion rates by:
Being a storyteller
Being irreverent and fun
Being trusted
Being straight up
Being a problem solver
But before we get on to our picks of some great product description examples that rock – we need to talk about your ideal customer.  Before you write a word, you need to clearly understand what makes your ideal customer tick and why they would buy from you and not somebody else. You will need to create a buyer persona for the different types of customer you want to appeal to.  Online, your copywriters are your best 'sales' people.  But they need to know who they are talking to.
Knowledge – use the knowledge you already have on your customers – why have they bought from previously?
Research – do your research online – what types of information and products do they search for. What are they saying on social? Talk to your customers and the people you know. How do your competitors write their product descriptions? What do they know about your customers that you don't? Why do they buy from your competitors?
Imagination – think about your family, friends and colleagues. Do they have similar traits to your ideal customer?
What to include:
Demographics (age, gender, occupation, location, education, nationality, marital status, religion)
Psychographics (personality, lifestyle, social class, attitudes, beliefs, activities and interests)
Sources of information (websites, books, magazines, podcasts, radio shows, newspapers, online influencers)
Pain points (what are the problems that you solve for them?)
Objections (why do they say no to your product or service?)
Use the answers to create a couple of personas.  Once you know who you are writing for – you'll also know what tone and language to use in your product details.
So, how are you going to appeal to them?
1. Be a storyteller
Customers care about what you stand for.  Brands with loyal customers make connections on shared values. Making these connections will help you create hard-to-break emotional bonds that will make customers want to come back time and time again.
There are two ways you can do this through your product descriptions:
Share your brand story and what you stand for
Tell a story where your customer is the hero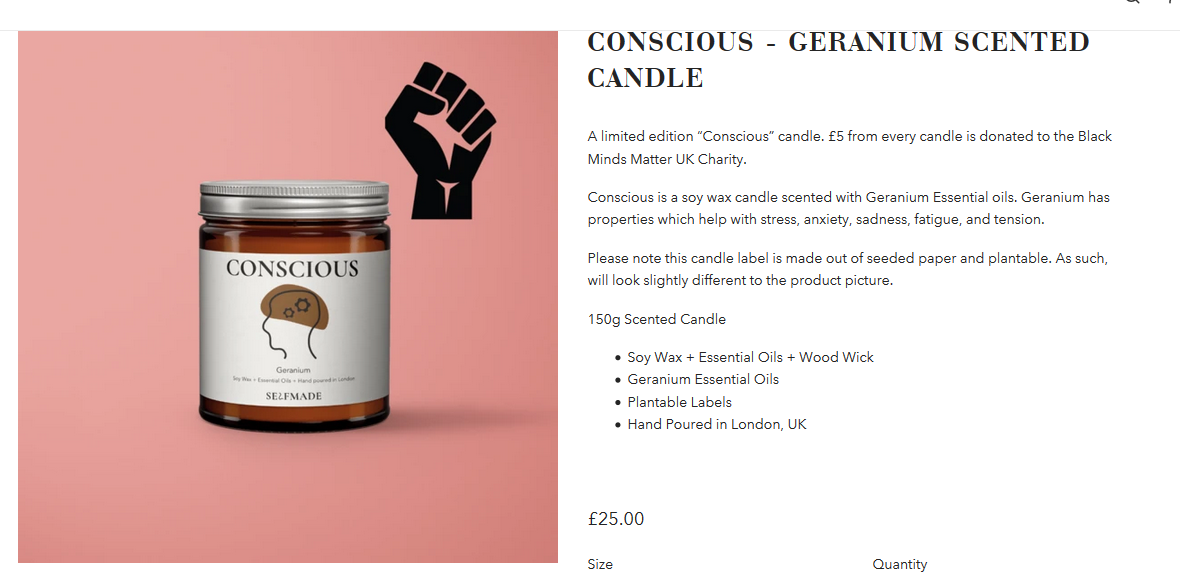 Sharing your brand story and what you stand for
'Welness has never smelt so good' says Selfmade Candle founder Ricki. 'Proud to be vegan friendly, eco-conscious and made in the UK', the candlemaker in this product description example:
Shares the wellness benefits of its limited edition Conscious candle, which 'has properties which help with stress, anxiety, sadness, fatigue, and tension'
Shares its commitment to supporting the Black Minds Matter UK charity by donating £5 from every purchase
The copywriter also shares the brand's eco-credentials on the materials used, which include: soy wax, wood wick and plantable labels.
Tell a story where your customer is the hero
Lily's Kitchen makes its customer the hero in this product description example, displayed on its 'guilt-free' Chicken Treats. It does this by inviting them to join the brand on its mission to rid the world of 'rubbish' pet food and treats with 'nasties' in them.  The description also works because Lily's is great at understanding why customers want to buy the 'ultimate bribe cat treats' – before it gets down to the ingredients.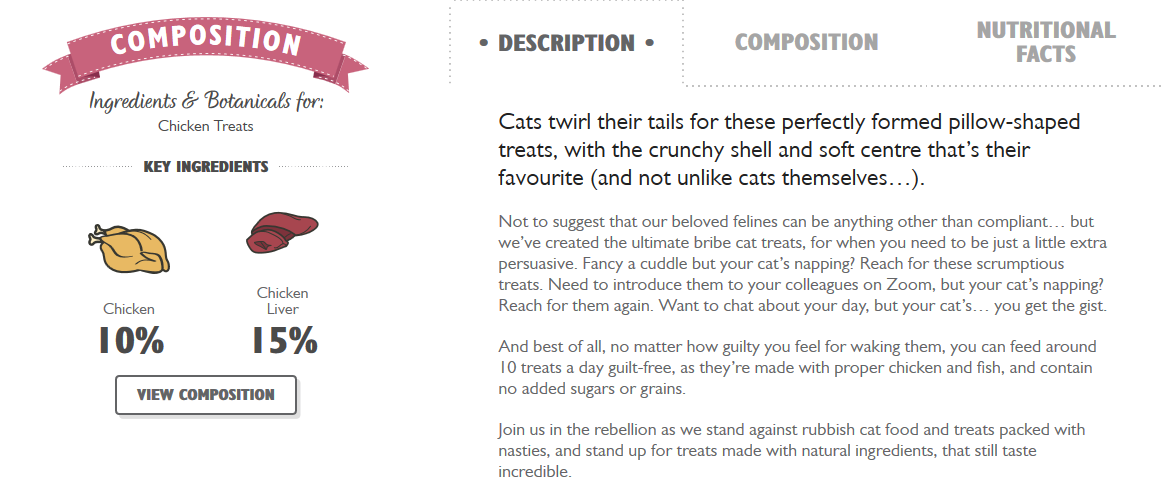 2. Being irreverent and fun
People don't buy features, they buy benefits.  Dollar Shave Club takes a pretty dull topic – men's shaving and personal grooming products – and engages its customers through humour.  Founder Michael Dubin spent eight years in improv comedy at  the Upright Citizens brigade Theatre in LA and the brand has a natural funny bone and distinctive brand voice.
DSC knows that its customers want to keep their facial hair nourished, hydrated and easy to comb and manage – who doesn't.  So its copywriters use humour to connect on an emotional level with its subscribers and website visitors. For example, in its description for Beard Oil, which is aimed squarely at chin strokers, the writer explains that it 'Keeps your beard running smooth for another 5000 miles'.
The brand changes its tone a little when it comes to its body wash range. But it still sounds like DSG, and after listing the benefits of its plant-based and vegan-friendly body cleanser (which is 'infused with the warm scents of amber and lavender to calm the mind and soothe the spirit') the writer goes back to its distinctive humour and point out the cleanser "Won't wash away your work emails'.
3. Being trusted
Buying prescription glasses is a serious business.  If you are buying from an online retailer, you want to know that the glasses are the right prescription, they will fit perfectly, and they look great.  You probably want the answers in reverse order.
Customers need to make an informed choice from a trusted brand. Warby Parker has nailed the art of balancing the serious stuff – delivering what's prescribed with aesthetics – to give customers confidence they are making a smart purchase.  Let's look at how the copywriter walks customers through buying a pair of Hemmings prescription glasses.

Will these glasses suit my lifestyle?  This is the first question that the writer wants to answer. They do this by using words like 'instant classic' and 'dapper' in the opening lines of the first paragraph to convey a sense of sartorial elegance for the wearer.

The writer then lists the materials which give the customer added confidence that they glasses will not only look good, but are built to last: 'timeless' in very sense of the word'..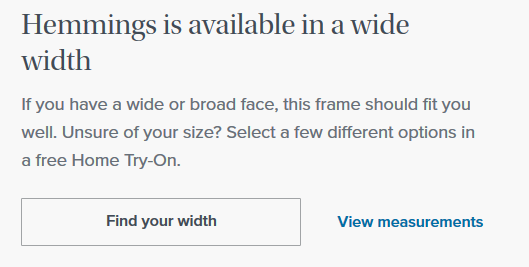 Then it's time to get down to answer those nitty gritty questions on measuring up for the perfect fit and finding the right prescription and lens type.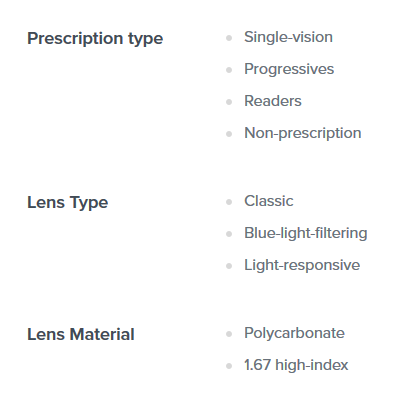 4. Being straight up
Products like a black t-shirt do exactly what it says on the tin. For these types of products visitors won't necessarily expect too much detail. They will want real-time information on stock availability, size, price etc.  You'll still need some persuasive copy to make the sale.
Google "men's black t-shirt" and you get 296,000,000 results.  Next has got its SEO  'A' game on. The website team and copywriters have optimised their category page for men's t-shirts – they are ranked in second place. When a visitor then clicks through to its products pages, Next doesn't just list the essentials.

There is a level of trust that Next will deliver on quality and price. But its copywriters still want to help the visitor with style tips on how to wear the 100% cotton t-shirt as a layer. The customer is also assured that it will be comfortable to wear.  This example from Next works for the retailer because it is one of the UK's best know fashion retailers.
But you're obviously not Next.  You might be building your brand with an exciting new range of products.  You'll want to give new customers confidence to buy from you.
How about trying some vegan chocolate? Doisy and Dam are shaking up the market for more mindful and ethical ways of snacking when it comes to their vegan chocolate. This has become a ferociously competitive market.  So why should someone buy their version of a British classic – the chocolate button?
In this product description example, the copywriter just shoots straight from the hip to convince visitors to buy their share bag. The buttons are 'just straight up rich, dark Colombian chocolate with no funny business'.  The copywriter is saying try it – there are no surprises or mystical ingredients to put you off.
The writer is then crystal clear about the ingredients with a warning about allergens due to the factory process – and nutritional values. Don't forget to say what is actually in your products – and what's not.
5. Being a problem solver
Where are we going to store all of this stuff?  It's a problem that IKEA has been solving for decades.  Visitors that land on the product page for its Josef in/outdoor storage unit are assured that the unit will solve their storage problems wherever, and however, they want to use it. The language is informative and practical as the copywriter walks the reader through the product details, ways to use it and the ease of installation (we hope). Product description examples like this re-assure the customer that their needs are being met.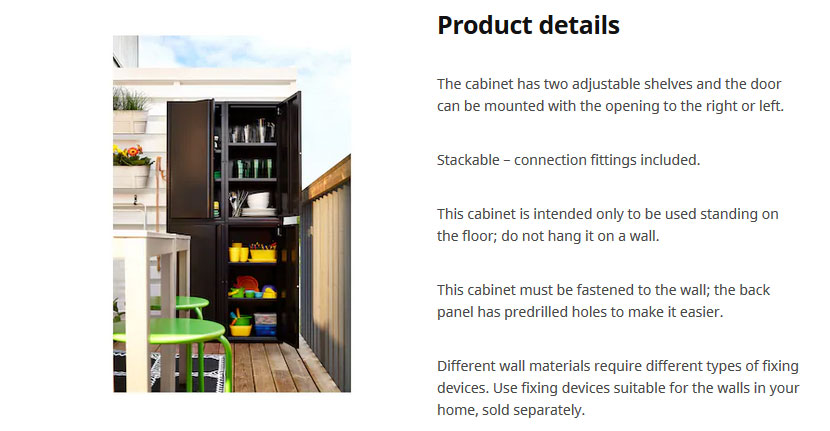 Okay, we've looked at a few product description examples to give you inspiration to create your own copy.  Now you're thinking how long should your descriptions be?  There is no definitive answer on this. Not because Google wants to be covert about it.  It's because the product description length needs to be a long as it takes to get the information that you need across.  We write a LOT of descriptions for some of the biggest (and smallest) eCommerce brands and high street retailers.  We're not word counting obsessives. Quality beats quantity every time. But from our experience, this works:
A simple heading – 3 to 5 words – tells Google and visitors that they are in the right place (don't forget your keyword)
Standfirst – a 20-word topline summary of the main benefit for the customer – remember it;s not about you this time – your customers will find out just how great you are when their product arrives on their doorstep –
Introductory paragraph – 50 to 100 words
A bulleted list – 20 words – a well organised, digestible page – scannable for people and screen readers – make sure very feature has a clear benefit
An in-depth product description = 300 + words
What else could you include?  If your customers and influencers are saying good things about your product – you could use this as social proof to back up what you are saying.  People trust user generated content more than they trust you.  If you're winning awards – tell people about that too.
If you need help with creating quality product descriptions, contact us today.