Are press releases still relevant in a digital world?
As a PR pro, you'll have seen lots of stories about how press releases are going the way of the dinosaurs. It's been a big talking point in a digital world where algorithms have become the editors curating the content we all read online. But, take a closer look behind these headlines and a different story emerges.
It's a story about the renaissance of traditional media being seen as the most trusted source for news. It's a story about how the most successful brands are changing tactics. They are rethinking the way they sell their story to cut through to a shrinking pool of journalists to inspire them to write about their positive news – offline or online.
Press releases are still a valuable content source because the provenance of the information can be trusted. Journalists still believe that corporate announcements like financial reporting, CSR initiatives and strategic decision making are the most influential in shaping earned media coverage, according to recent research by Olgilvy.
Audiences want to trust the provenance of their news too
In a digital world, people are fast losing confidence in the authenticity of the news stories they see online. The fight against fake news is a massive challenge for online content publishers. As the battle continues, readers are increasingly turning to traditional media in the search for reliable stories. Trust in the old guard is rebounding. Fast.
Edelman's 2018 Trust Barometer, for example, found the UK public most trusted traditional media (broadcasters and publishers) for news and general information at 61%. This was a 13% increase on the year before. Online-only media (like Buzzfeed and Huffington Post) was the only other media source to see a year-on-year gain at 45%. Meanwhile, social media dipped two points to 24%.
Trust in the authenticity of what people are reading is a big factor in determining where they consume their news. Your audience is in control. You just need to work out where your target audience goes. Then you need to figure out the best way to pitch to journalists and industry influencers to share your story and get people talking about your news, exciting new content, products or services.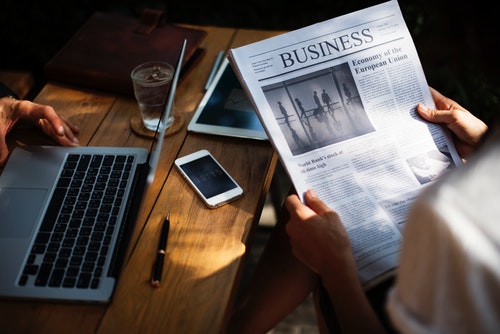 Press releases aren't becoming extinct – just the old ways of doing things

Let's get to the second part of the story – changing tactics to get the attention of journalists who right now are outnumbered by PR pros by a ratio of 6:1. If you are struggling to cut through and your releases are being ignored, you might need to rethink how you tell your story.
The art of PR copywriting has changed. Gone are the days of the generic announcement or dry corporate release that's really only interesting to an internal audience.
Find a newsworthy angle that people care about. Think about how your news makes a difference and impacts the people you want to reach and engage. Once you've got your angle, effective copywriting means being able to write a good headline that grabs the reader's attention. Structure the content so that the essential facts of the story are delivered while alluding to the narrative that the journalist can build into a story. A good press release copywriter needs to be able to get a journalist's juices flowing without writing the story for them.
Press releases haven't gone the way of the dinosaurs just yet. They are alive and well. If you're rethinking the way you write your releases and are wrangling with the best way to tell your story, we're here if you need our help.