Take the guesswork out of search marketing
More targeted leads to your website
A strategy in line with meaningful businesses KPIs
Intelligent, bespoke Ad management
Stellar copywriting for exceptional ads
Jargon-free reporting
Powerful Adwords management that delivers
We've been increasing traffic, improving search results and fostering meaningful engagement between our clients and target customers for over 20 years. Our PPC service takes this extensive experience and applies it to your search campaigns in a completely bespoke, proactive service that focuses on the metrics that matter to you.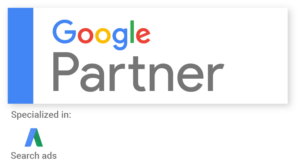 As a certified Google Partner, our PPC service exists to deliver the highest quality traffic to your site and ensure you're seeing a true return on your investment. We achieve this by taking the time to understand your business and your competitors and - although consistently applying industry best-practice - never taking a one-size fits all approach, because no business or brand is the same. Weekly summaries will keep you informed on exactly how your campaigns are performing, and we'll build your campaigns within your own account, giving you full administrative access, transparency, and control
What you'll get
An increase in

highly-targeted leads to your website

. In paid traffic, every irrelevant click is a wasted spend. Quality keyword lists, combined with close attention to geographic, demographic and behavioural factors mean your ads only get served to your ideal customer
An unerring

focus on ROI

. We work with business of all sizes and are skilled in making budgets stretch when they need to. By constantly improving your Ad Quality, we'll make sure your CPC (cost-per-click) stays at a level you're comfortable with and is meaningful to your business goals
Jargon–free information on the

metrics that matter

to your business with weekly summaries and monthly, more detailed updates
If you have existing Adwords campaigns, we'll start with a

comprehensive audit

- using historical data to understand what's worked for you and learn from what hasn't. We'll assess areas of wasted spend and identify issues with your account structure, quality scores and landing pages where performance can be improved within your budget.
We'll then create a strategy to turn your Adwords account into a reliable, effective conversion machine: just what it should be.