You've worked hard to build your email subscriber list. You've probably invested in marketing automation software. But are you worried that you're wasting time sending newsletters because you're not seeing the results you hoped you would? Does that sound like you?
You and your team are busy running your online shop, fulfilling orders and supporting customers. If your newsletter isn't working you might be wondering: is email marketing still worth it? Doesn't everyone live on planet social? The answers are yes and yes. Hang in there.
Your eCommerce brand needs to be sharing valuable content wherever your customers are looking for it. And people still want emails. In fact, 61% of consumers want to see at least one email per week from their favourite brands, according to Campaign Monitor.
Read on, things are about to get even better. Email is a straightforward communication tool that puts social media in the shade when it comes to driving sales.
60% of consumers say that they have made a purchase as a result of email, compared with just 12.5% who have been tempted by the 'buy' button on social. (OptinMonster)
Social media channels are also chillier when it comes to comparative engagement performance.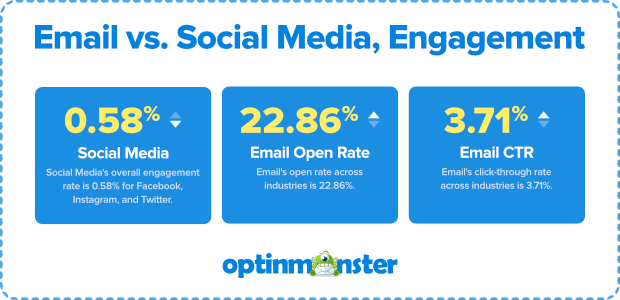 Source:OptinMonster
Email is an effective direct channel to reach your customers and prospects You are not competing with the cacophony on social. You choose the audience, not an algorithm (we talk about audience segmentation later). People have signed up to hear from you, so you'll need to deliver on what you promise in any welcome emails. You need to take your email mailshots seriously because your inbox competition is getting fiercer as the big consumer shift from bricks to clicks continues.
Figures from Royal Mail showed that nearly 16,000 new eCommerce businesses started up between March and July this year. And the high levels of online growth seen throughout the pandemic are being normalised. Your newsletter is your marketing power tool to regularly keep your subscribers engaged with your brand and share your story.
Every online brand is different. You want to stand out in an inbox. The most engaging businesses are always searching for new ways to captivate the attention of their email subscribers. You've got a lot of competition from just about any other brand that sends a newsletter.
In this guide …
We'll talk you through the five essential building blocks of an effective eCommerce newsletter to inspire you to create something that appeals to your subscribers. If it works for them, then it works for you.
A quality newsletter can help you:
Drive brand awareness and increase visibility
Get your valuable content in front of new audiences
Share your brand story
Build trust and brand authority
Boost customer loyalty and advocacy
Incentivise your readers with promotions, sales and competitions
Each of these pathways = more conversions.
Okay, let's get you on the right path for your online shop.
Your email list is your most loyal audience. People have actively opted in to receive a mailshot. The reasons people will want to read your newsletter will be similar to the reasons why you open some newsletters and trash others. You probably open emails from brands that you trust and have an emotional connection with. Their emails are never predictable and boring. The content is timely, personalised and valuable. You love nothing more than an exclusive offer or promotional discount. You are always seeking inspiration. You want to discover new products or gift ideas for the person that has everything.
The first building block of an effective newsletter strategy is segmenting your email subscribers into groups based on specific criteria.
1. Segmenting lists
Using a marketing automation tool like MailChimp means that you are able to segment subscribers to tailor your newsletter to make it more relevant and useful. Marketers that use segmented campaigns report as much as a 760% increase in revenue, according to Campaign Monitor. By making emails hyper-relevant for smaller groups you can improve engagement, boost loyalty and advocacy, and reduce the likelihood that someone will just ignore your email or unsubscribe. You could email blast your whole list, but your customers don't uniformly think, engage or buy as one.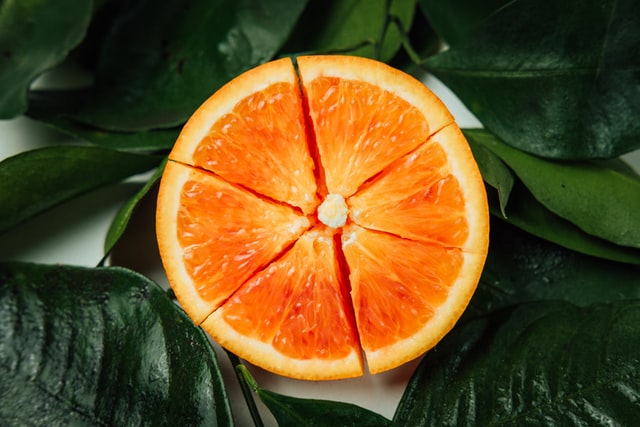 Here are a few ideas to segment your list.
Customer persona – use any customer personas that you are developing to group subscribers by demographic, location, lifestyle, interests etc.
Customer preference – use surveys or quizzes to find out about what they care about, what they love and the types of emails they want to see.
Engagement activity – look how different customers engage with your emails, and your website. What product pages do they visit? Are they downloading content like user, product or style guides?
Purchase history – look at what customers have bought before and their average basket size.
Purchasing frequency – look at how often your customers buy from you and divide into 'frequent buyers' or 'one-time' buyers.
Inactive subscribers – you'll want to try to re-engage people on your email list that haven't opened your newsletters in months.
2.What to include in your eCommerce newsletter
What sets your brand apart from your competitors? The quality of the content in your newsletter, which will be rated by your subscribers on relevancy, timeliness and aesthetics. Get it right and your open and click-through rates will increase. Get it wrong and your unsubscribe rates will go up.
New products – what's new and why will customers love it? Are you the first to stock a product before it becomes a must-have trend? Do you have an irresistible offer on a new line?
Product round-ups – what are the must-have products right now? What are your best sellers?
Curated collections – curate a collection for specific segments of your audience based on previous purchases, interests and tastes.
Blog content – you've written your killer blog posts, your newsletter is a targeted way to get fresh content in front of a new audience.
Link round-ups – if you are just getting your blog off the ground, share links to content that is valuable to your subscribers.
Seasonal promotions – like nature, your customers are guided by the seasons. Share your seasonal must-haves, offers and promotions.
Limited editions – share limited edition offers with your 'fear of missing out' crew.
Behind the scenes stories – customers care about transparency. As an online brand without a bricks and mortar presence, take your readers behind the scenes to discover the people behind your brand, the brilliant minds creating your products and the provenance of what you do and how you make things.
Video tutorials – if you are a fashion brand share videos on the best way to style your best-selling products. Whatever your category, share your expertise on how to get the most from your product.
Animated GiFs – use animated GiFs to bring your visuals to life. Animate your main image and keep everything else static to avoid making your email too heavy. Use a free tool like Canva. Your subscribers will be viewing your email on a mobile so try to keep the file size as close to 1Mb as possible. There's some great advice on how to create GiFs, and what to avoid, from Campaign Monitor here.
User-generated content – include customer reviews in your copy to leverage social proof.
Find out more about our email copywriting service »
3.How to stand out in an inbox
You'll know from your own inbox adventures that subject lines make emails stand out and entice you to open them. You are sending your email to a specific segment on your list so that will help you get over the first hurdle on relevancy and appeal. Next you need to make your subject lines eye-catching and personal or descriptive.
Just for you – you could use a direct offer, a location or name.
Emotional appeal – use emotive words or a single emoji to supplement words.
Keep it simple – briefly describe what's inside your newsletter. Sometimes clever can be too clever and people will just ignore your email.
Don't miss out – use words that convey exclusivity, scarcity, intrigue or urgency.
Numbers or lists – bloggers use numbers in blog titles to grab the attention of curious readers. They are also a good indication of the time and effort required to read through to the end. For example, '10 wardrobe essentials everyone should own' sets the reader up on what to expect.
Questions & intrigue – add a little mystery to compel someone to open your newsletter.
Humour – be careful not to use in-jokes that not everyone on your list will get.
Be a minimalist – experiment with using a single word.
Remember to keep subject lines short. MailChimp recommends no more than 9 words or 60 characters. And don't use more than 3 punctuation marks. Write like a friend in a conversational tone. Avoid exclamation marks and UPPER CASES which just sound ANGRY!!!!
4.Writing for conversions
We've just looked at the reasons why writing subject lines is the first stop on the road to conversion. What else?
Perfect your preview text – use an irresistible hook in the preview text. This is how the London Review of Books grabs attention.

Professional and consistent branding – you want to create a powerful and engaging online brand and loyal community of customers. Online shoppers will expect professional and consistent branding on your newsletter. This includes everything from high-quality design to visuals and product images to the style and tone of your copy. These all impact your conversion rates. For the non-coders among us there are email newsletter templates for you to make your own.
Use eye-catching titles – use a 'power word' in the title to add a dose of urgency, exclusivity, scarcity or intrigue to draw people in.
Be relevant – we say this a lot. Curate content that is useful to your target audience. Cass Art uses exclusive offers to tempt its community of artists.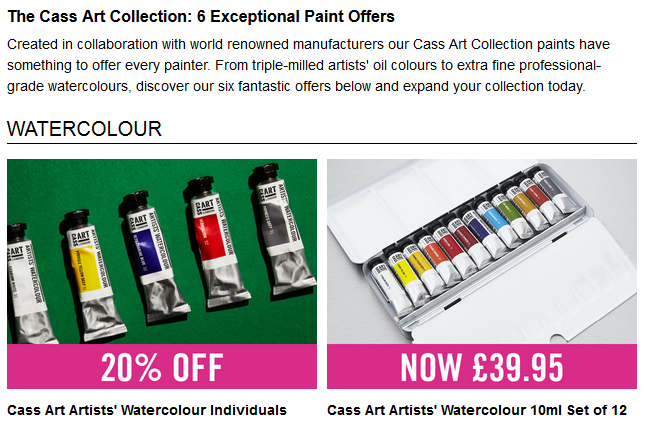 The retailer then includes masterclass videos content from its blog to inspire its subscribers, and a link to its post about its brand story to emotionally connect with readers.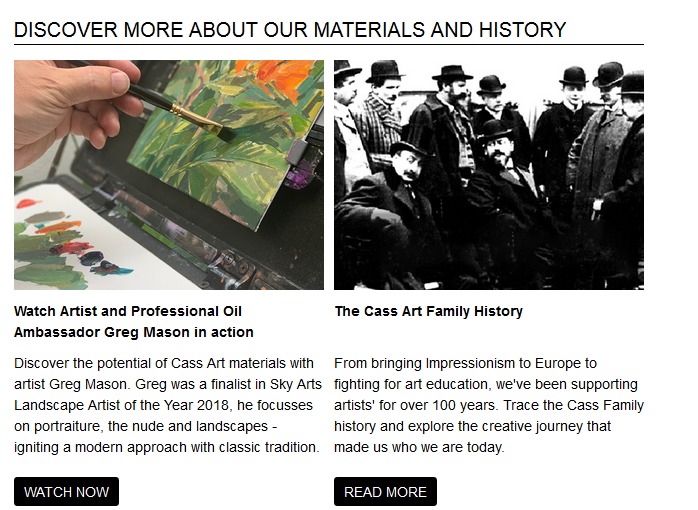 Copy length – keep your copy short. HubSpot suggests that about 20 lines of text (about 200 words) is the sweet spot on click-through rates.
Call to action – don't forget to include a compelling visual call to action.
5.How often should you send a newsletter?
Only send an email when you have something valuable to say. For most brands this is no more than once or twice a week if your customers make lots of repeat purchases, or at least once per month if your customers buy infrequently.
What's the best time to send an email?
The days and times that you send your emails can impact your open, click-through and unsubscribe rates. You'll need to experiment on this. But you need to start somewhere. So let's defer to the expertise of CoSchedule. The best time to send an email tends to be on a Tuesday at 10am. Avoid the weekends when people spend time untethered from their inboxes. Sounds simple enough. Here comes the but.
But, now you're thinking my inbox competitors have also done their homework and they are also sending their newsletters out at a similar time. You're right. You'll need to test when your audience is most responsive (your marketing software will give you the metrics you need on open, click-through and unsubscribe rates to keep tabs on this).
The answers to these questions will also help you find the best time to email your list.
Lifestyle and interests – what type of lifestyles do your customers lead? Are they early birds or night owls? If you sell exercise equipment, would an early morning email before a session work better than one at 10am when your customers have moved on to something else? Using customer personas can give you the insight you need. You'll also be able to mine your basket and sales data to see when your customers are most active.
Urgency – is the information time-sensitive?
Buying behaviour – how often do your customers buy from you? If repeat orders are high, you could send two emails per week.
Blog content – how often do you post content? How many quality newsletters can you create with your blog content?
Delivering what you promise
We hope you find these tips helpful in creating a high quality newsletter that keeps your subscribers engaged with your brand and your stories. Keep to your word and make sure that your newsletter arrives in inboxes when you say it will.
Be consistent. Stand out. Share newsletters that are packed with compelling content that your subscribers care about. If you haven't got the time and resources to do this in-house, an email marketing provider like Big Star can help you grow your online shop.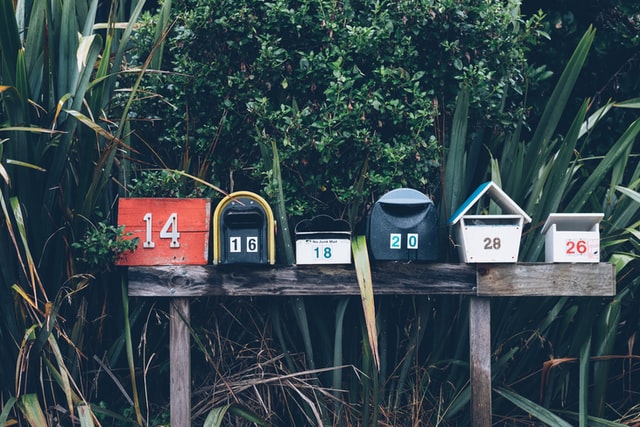 What next?
Any tips to share on how to make eCommerce newsletters more effective? Let us know in the Comments section below.
Ready to start getting results from your newsletter content? Talk to us about our ecommerce copywriting services – give us a call on 01803 865025 or drop us a line.